Smart and efficient.
There are lots of decisions to make when designing a home, but one that very few folks spend time on is choosing a water heater. It seems like the only meaningful decision to make over the last 30 years was whether you're using yours with gas or electric.
Thankfully, the folks at Rheem have cooked up some compelling innovations in their EcoNet-compatible water heaters, and they were kind enough to send us their hybrid-electric model use at our new place. Do you really need such a fancy water heater? Read on to find out!
What Does It Claim to Do?
The Hybrid-Electric EcoNet Water Heater from Rheem is an astoundingly efficient water heater that extracts ambient warmth from the air to keep your water warm (and your energy bills low). From the smart home standpoint, it also claims the ability to join your wireless network for scheduling and adjustments from anywhere in the world using the EcoNet app.
Can an EcoNet water heater impact the life of your family? Let's dig in to the details…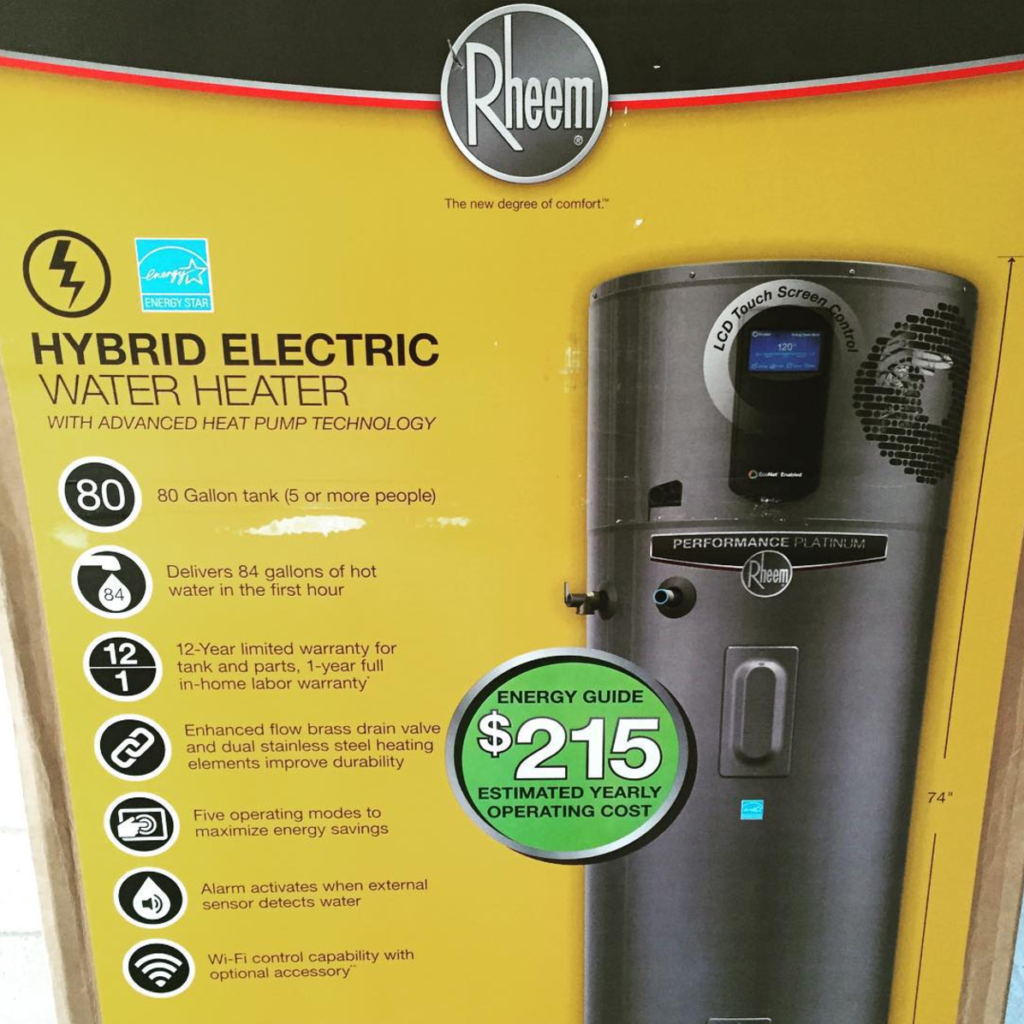 Look and Feel
Yeah, It's a water heater, but it looks like a space age one. Ours sits in the corner nook of our garage, but its streamlined design and high tech touch panel distinguishes it from the threatening grey cylinder that used to reside at our old house.
What really makes a difference is that touch panel on the unit itself. As you probably know, if you have a traditional style water heater, adjusting the temperature of the water is kind of a pain; I used to have to track down a screwdriver and remove an access panel on our old one only to adjust the water temperature with a flimsy little dial. I'll cover this more in a second, but having access to all of the controls through a full color touch interface is a revelation; I love it.
Ours is an 80 gallon hybrid-electric unit, which means its heat pump technology will spin up a fan on top of the unit every now and then as its heat pump gets to work. That results in some low-level white noise in the garage, but we can't hear it at all in the house, even through the wall.
If you're going to have a water heater sitting out where you can see it, this is the one you want to see.
Performance and User Experience
Sometimes traditional home appliances come with "smart" functions that are so half-baked and poorly designed that they're not even worth using. I'm delighted to report that isn't the case here.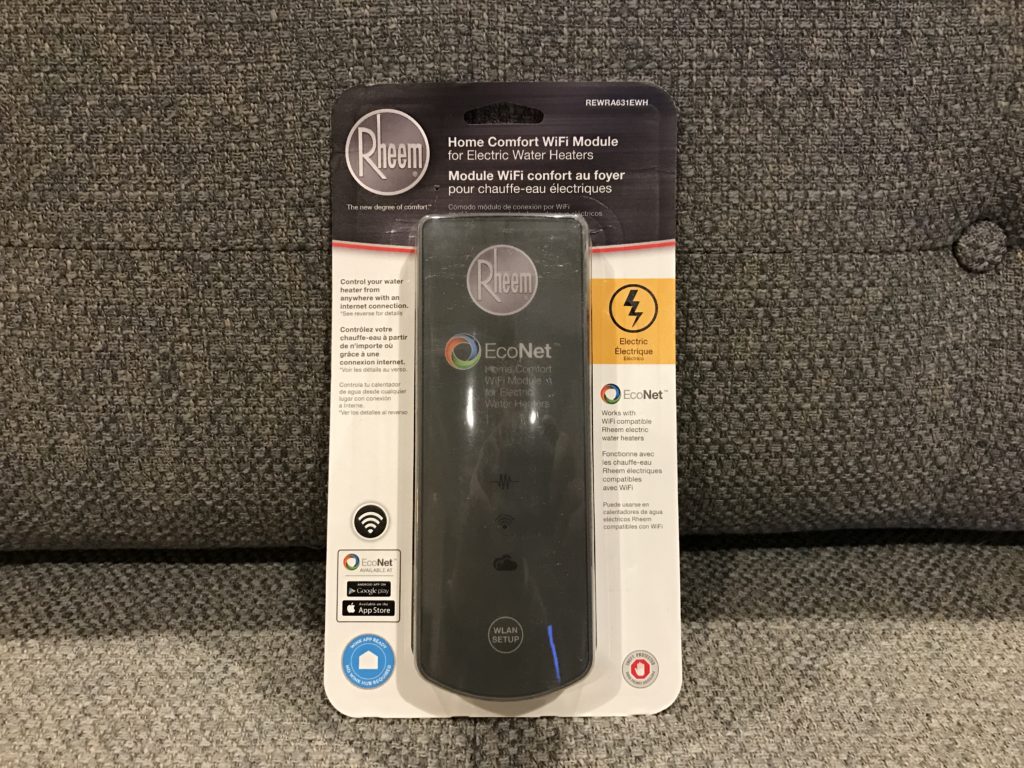 After the water heater was set up by my plumber, I found it super easy to tap through the menus and get the temperature adjusted to my liking. Again, at our old house I was constantly grumbling about the pain of adjusting the temperature on the unit (it takes a while to figure out the difference between too hot and luke-warm in a new house). The Rheem's touch screen controls turn those previously aggravating adjustments into a simple 10-second task.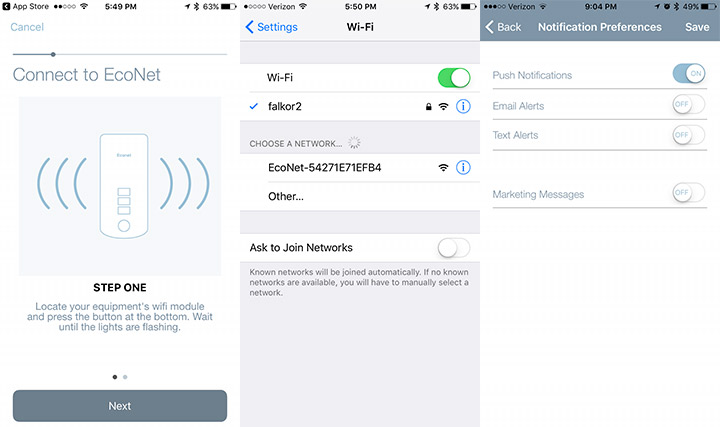 The real fun comes when you connect the smart EcoNet unit to your water heater. The setup up is simple, mimicking the installs of other smart gadgets like thermostats and WiFi light bulbs… plug it up, join a temporary WiFi network to enter your network's credentials, and you're pretty much good to go.
What does that wireless add-on get you? Easy access and peace of mind. For one, it makes it brainlessly simple to change your water temperature, which has made our move-in-month awesome; it's also handy for odd tasks where you may need really hot water for the day, or even for vacation where you can turn the temperature down (or even off entirely) from your hotel. I never even thought to adjust the water heater temperature to save money before I had Rheem's EcoNet service.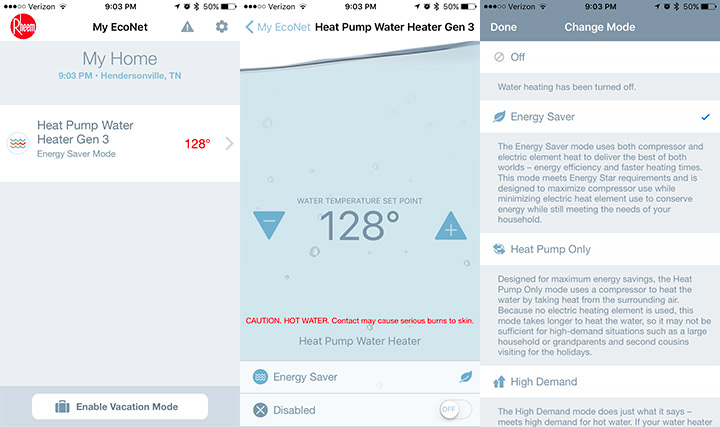 The peace of mind comes through the ability to receive alerts in the rare instance that something goes wrong; some of our relatives had a water heater go south and flood their garage a few years back, so the ability to get an instant notification if water is detected on the floor is pretty awesome.
When you add those great smart functions to a water heater that's extremely reliable and unbelievably efficient, it all adds up to a stellar upgrade to a home appliance you probably rarely think about.
Compatibility with Other Platforms
The ability to connect to Rheem's EcoNet app on a phone is already great, but Rheem has gone out of their way to make it a more integrated part of the smart home by including additional support for the Wink smart home hub (allowing you to control temperature, modes, and schedules from their app). The only thing that would make things better would be some official integration with SmartThings, or maybe even Apple's HomeKit down the line.
Build Quality and Reliability
We've only had the water heater going for a month now, so I can't speak too much into its reliability years down the road. I'm going to trust Rheem's reputation with that.
As for the smart functions, they're surprisingly rock solid, with every adjustment from the app taking place instantaniously. It's very mature software for such an unusual use case.
Affordability
Rheem's water heaters are a high quality product, so depending on the model you go for, you might pay a little more up front than competing brands; I think that will save you tons over time, though, when you factor in their reputation for build quality and reliability.
The EcoNet add-on itself is inexpensive ($50 at my local Home Depot), making it a no-brainer upgrade if you have a compatible water heater.
Conclusion
If you're considering a new water heater, Rheem's EcoNet system needs to be at the top of your list. Not only am I blown away by the efficiency of my 80-gallon hybrid-electric unit, but the EcoNet smart features add meaningful controls and awareness of an appliance that is often forgotten. Whether you're building a new home or just upgrading from an older unit, I think Rheem has the best solution on the market.