Tap to enter.
It's been almost two years since we originally reviewed the innovative Kevo bluetooth smart lock, so the folks at Kwikset asked us to check out their latest model (which hit the market earlier this fall). Does the Kevo still make a name for itself in a market flooded with competitors? Let's get to it!
What Does It Claim to Do?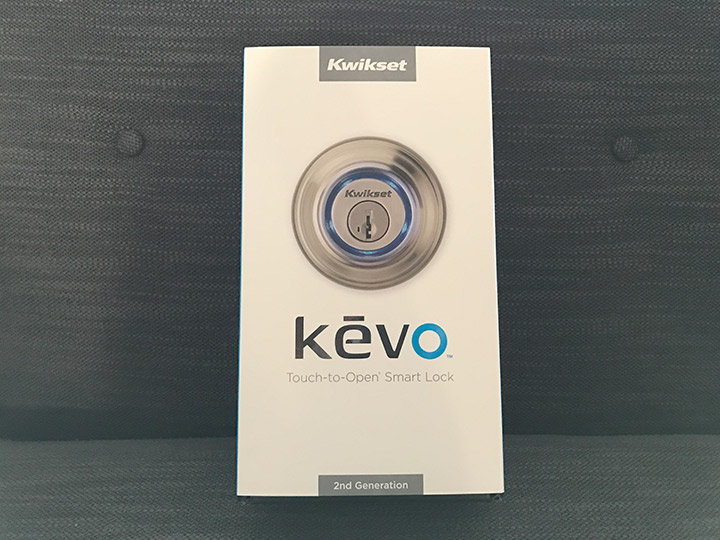 The Kevo is Kwikset's second generation bluetooth smart lock. It uses your smart phone as a digital key, claiming to lock and unlock your door with just a tap of the deadbolt (without the need for an actual key).
Specs
Available in three finishes
Operates on 4 AA batteries (included)
Installs in minutes with just a screwdriver
Works with iOS and Android (certain models)
Additional Fobs and Kevo Plus accessory available separately
Look and Feel
One of the best reasons to take another look at the revised Kevo is a huge upgrade in the materials used on the lock. Whereas the first generation Kevo made some compromises in materials to accommodate its high-tech guts (lots of plastic where you would hope for metal), the second generation unit has a completely metal construction that feels a lot more confident on a doorframe.
The satin nickel model I'm testing has a beautiful silver finish that compliments our other hardware and is surprisingly fingerprint resistant. It also features a deceptively neutral design direction that seems to match both modern and ornate door handles. I dig it.
Something I dig even more is that hidden LED ring that's featured on the lock side of the dead bolt. It's beautiful and futuristic in use, but completely hidden when it's idle. What a fantastic user interface design.
The app doesn't seem to have changed much over the years, but that's not a bad thing. You'll rarely spend time in it due to the seamless way the system works, and when you do, it's thoughtfully designed and easy to tap through.
Performance and User Experience
Let's start with the lock install, which seemed to have more steps that I remembered with the first generation unit. It took me about 20 minutes to get the Kevo on my door, and although the process wasn't necessarily difficult, I felt like I was constantly glancing at my iPad and rereading instructions. It's smooth sailing once you make sense of Kwikset's choose-your-own-adventure style user guide, but you might find it takes some concentration to get the hardware assembled correctly.
Thankfully the software side is much more painless. Install the app, tap your phone to the side of the lock to create an eKey, and you're pretty much ready to get going. That's where the fun begins!
Using the Kevo is blissfully simple. Need to unlock the door? As long as you have your phone on you, just walk up and tap the deadbolt and wait a second for the motor to slide the bolt while the ring flashes a friendly green. Need to lock up on the way out the door? Same thing… one tap of the deadbolt locks the door before you can even reach your car. It's awesome.
This all works through a magical Bluetooth system that detects any phone with a corresponding eKey, and it's able to differentiate between someone standing outside of the door, and someone standing inside (in which case an intruder couldn't get in). That latter part is an important security feature, and something I wasn't entirely pleased with in my initial review, in which I was able to trick the system once in my testing.
Thankfully, the generation two lock seems to be much more robust, and I wasn't able to fool it even once. If your phone is inside the house with you, the tap-to-unlock feature absolutely refuses to work for intruders.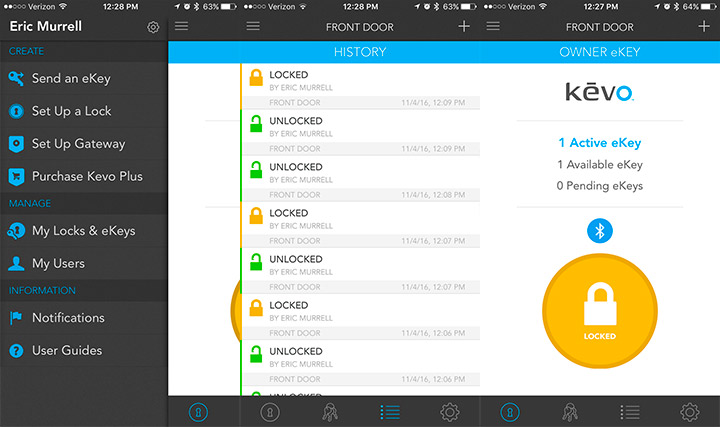 The Kevo line continues to include lots of features you'll love (tracking who unlocked the door and when, sharing unlimited eKeys with friends and family, etc), but a few of its best features like remote locking and monitoring require the purchase of the $99 Kevo Plus add-on. That's a bummer, but it's good to have those options available should you want to expand your Kevo's potential.
Integration with Other Platforms
The Kevo line has made a lot of friends over the last few years, and it's great to see integration with other brands like Nest, Ring, and the Skybell doorbell. The only disappointment in my mind is their lack of compatibility with smart home hubs like SmartThings, Wink, Apple's HomeKit, or Amazon's Alexa. That would go a long way toward making the Kevo a more integrated part of your smart home.
Build Quality and Reliability
The change in materials makes for a huge improvement in the quality of the lock unit itself. It's built like a tank now, and makes me feel a lot more confident to keep it on my door. I'm also pleased with how reliably its smart functions work. I've had to tap it twice once in a blue moon to get it to unlock, but it never unlocks when it shouldn't or requires software reboots or resets.
Affordability
The new Kevo retails for $229, which is a fair price that's in line with other common smart locks. If you want remote access, though, that requires the $99 Kevo Plus add-on, bringing your total cost to $100 more than competing products with similar functionality. The Kevo isn't a bad deal, but it's definitely not the best deal.
Conclusion
The Kevo is a really good product, and it might be the right fit for your family if you want to make a meaningful upgrade to your door with minimal hassle. If you're building a more strategic smart home, you could find its limited integration with other platforms and lack of out-of-the-box remote access to be kind of limiting.
Still, the second generation Kevo is better than ever, and its tap-to-unlock interface is about as simple as it gets. Depending on your smart home demands, the Kevo could be just what you're looking for.