Wireless CarPlay (Without the New Car)
DISCLAIMER: The folks at CPLAY2air kindly provided the product for this review. As always, the opinions are my own.
CarPlay is easily among the favorite features of my new (to me) truck. After driving a beat up SUV for 15 years, I upgraded to a 2016 F-150* a year ago where I enjoy this feature every day. As great as CarPlay is, there's a minor annoyance in how it's set up in my car that gets frustrating over time: You have to take your phone out of your pocket and plug it in for CarPlay to work. While this isn't a huge deal, the routine of plugging in unplugging it with every errand or stop becomes kind of a chore. For that reason, I've always been super jealous of the modern cars that feature wireless CarPlay.
That's where CPLAY2air comes in; simply put, the CPLAY2air adapter claims to serve as a wireless bridge between your car's USB port and your iPhone, giving you all of the wireless CarPlay magic (IF you already have wired CarPlay – check out the best double din head units with Apple CarPlay) without the price of the new car to go with it. The folks at CPLAY2air were kind enough to send us one to check out, and I've spent the last few weeks putting it through the paces. Is it the wireless CarPlay solution you've been looking for? Read on to find out!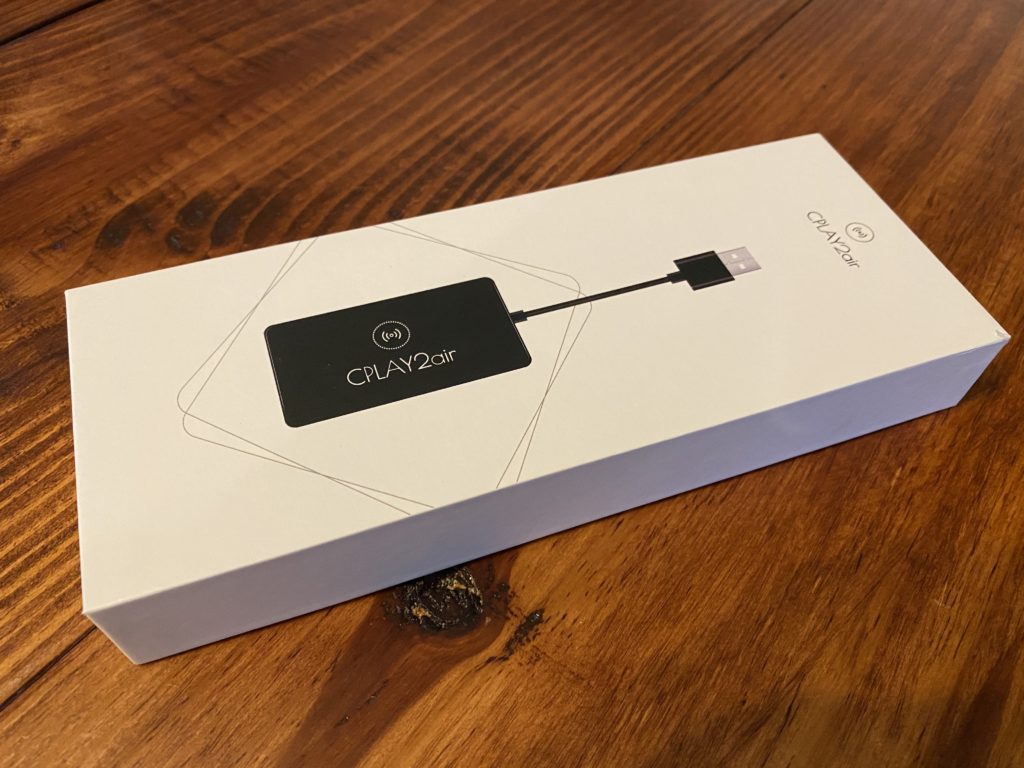 Set Up and Initial Connections
Getting the CPLAY2air adapter up and running is at least partially straight-forward. Pop the dongle out of the box, locate the USB port in your car where you would typically plug in your iPhone for CarPlay, and plug the dongle in there. As far as modifying your car, that's all you have to do.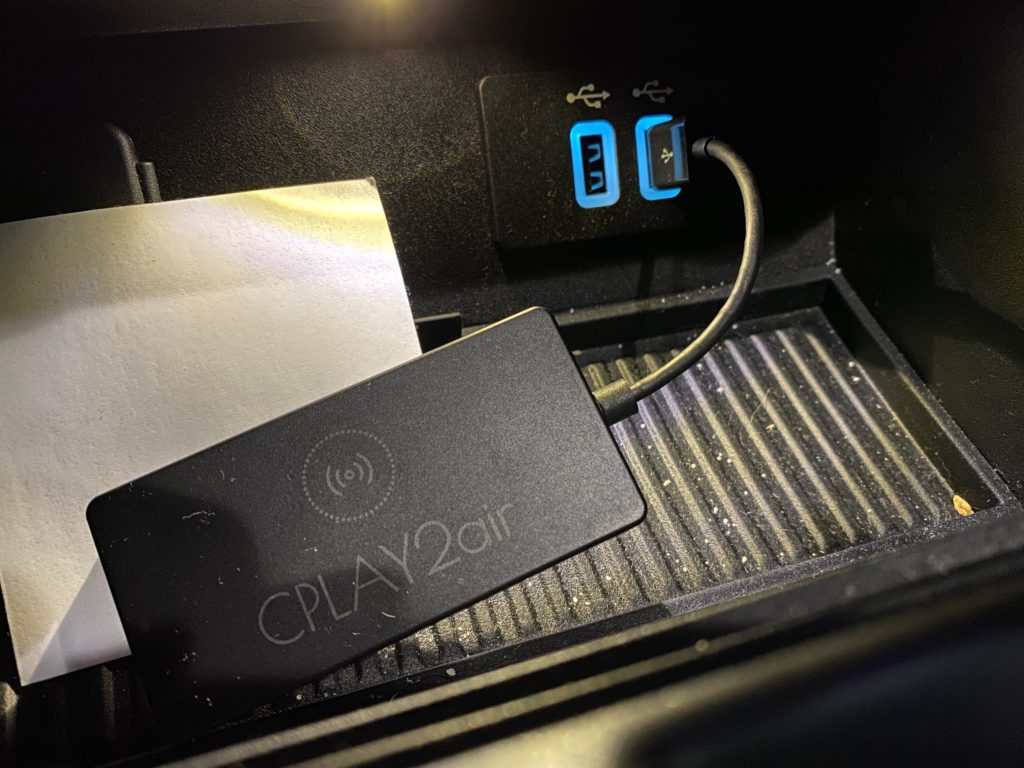 Connecting it to your phone is where things get dicey, mostly because of some poorly written instructions (that feel like they were filtered from Chinese to English via Google Translate). Long story short, after you turn on your car for the first time with the dongle plugged in, you let it load for a few seconds, and then connect to it via the iPhone's Bluetooth menu. I'm connecting to the unit with the Sync 3.0 system in my 2016 F-150*, and the dongle initially loads a strange looking grey screen with broken English, minimal progress info, and a few buttons that do absolutely nothing if you tap them. Although my iPhone 11 Pro connected via Bluetooth, there was no indication of success anywhere else, and no CarPlay screen shown… UNTIL I turned the car off and back on. After that, once the car was on for about 15 seconds, CarPlay miraculously popped onto my screen (after the same dance of bizarre loading screens).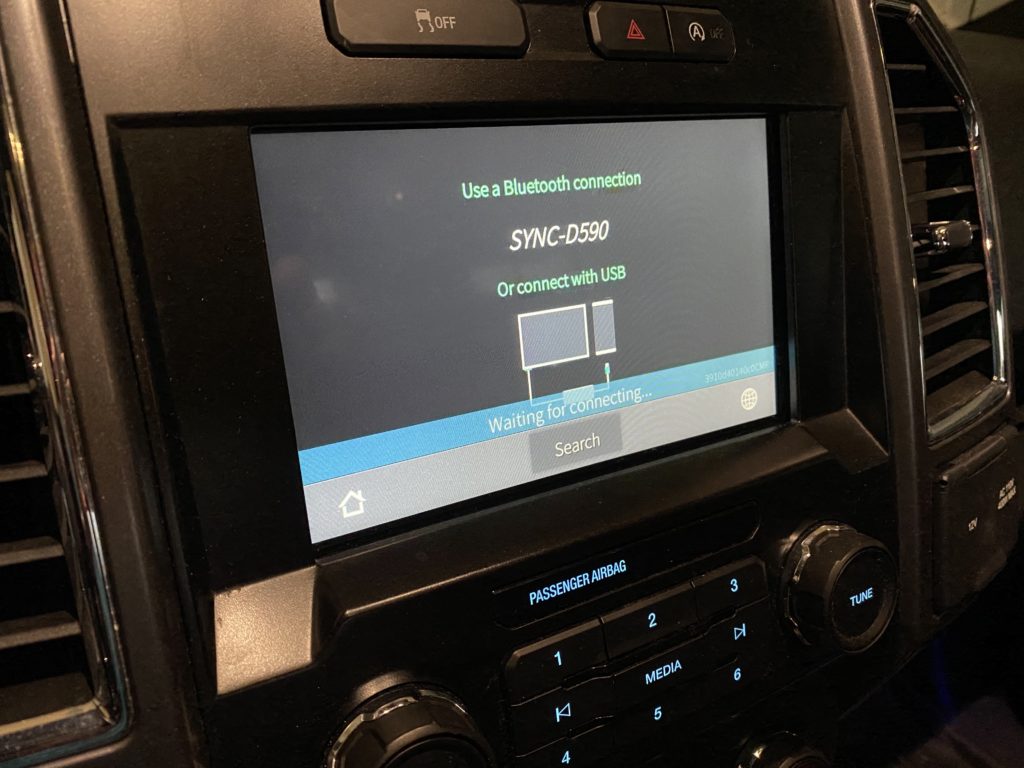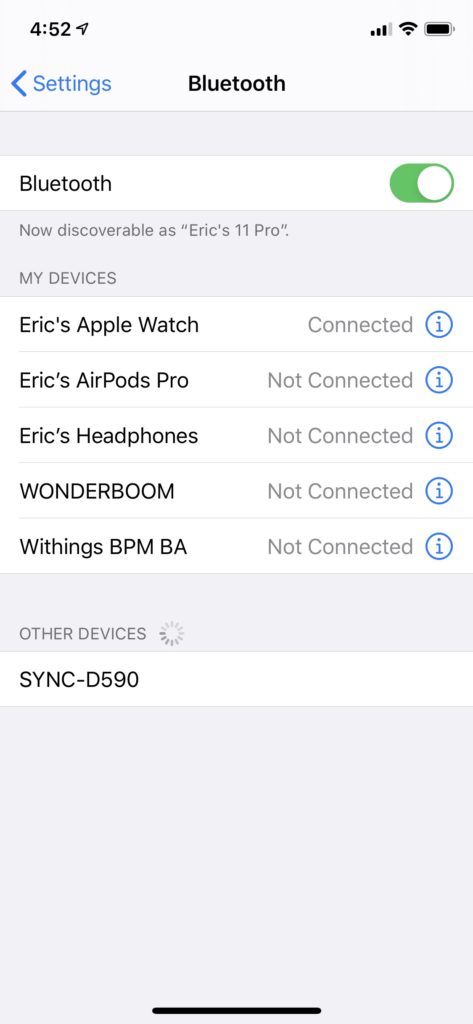 Per their instructions, I also loaded a bonkers IP-address-based website on my iPhone that serves as some sort of update system. If you're not a nerd like me, this sort of interface is pretty scary looking, but the update completed in seconds, and seems to have completed successfully.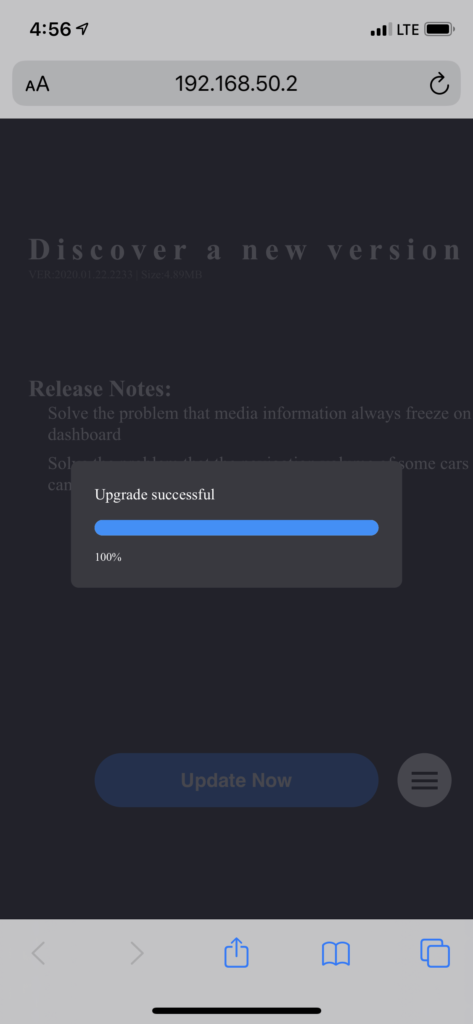 Honestly, based off of this process, I didn't have high hopes for how well this little dongle would work; however, daily use of the CPLAY2air unit has surprised me.
Performance and User Experience
I've used the CPLAY2air connection dozens of times in my truck over the last few weeks, and I feel like I have a pretty good handle on how it works in daily life.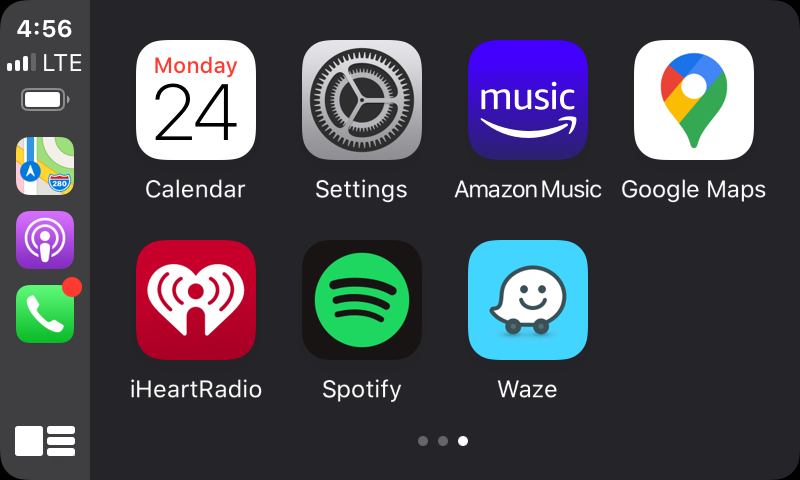 First, the good parts… CPLAY2air seems to boot up, connect to my iPhone 11 Pro, and enable wireless CarPlay to work as expected about 95% of the time. When this happens, it's actually pretty fantastic. I hop in my car, turn it on, and after about 15-20 seconds (and those gross loading screens, which you can learn to tune out), AirPlay pops right up and I'm off to the races. The interface is generally as smooth as when I'm using wired CarPlay, and outside of a few half-second button delays here and there, everything works great. Siri still works through my steering wheel. Calls sound fine. In fact, the only thing different from a wired connection seems to be the battery life indicator on the screen, and a few interface buttons randomly highlighted sometimes (which I can't figure out). It's the true leave-your-phone-in-your-pocket experience you've always dreamed of.
However, it doesn't work reliably all of the time. About 5% of the time so far, it's like the dongle doesn't boot or connect to my phone at all; it's fixed by unplugging it and plugging it back in, but that's annoying. Once in a blue moon my audio or an animation will stutter (no big deal), and once in a blue moon CarPlay will just disappear entirely. That last one has only happened once so far, but it's a pretty giant flaw that makes it tempting to try to fix the issue while you're driving (a safety no-no that's not a good thing).
95% of the time, it works every time. Whether or not that something you can live with is definitely up to the user. For me, the convenience outweighs the annoyances so far; I'm hoping a lot of that can be ironed out with software.
Build Quality and Reliability
The dongle itself looks and feels fine; it's a nondescript skinny black brick of plastic that essentially looks like any USB hub you've ever used. It also doesn't seem to get hot to the touch, so I don't expect it to physically wear out over time.
What concerns me is the connectivity issues and whatever black magic this little box is using to work. As it appears to be a hacked-together software solution that is in no way endorsed by Apple, there's always the worry that whatever backdoor this thing is using to connect will be shut down by Apple in a future phone hardware change or software update. That combined with the typical 5% of the time glitches I've experienced so far give me pause.
Affordability
Price-wise, I think the CPLAY2air's $159 price tag is fair. Wireless CarPlay is a major upgrade that's even now only featured on the newest vehicles, so being able to add it to your current car (and without any kind of serious modification) is a huge win.
Conclusion
I'm enjoying the CPLAY2air and its wireless CarPlay magic, but until it's a more stable solution, I can't recommend it to every kind of customer. If you're the kind of user that doesn't mind jumping through a few hoops and occasional glitches for a cool feature, though, you'll love it.
*I've mentioned by 2016 F-150 a few times in this review, which you may be quick to point out doesn't actually support CarPlay. It actually includes the computer and SYNC 3 system to support it, but comes from the factory with an old model USB hub that doesn't work with it. If you simply replace that part with a $50 newer USB hub from Ford, it natively supports (wired) CarPlay just like the 2017-2020 model year trucks 🙂