Cleaner floors a tap away.
Disclaimer: The folks at Narwal kindly provided a robot mop for this review; as always, the opinions you'll find below are honest and my own. Some of the links in this article may be affiliate links that help our channel at no cost to you.
The older our kids get, the less time we seem to have in the week. From school to practices and crazy work schedules, it's harder and harder to keep up with household chores, especially the intensive ones like mopping.
That's where Narwal comes in. Their recently released Narwal T10 claims to be a 2-in-1 mop and vacuum robot that even cleans itself at the end of the task. They recently sent over a unit for us to check out, and we've spent the last month putting in through the ringer. Does the Narwal T10 live up to all of its promises? Read on to find out!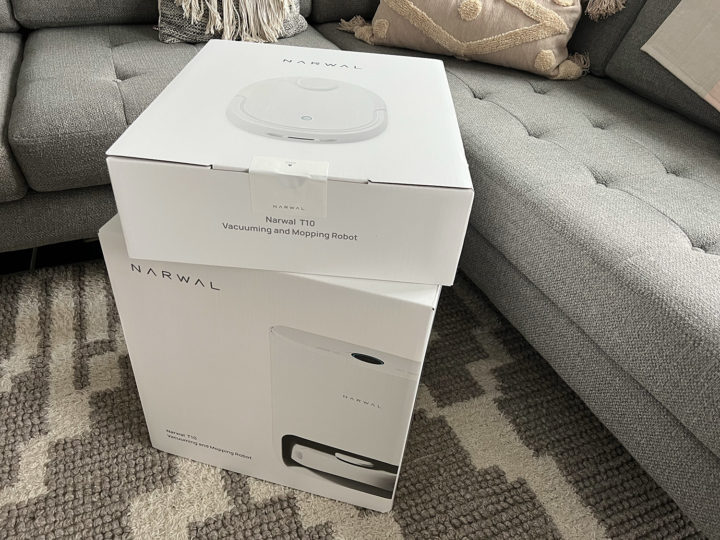 Setup and Assembly
The Narwal came to our door in a large box containing two slightly smaller boxes stacked on top of each other. The smaller one contained the Narwal robot itself, while the largest one contained the surprisingly gargantuan base station and hub.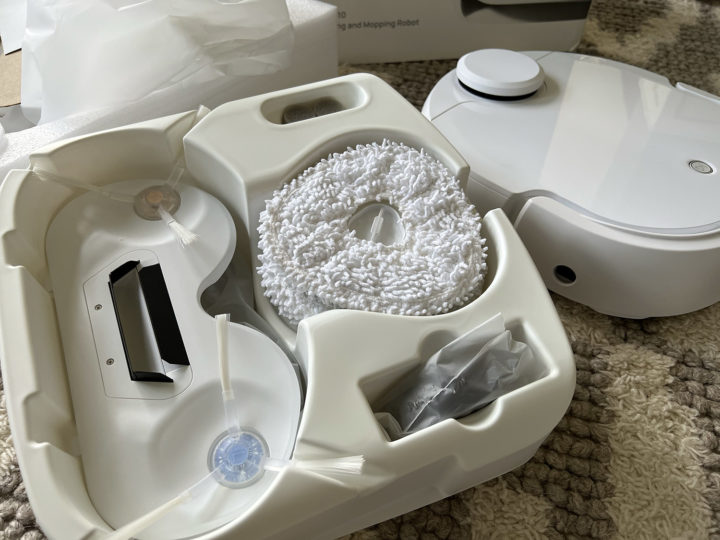 If you've ever set up a robot vacuum before, the setup for the Narwal goes about the same. In case you haven't, the whole process is all pretty straightforward. Unbox the items, plug in the base station, place the Narwal facing it, and then follow the setup prompts in the Narwal app (which took about 10 seconds to download from my iPhone's app store).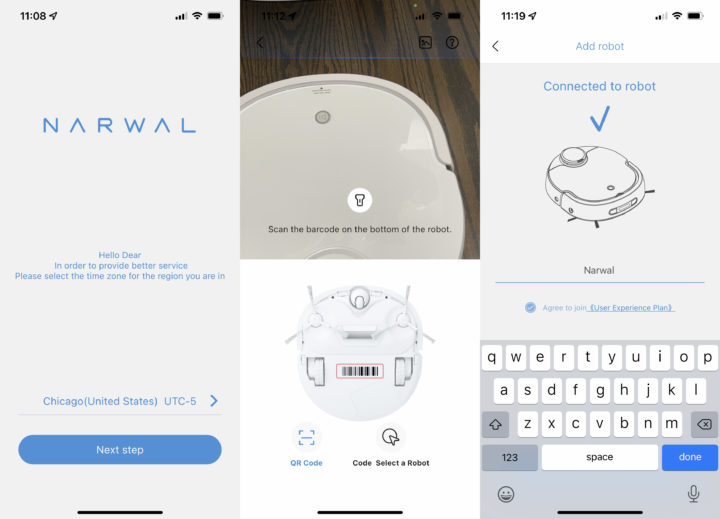 Although the quality of the Narwal and base station are top shelf premium, the Narwal app feels pretty clunky (at least to this American user). It's obvious from the get-go that the app was built for the Asian market and kind of sloppily localized for the US. Strange phrasing/bad instructions aside, it didn't take long to get paired to my robot mop and get everything set up. The only speed bump I ran into was getting the mop connected to our WiFi; it inexplicably took 4-5 tries of entering the same info over and over until it finally connected.
After kind of an unusual unboxing and setup experience, I honestly didn't know what to expect from this little robot in practice; thankfully I was pleasantly surprised.
Performance and User Experience
Since we already have a robot vac, I'm focusing exclusively on the Narwal's mopping features here. To get started, the instructions had us fill up the removable water reservoir in the base station, where we added on the the dissolvable Narwal detergent sheets before we sealed things up. Next, the first time the Narwal explores your floor, it goes for a mapping run so you can divide your floor into rooms and tell it the areas where you don't want it to mop (where the rugs are, in our case).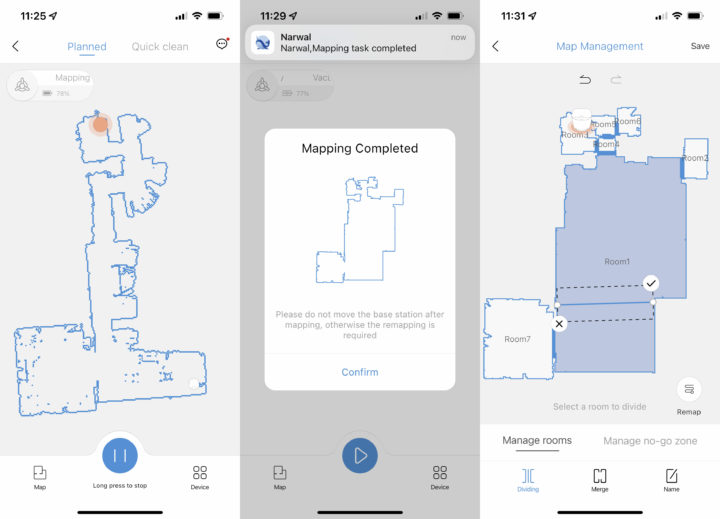 Guys, this thing will map your space incredibly fast. While our existing robot vac relies on a mechanical "roll and bump" method to figure out its surroundings, the Narwal seems to have some sort of LIDAR-style system built in to the top that uses computer vision to make a super-sophisticated layout of your floor in a matter of minutes. Our downstairs is about 1800 sq ft, and the Narwal had a thorough map of the space made in no time at all. I was shocked.
What wasn't so great was fumbling through the goofy app again to try to divide our space into rooms and add in excluded areas. However, after a little bit of trial and error, we were able to set up a usable map and send the Narwal out on its maiden voyage.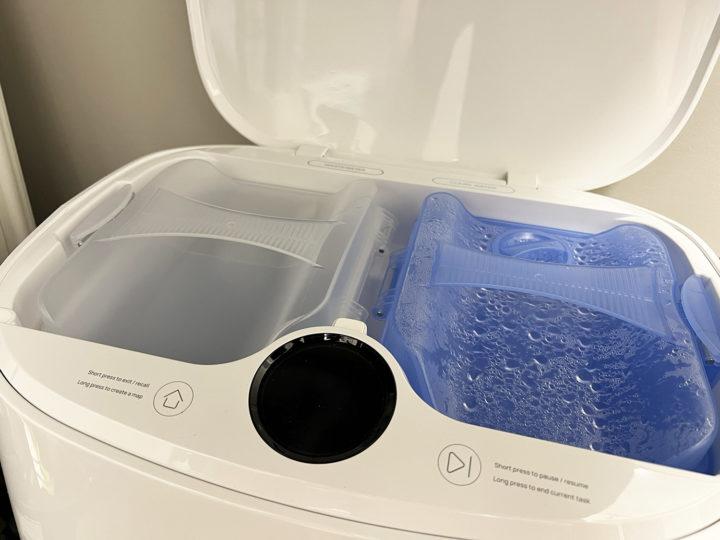 I think my wife said it best… watching the Narwal move around the house is kind of like watching a huge robot slug. It adorably leaves a wet trail of cleaning solution almost everywhere it goes, and it's surprisingly quiet in its operation (may more quiet than our existing robot vac). We've been using our Narwal to clean about once a week, and it's amusing every time to watch it clean a small area, return to the base station to drain waste water and clean its brushes, then head back out to work again. It's a diligent little robot.
The good news is that it's also an excellent little worker; so much so, in fact, that I think it's ability to mop our house with excellence more than makes up for the goofy app you have to deal with. Mopping has always been one of our least-favorite chores, and the Narwal does a fantastic job of giving us a few hours of our week back. It does a great job avoiding obstacles and no-go areas, gets up a lot of grime from the floor, and leaves us a shocking amount of gross looking waste water in the base station's disposal reservoir. It's the rare kind of device that actually works better than you expect it to, and that's probably the best compliment I can pay it.
As far as frustrations go, besides the app, the only other issue I can think of is that it only supports a map of one floor (at least that we can figure out). That means we're stuck with our old fashioned mop for the upstairs, which is kind of a bummer given that we can switch between floors with our existing robot vac.
However, it does such a surprisingly incredible job mopping that it's easy to overlook stuff like this, especially if you live in a one-floor house. The Narwal does an outstanding job of its primary function.
Build Quality
As I mentioned earlier, the robot and base station have a surprisingly top-notch feel. Everything from the backlights on the controls to even the interface screen on the basestation look futuristic and beautiful.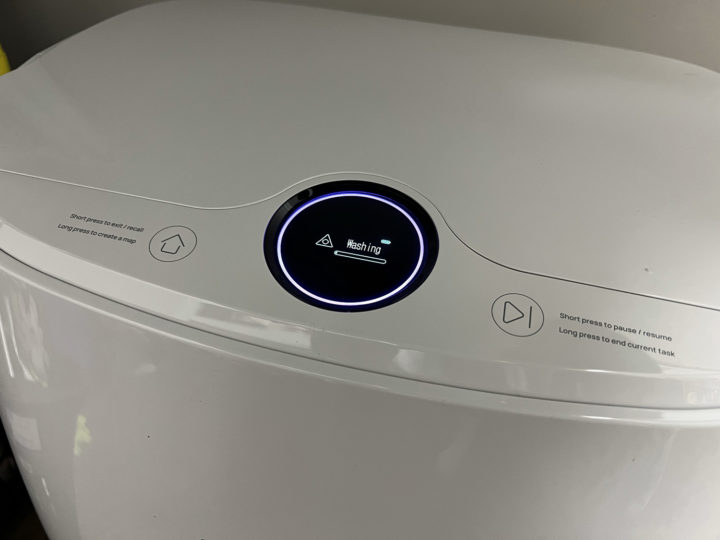 Something else I appreciate is the thoughtful attention to detail with how easy it is to fill and empty the reservoirs in the base station, and even how easy it is to clean and replace the mop heads on the robot if you need to. There's an almost Apple-esque attention to detail on the device and base station… I only wish I could say the same for the app.
Compatibility
Whether you're an iPhone user or an Android user, the Narwal app will be compatible with your device. I'd say the bigger question to consider here is whether or not the Narwal is a good fit for you home. If you have a complex mopping area with a ton of no-go zones or maybe a mutli-level set up, the the Narwal may not be a good fit for you.
However, if you have a large main level like us where it's easy to exclude sections of the floor from Narwal's map,  then you shouldn't run into any trouble.
Affordability
This is the biggest issue with the Narwal, though it's something that similar devices in this segment have the same issue with. At the time of this review, the Narwal is $1000. There's no way around it, the Narwal is expensive. Whether or not the price is worth it to you will depend on how big of a need it fills for you. Mopping is near the top of the list as one of our least favorite chores, so having an automated helper take care of such a huge task for us every week is a big deal.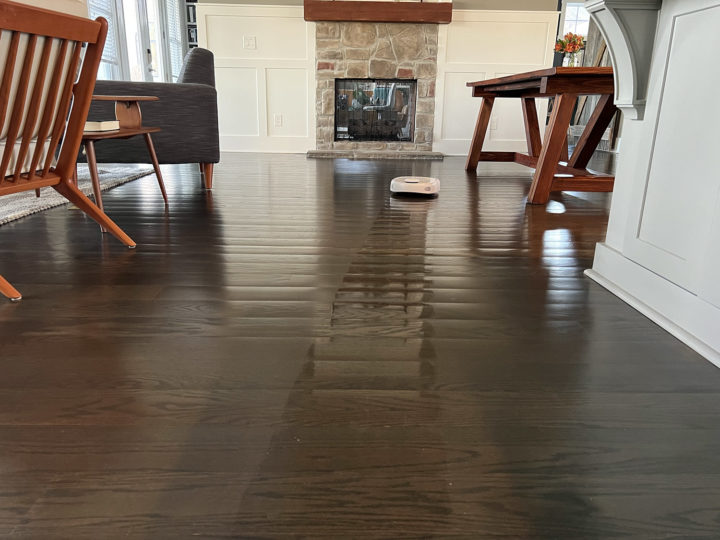 Conclusion
Whether or not the Narwal is the right fit for you will depend on how much you hate vacuuming and mopping yourself. For us, the Narwal has turned mopping into from a multi-hour task that ate up a Saturday afternoon into a once-a-week press of a button. That's a pretty big deal.
If you're in the market for a new cleaning robot to add to your arsenal (and don't mind trading a clunky app for a chore well done), the Narwal might be exactly what you're looking for.