Warmth on a budget.
Disclaimer: The folks at Get Out Gear sent over a few of their blankets for us to review. As always, the opinions below are honest and completely my own.
Spring is right around the corner, and for many of us that means it's time to start getting outside a lot more. If your family is anything like mine, that means getting around the fire pit, hitting up some campgrounds, and doing anything you can to stretch those outdoor hours just a little bit longer.
Outdoor blankets are one of the hottest accessories for this time of year, and if you've searched for one on Amazon, you've probably come across Get Out Gear and their super-affordable double puffy and down blankets. They recently sent over a few for us to check out, and you can find out full review below.
Look and Feel
Much like other outdoor blankets, the Get Out Gear blankets feel like a super comfortable sleeping bag. The fabric is soft to the touch, but it's definitely slippery and can slide off of you quick if you're not careful. They come in several solid colors (though no patterns), and although they're simple in their design, the colors are modern and the edges feature an accent color that adds to the cool campground vibe.
One great value add is that each of the blankets feature a few loops if you want to hang them up or attach them to something, and also a few snap buttons if wearing a blanket as a poncho is more your style. I wish there were a few more color options or some patterns to add more flair, but this is a case where a simple design is still attractive.
Performance
This is where it's hard to review an item like this. What I can verify is that these blankets definitely keep you warm.
Whether it's sitting around a campfire on a cool night or laying in a hammock with a good book, I found that each of these blankets kept me pretty comfortable down to about 40 degrees. It's hard to articulate why, but the down model feels warmer, or like it holds in heat faster. Poncho mode is pretty great, and really the only drawback I can come up with for the experience of using one of these is that its sometimes difficult to get the blankets back in their stuff sacks (mostly due to the slick material and small bags).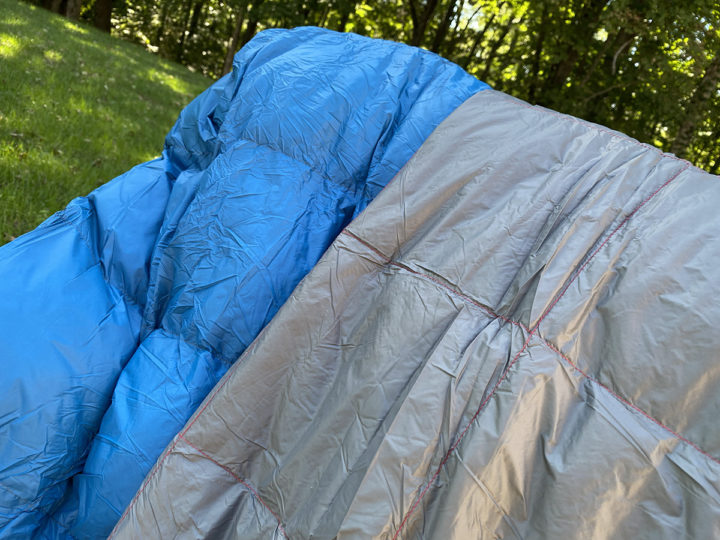 Build Quality
For a budget outdoors blanket, the build quality is actually pretty good. The stitching is all straight and attractive, and I've had no problems like rips in the material or insulation poking through.
I will say that the seams don't seem as thoroughly stitched as competing blankets, and I don't have a ton of confidence that the two fabric loops sewn into the blanket won't rip or break over time; they're probably the only part of these that actually feels cheap.
Affordability
This is where the Get Out Gear blankets really shine; they're a bargain in the outdoors blanket space. At the time of writing this review, the regular double puffy model is $58 and the down model is $69. That's at least half (and as low as a third) of what the big brands in this space charge.
The Get Out Gear blankets are a great budget option if you're looking to stay warm on a cool night, or even use them as a sleeping bag replacement during warm-weather camping. They may not win any awards in the design department for style or flair, but they more than get the job done for an affordable price. It's hard to go wrong with these.