A missing piece in your emergency kit.
Disclaimer: Jase Medical sponsored this piece and provided us with a kit in exchange for this review. As always, my opinions are honest and completely my own.
Prepping has always been a hobby of mine, but with everything going on in the world today, it's starting to feel more like a necessity. From food stockpiles to bug out bags and first aid kits, I've made it a goal to keep our cars stocked and our pantry full of everything we might need if the worst ever comes to pass.
Top of the line first aid kits have always been an important part of my planning, but they're obviously limited in the types of medication they can provide. That's why I was excited when Jase Medical reached out about covering their new product, the Jase Case. Simply put, the Jase Case is an 100% legal emergency antibiotics kit that contains 5 of the most common antibiotics you might need in the event of a dangerous infection. Think of it as a backup plan if you're off grid somewhere, or in a natural disaster where you can't make it to your doctor/pharmacy.
Honestly, I didn't even know a product like this existed, but what Jase provides is actually pretty cool. The whole process is certified by board-certified physicians, involves a quick medical consult, and contains tons of education for how to use these medications in the event of an emergency (you obviously don't want to abuse antibiotics if you don't need them). Jase offered to provide us with a kit to see how their service works, and I jumped at the chance to check it out. Here are my thoughts.
Ordering Process
Getting started with the Jase Case antibiotics kit couldn't be simpler. Simply purchase the kit (you can purchase one a year), and you're given access to an online-only onboarding process with a brief medical survey and an identity verification process. The whole process only took me about 10 minutes, and it involves straightforward medical questions about potential allergies, the last time you've had a full medical checkup, and other things along those lines. Uploading a picture of an official ID (my driver's license in my case) was even quick and secure, involving just holding it in front of my webcam and snapping a picture.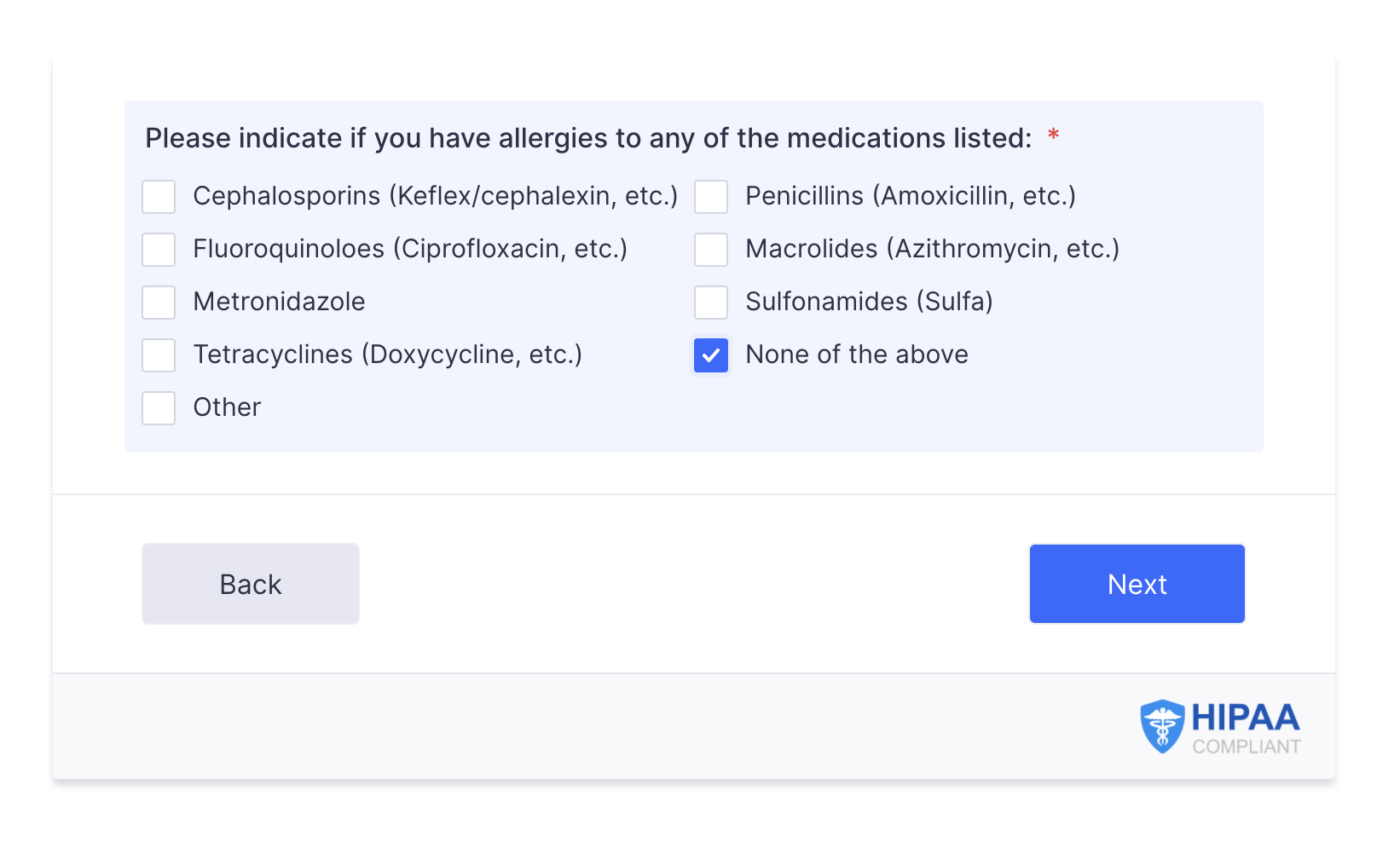 My understanding is that a Facetime-style face-to-face consult will be a part of the experience for some customers if the physician has questions; in my case, based off of my medical history and lack of allergies, that additional consult wasn't needed. I was approved by their advising physician only a day or do after completing the online questionnaire. After that, my prescription was sent to one of their many partner pharmacies across the country, and it was just a matter of waiting for the package to arrive.
In a world where medical consults and the prescription process for even simple medications can sometimes feel like jumping through hoops, I was pleasantly surprised by how streamlined the onboarding process was. If you don't have a primary care physician or aren't familiar with potential drug allergies, know that there may be a few extra steps involved. It seems like Jase wants to do the best they can to ensure the emergency medications they provide are safe and effective for every patient.
Delivery/Look and Feel
About a week after completing my initial questionnaire and receiving approval from the physician, my emergency supply of antibiotics arrived without fanfare in a simple cardboard box. That box included all of the antibiotics, neatly labeled in similar pill containers as you've probably received from your own pharmacy. The antibiotics included in my case are:
Amoxicillin-clavulanate 875 mg tablets (28 tablets)
Azithromycin 250 mg tablets (6 tablets)
Ciprofloxacin 500 mg tablets (28 tablets)
Doxycycline 100 mg capsules (120 capsules)
Metronidazole 500 mg tablets (30 tablets)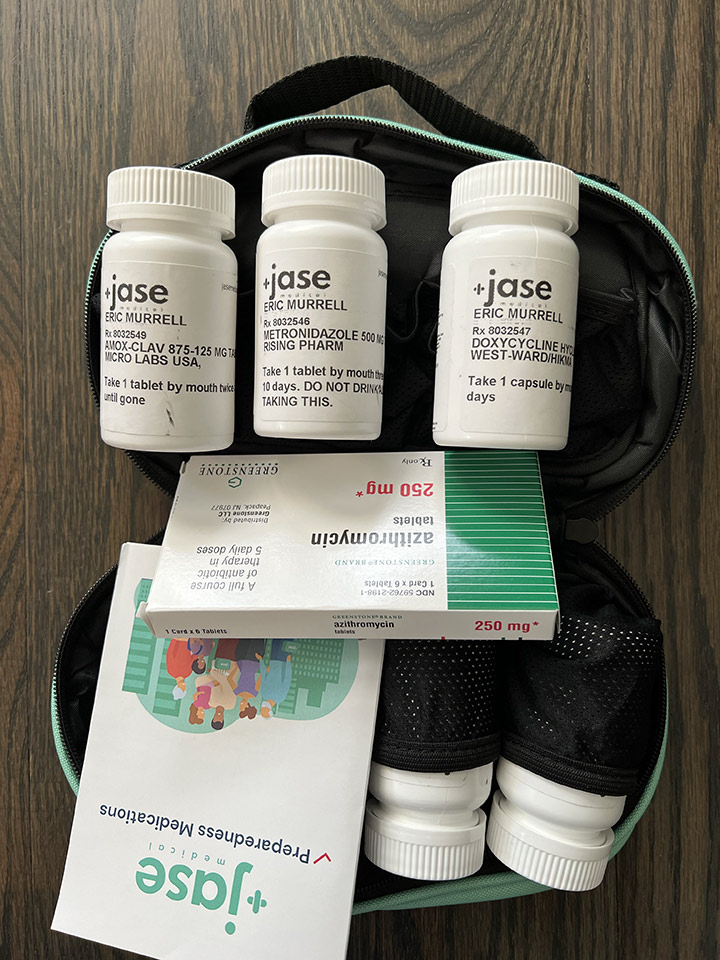 Although this initial box included detailed medical paperwork about each prescription, another box arrived a few days later containing the (surprisingly nice) Jase medication bag and the thorough emergency care guide. Apparently these items normally arrive together, but some supply chain shortages mean that some customers may receive their medication before receiving the rest of their kit like things went down in my scenario.
It feels silly to judge a product like medication based off of the packaging and supplemental materials that come with it, but I can't overstate how nice the Jase kit and the included guide are. The bag itself is actually very well made, with several compartments to hold both the subscriptions themselves and the various guides you will want to store with it. I also like how easy it is to spot the bright green bag in your medicine cabinet or in a larger emergency kit. It's definitely hard to lose.
Probably my only gripe would be that my medication seemed to ship in more bottles than the bag was built to accommodate easily – I had to kind of jam one of the bottles in the kit. Again, that's kind of a stupid thing to complain about with a product like this, though.
One thing that deserves special mention here is the quality of the Emergency Antibiotic Guide that comes as part of the kit. It's simple, easy-to-follow, and does a fantastic job of explaining each medication according to the scenario where you might need to use it. Jase makes it easy to reach out to a physician with any questions you may have (more on that in a second), but if you're in a pinch where you only have the guide nearby to help, you'll feel like you're in good hands.
Customer Experience
This is the part of my experience that really shined for me. Whereas you might assume that getting medication like this through a website/service is a pretty hands-off experience, Jase Medical is actually the opposite. Although the process of ordering the kit and doing my initial evaluation was pretty streamlined, I received a human touch every step of the way through personalized messages and several opportunities to consult with a doctor with any questions I might have. That doesn't just go for the initial kit purchase either… They have doctors standing by at any point to answer questions and provide advice for when you have to actually use your medication. Now, given that this is an emergency-use product, you might be off-grid somewhere or in a disaster scenario where it's hard to get in touch, but it's still nice to know that help is only an email away.
Affordability
The price for a Jase Case emergency antibiotics kit is $259 USD at the time of this review, which is surprisingly affordable when compared to doctor's visits and trying to source the medications on your own. Depending on your HSA program, you may even be able to cover the cost of a kit out of an HSA spending account as well (be sure to ask your insurance provider before ordering).
Conclusion
The Jase Case is a pretty unique product in the emergency preparedness space. If you're into prepping and putting together emergency kits like I am, then I can't recommend this emergency antibiotics kit enough. It's one of those things that you hope you'll never need, but if you do, it could literally save your life.