Party in a box.
Disclosure: The folks at LIFX very kindly provided a bulb for this review. As always, the opinions are my own.
"Honey, you have to come see this, right now!"
That's what I was yelling at Lauren from across the house only moments after turning our LIFX smart bulb on for the very first time.
As is obvious if you've spent any time on this blog, I have a lot of fun messing around with gadgets for our new home. Many of them do very cool things, but few have elicited the response that the LIFX Wifi light bulb has in our home over the past week or so. This thing is just stupid cool, and the kind of household fun that Back to the Future II promised us long ago…
What Does it Claim to Do?
The LIFX Wifi light bulb is a smart LED light source that offers light equivalent to a 75w incandescent. In addition to offering white light in a range of temperatures, the LIFX claims to offer millions(!) of different shades of the rainbow at many levels of brightness.
It's also designed to pair with dozens of other LIFX bulbs to create different scenes, automate lighting zones in the home, and make one heck of a lighting setup for your next weekend rave.
Specs:
75w replacement (at 17w when at full power)
Large light designed to fit in normal sockets
40,000hr lifetime
Dimmable (via app only)
White light (many temperatures)
Millions of colors
Connects to other LIFX bulbs via WiFi
Requires an iOS/Android app for smart functions
1000 lumens
Look and Feel
We'll just get this out of the way up front… This thing is huge. You'll probably want it either covered by a lamp shade or exposed in some sort of modern fixture; anything in between and it comically sticks out. You can see the bulb on the far right in the image below.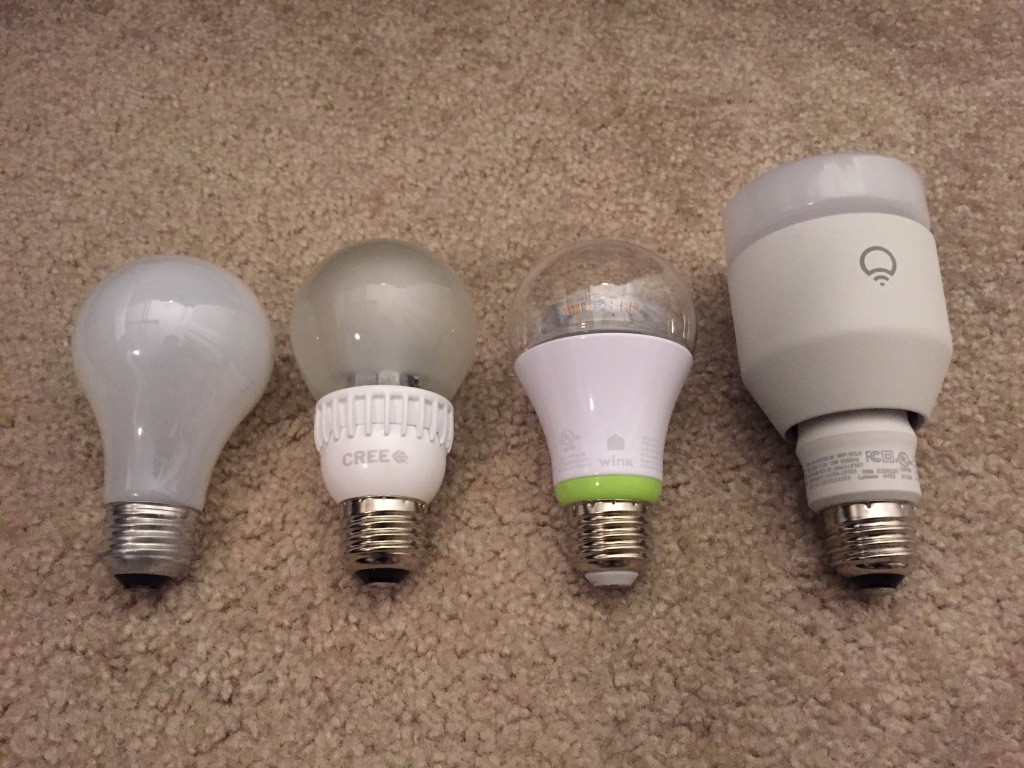 It's far from ugly, but its husky dimensions (and weight) are definitely off putting upon the first unboxing. That said, it does feel extremely sturdy, and you can tell its packing a lot of tech inside. Great looking packaging too.
Performance and User Experience
I can't quit playing with it, and that's probably the biggest compliment I could give it.
It took about 30 seconds to set up, and was instantly a piece of cake to adjust through the provided app (tested here on my iPhone 6). Changes of every kind take place almost immediately, which is a nice change of pace from the Wink-controlled GE Link bulbs that sometimes take 5-10 seconds to accomplish my bidding.
Even in standard shades of white, the bulb is exceptionally bright and dims to extremely low levels (again, a plus when compared with other products). But you're not here for that… You're here to talk about colors. SO. MANY. COLORS.
I always thought colored lights were kind of a gimmick, but the LIFX immediately proved me wrong. It produces beautiful, bright colors of every shade that are so immediately captivating that it's hard to put into words. I was expecting the equivalent of the old halloween bulbs you'd find at a party store, and wasn't prepared for rich hues of light that are so vivid they're almost otherworldly.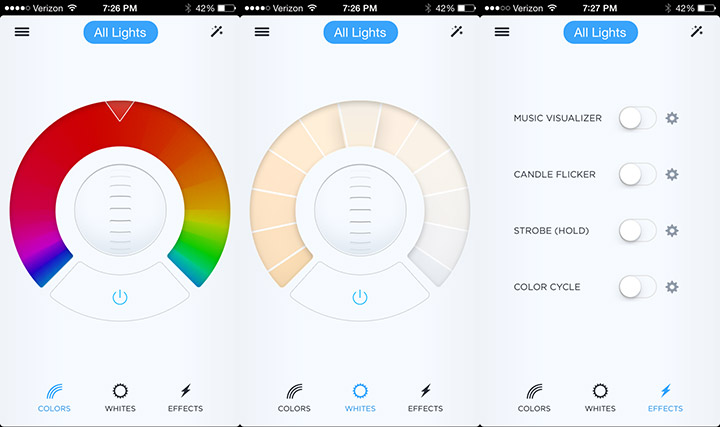 It syncs to music. It includes a strobe light. It mimics a candle. It can turn on automatically when you're away.
My wife thinks it's super cool ("We're going to have to get more of these…"). My four-year-old thinks it's magic ("DADDY! How did you do that?!"). I think it's one of the coolest things in our home right now.
The only functional drawback is that you have to be on the same WiFi network to control it; that means no turning the lamp on and off while you're away. That's a bummer, but hard to complain about when it does so much else.
Integration with Other Platforms
At this time, the LIFX integrates with Nest through their API, but not much beyond that. Hopefully that's something that will change over time. Specifically, I'd love to see some support with Wink and the other smart home hubs out there.
Build Quality and Reliability
This thing is rock solid, with none of the drawbacks that one might expect from a crowd funded product. It's well engineered and produces beautiful light without flicker in every mode.
More importantly, it responds to changes in less than a second, and has none of the (minor) reliability issues I've encountered in other products such as the GE Link bulb. In my testing, it works as you would expect every single time.
Affordability
At $99, it's expensive. However, that price buys you one of the best smart bulbs on the market, and one that's rated to last twice as long as a comparable Philips HUE bulb (one of the leaders in this segment). It also doesn't require a hub like some of the other products out there, adding additional savings.
Pick up one to try it out, and I bet you'll order a few more in short order.