Feeling is believing.
Updated Review Available!
We recently had the opportunity to review a newer version of the Culer Solo! Check out that
review update here
.
Disclaimer: The folks at Culer very kindly provided a unit for this review. As always, the opinions are my own.
I hate being hot. Summer is easily my least favorite season on the year, so much so that I'll avoid going outdoors at pretty much any cost. It's the time of year when my unusually pale skin feels even more out of place, and my love of video games carries me through while everyone else enjoys the pool.
For that reason, I was really excited to stumble across the Culer "Home Space Cooler," which is frankly a product category I've never even heard of. Who doesn't want a cheaper, more environmentally friendly way to cool down?
What Does it Claim to Do?
The Culer AC100 is Culer's entry-level home space cooler. Using a process branded as "Flow Blurring," the Culer units claim to inexpensively lower the temperature of a small space by atomizing water particles for use in evaporative cooling. That's a mouthful, but the simple explanation is that the AC100 just uses a simple fan and fine mist to cool a room using far less energy than refrigerant-based solutions.
Specs
Uses simple tap water to cool a space for up to 10 hours
Uses less power than a 60w light bulb
Available in a medium and large size unit for home use
Multiple fan and moisture settings
Multidirectional cooling spout
I was pretty skeptical with this one, so our family was anxious to put it through the paces. Can it actually cool you down? Read on to find out.
Look and Feel
Our Culer unit arrived in a simple cardboard box that's about 2 feet tall. Unboxing the unit was a straightforward affair, with the unit packaged more like a power tool than a (typically over-designed) consumer good. It's actually much larger than I imagined it, and the design is simple and spartan; it's not an eyesore, but its something that looks a little more at home in a garage than a living room.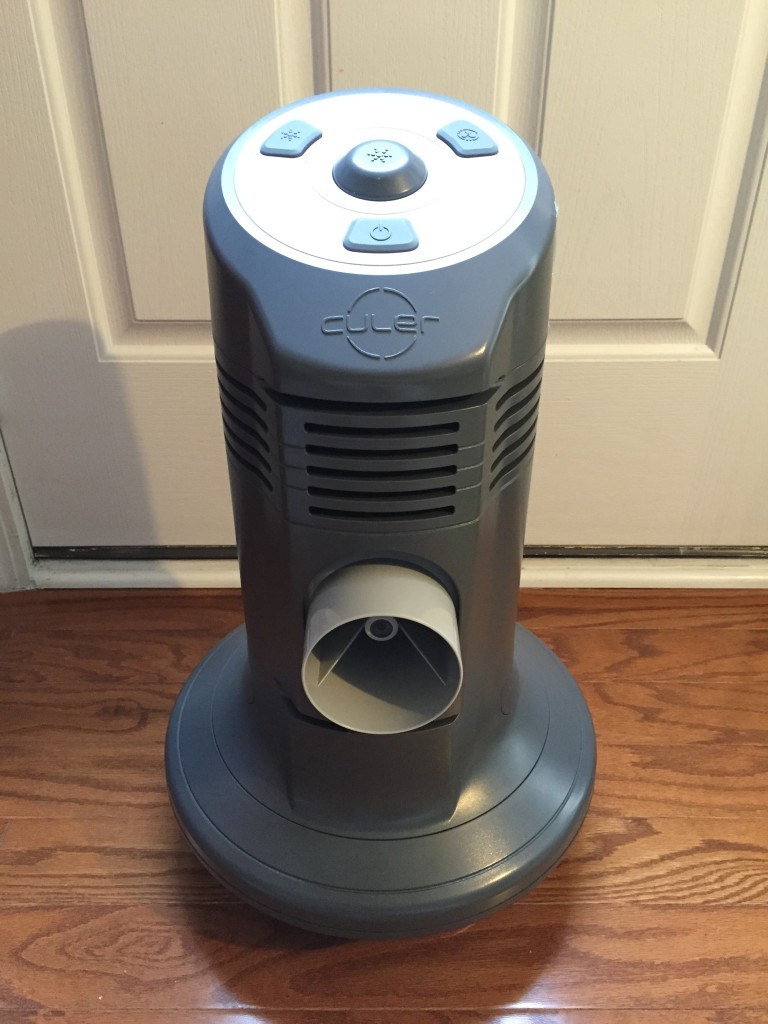 Simple design aside, the unit itself is sturdy and smooth. As mentioned in their marketing materials, the Culer has a very low center of gravity that has protected it from more than a few hard knocks from my two-year-old son. You may not be paying for looks, but you're getting your money's worth as far as engineering goes.
Performance and User Experience
Setup begins by following a the included "Quick Step Guide," which walks you through a simple, albeit unusual, setup process. I wouldn't call the unit hard to operate by any stretch of the imagination, but it has some unusual controls to go with its unconventional cooling method.
After you fill the unit with water, you turn the unit on, activate the fan, configure an oddly shaped dial to adjust the atomized water spray, and finally activate the spray itself. The spray is a pressurized mist (accompanied by a steady mechanical hum) that takes about 10 seconds to get going. Once it does, it's kind of shocking.
True to their word, the Culer produces a 6-8ft (depending on the fan setting) cone of circulating air that feels remarkably cool. My wife let out an audible gasp the first time she walked by it (she was extremely skeptical of it), and my kids basically refuse to go anywhere else when its on. After using it for about an hour, Lauren and I both agreed that the area near the unit felt about 10 degrees cooler than anywhere else. It's pretty wild.
Now, I know what you're thinking… "Why the italics in the descriptions above?" Well, in a providential test for this product review, our home's AC unit ran into an issue the day we received our Culer, giving us a unique opportunity to test its ability to actually cool a space. The results were surprising, especially given Culer's claims that their technology can reduce the temperature of a space by up to 30 degrees (!).
To test things out, I set the Culer up on full blast in our smaller living room space, which has a square footage that identically matches the rating for the AC100 unit. To test the temperature over time, I set up my trusty Canary unit (which measures temperature) a few feet away, and another Canary unit in the room across the hall. Our AC was out, so there was no other cooling involved, and this was during the evening hours when the temperature was stable for a few hours.
"Yadda, yadda, yadda… Does it actually lower the room temperature?" In short, it doesn't look like it does. I left it on for about three hours, and although the temperature lowered by a degree initially, it fluctuated up and down within the margin of error throughout the timeframe. In fact, my other Canary across the hall reported almost the exact same temperatures.
With that said, we certainly felt cooler when we were in range of the unit's air flow, but it seems like the Culer isn't a good solution for actually lowering the temperature of a space.
Does that mean the Culer is a bust? Actually, no, I don't think so. We worked in the garage the following weekend, where the Culer was a very welcome addition, and I love having it around for my workshop and back patio. Similar to a theme park mister, it will definitely cool you down; it just doesn't seem to have an effect on your environment.
Build Quality and Reliability
As I mentioned above, this thing is rock solid. It's obvious that the Culer engineers fashioned the components with care, as the unit has a secure stance on the floor, and a directional spout that pivots with ease (and definitely stays where it's positioned). Another nice feature is the design of the fan/air spout, which is deep enough to protect curious fingers from any semblance of danger.
It has worked without a hitch in the month we've been testing it, but their site recommends yearly replacement of filters for both the water pump and the fan.
Affordability
Here's the bummer… I think the Culer is a little expensive for what it does. I wouldn't blink an eye at the $230 price tag if it actually lowered the air temperature, but what you're essentially buying is a high-end fan/cooling system.
With a price tag in the lower 100s, I think this is a product that every home would find use for. As it stands, it's a great competitor in the high-end segment; I see it as a terrific alternative to a consumer considering a product like one of Dyson's fans.
Conclusion
The Culer may not change the ambient temperature, but it will certainly cool your family down. As costs fall over time, the Culer is worth considering to battle the next heat wave.