The Start of Something Big
Boy, have the streaming box wars heated up or what? What was once a boutique product that you purchased just for Netflix has turned into a huge new industry that's just getting started. Oddly enough, it's also one of the few markets where a clear leader has yet to emerge, despite the strong competition. Roku just refreshed their lineup and doubled-down with the Roku 4, Amazon continues to refine its Fire TV line, Google is fighting for the bottom of the market with their popular Chromecast, and Apple has finally gone all-in on their efforts with the redesigned Apple TV. (I'm leaving out Smart TVs here, mostly because my experience with their apps has been garbage.)
Honestly, all of the offerings mentioned above are pretty great choices, and it's surprisingly difficult to purchase the wrong thing this holiday season.
Since we just moved in with my parents while we're between houses (yes, we're still waiting to move in to the house we started this blog about), I wanted to pick up a high-end streamer that we can use in our guest room now, and eventually in the living room of our new place. For our purposes, the new Apple TV is the best fit. Here are some scattered thoughts and early impressions from a few weeks of putting it through the paces. I'll post a full review as the platform matures along with the rest of the marketplace.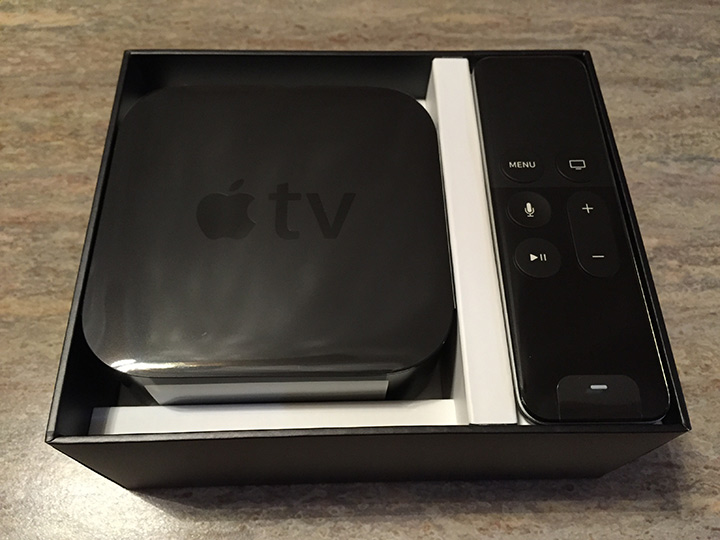 Why the Apple TV? What About the Other Boxes?
We're an Apple house with MacBooks, iPads, Apple Watches, and iPhones galore, so there's typically little reason to explore outside of the Apple utopia, especially if you've already invested in the ecosystem. The other streaming boxes used to be much more attractive, but with the addition of the App Store and some serious muscle under the hood of the upgrade this Fall, the Apple TV is a force to be reckoned with. It doesn't hurt that it supports AirPlay and has the fastest streaming UI I've ever used, but we'll get to that in a minute.
Are you cheap, a little nerdy, and just want a quick way to stream? Grab a Chromecast. Don't need Apple content and want a rock-solid streamer with a huge selection of "channels?" Grab a Roku. Are you dead-set on streaming 4K content on that Black Friday monster you just picked up? Grab a Roku 4 or Amazon Fire. Want to yell at your TV every 30 minutes when your stream drops out? Get any of the streaming sticks. (That last one was a joke, they're pretty much all terrible in my testing… STAY AWAY FROM THOSE).
If you want Apple's incredible content selection, what will eventually be the largest App Store, AirPlay streaming, and probably the most versatile box on the market, spend a few extra bucks for the new Apple TV.
Siri Remote
It takes a few minutes of getting used to, but the new Siri Remote that's included with the Apple TV is bad-to-the-bone. The glass touch pad is super sensitive, but you'll be flying around the interface in no time.
I've seen other reviews say that entering text with the touch pad is terrible, but I actually find it easier than the old Apple TV remote. It's not ideal, but not bad at all.
I love that volume buttons are now included on the remote, and it can even power on/down your TV. One less remote to mess with!
Siri search is surprisingly awesome, and easy-to-use. Just hold the mic button on the remote, tell it what you want to watch, and it returns results super fast. It is by far the quickest interface I've ever used to dig up content, and should only get better once more apps get access to the Siri UI.
Siri does lots of neat tricks, but you'll mostly use it as a quick way to find movies and TV shows. 10+ minutes of searching all of your streaming services for something to watch turns into seconds of discovering what is available where. For instance, we've recently discovered Nathan for You, and have been struggling to find it online. Seconds after asking Siri, she showed me I could buy it on iTunes, or jump right into Hulu, where all three seasons were available. That sort of functionality is revelatory, and probably the most disruptive thing about this box.
By the way, the regular buttons feel great for some reason… very clicky and responsive.
App Store
I'm sure it'll grow into something great, but it's pretty sparse right now. Expect to find some upscaled iPhone game cash grabs, a few popular streaming apps, and not much else.
Apps load really fast, but most (especially games) require the download of additional data periodically to meet Apple strict size deadlines.
You'll find the big names like Netflix, Hulu, and HBO, but several of the big second tier players like VUDU and Amazon are still missing. Amazon's Instant Video service that's free with Prime seemed to be intentionally absent since launch, but it sounds like they're changing their tune and bringing it over shortly. Hopefully other services and companies will play nice like they do on other iOS devices.
User Experience
The UI is lightning fast and silky smooth, easily besting the UI of ever other device on the market. It's going to be hard for other companies to catch up with the Apple TV's iOS foundation running behind the scenes.
When you hover over iTunes movie/tv content, there's this great little parallax effect when you gently move your finger on the touch pad. It's completely unnecessary to the UI, but addictive to mess with. I can't stop.
You don't have to use Siri unless you want to, but it really does speed up content discovery.
Speaking of Siri, her new "What did they just say?" command is just awesome. It'll rewind about 10 seconds, show subtitles for the scene, then turn them off afterward. Life changing.
This is going to sound ridiculous, but fast forwarding/video scrubbing is the best I've seen on any device EVER. The touchpad makes it seriously amazing and unbelievably accurate. For instance, while watching a movie, I simply slide my finger on the pad, the video pauses, and I get a great thumbnail view while I search for the scene I'm looking for. A simple click then takes me right where I want to go.
Gaming
Since the Siri Remote is motion sensitive (similar to the original Wii controller), there's some potential for this to disrupt the casual gaming market. My parents wouldn't touch a Playstation/Xbox, but I could see them rocking some Texas Hold Em or puzzle games on this thing for sure.
It supports some Xbox-style bluetooth controllers for advanced controls for shooters and such, but the requirement that all games must be playable with the Siri-remote alone is a bummer; I doubt you're going to see full Call of Duty-style releases because of this, for example.
It's probably just a matter of early releases and optimization, but 3D games like Asphalt seem to suffer from a low frame rate right now. 2D games like Rayman look shockingly great, though.
Bad Things
I don't know what's to blame, but core apps like Netflix are prone to glitches and crashes right now. It's not enough to be annoying, but it's noticeable if you're used to the locked down apps on the old Apple TV.
You can't switch TV sources with the Siri remote, which is a huge bummer. It's the only thing keeping me from tossing my full TV remote in the drawer.
WHY NO 4K SUPPORT, APPLE?! I know the technology is still in its infancy, but it drives me crazy that I have to purchase a different box if I want to enjoy 4K content on my home theater TV. The new iPhone even shots 4K video, making this increasingly puzzling to me.
This box is expensive, especially if you go for the 64 GB model like I did (it retails for $199).
There's no optical out, which is a bummer for some AV set ups.
Should You Buy One?
If you're an Apple house that doesn't care about 4K content, I wouldn't hesitate. The 4th Gen Apple TV is really awesome at what it does already, and the iOS-based App Store is sure to make it the market leader in content, games, and interactive experiences in the months to come.
If it weren't for a lack of 4K support, I'd recommend it whole-heartedly. That one small feature aside, I think it's probably the best streaming box you can buy right now.
Comments? Questions? Disagreements? Lets hash it out in the comments below.