Life in living color
Updated Review Available!
We recently had the opportunity to take a look at the new Hue bulbs with "richer colors," which dramatically improves the color range of the Hue product! Check out that
review update here
.
Disclaimer: The folks at Philips kindly provided a Hue kit for this review. As always, the opinions are my own.
Some gadgets have become synonymous with their function in the smart home space. When folks think of smart thermostats, they think of Nest. When you think of robot vacuums, you think of Roomba. Chances are, when you think of smart lights, you probably think of Philips Hue.
The Hue system has always been tempting to me, but I've only used competing products myself, and most of my friends use cheap knock-offs or lower-end smart bulbs. I finally had an opportunity to begin testing a "White and Color Ambiance Starter Kit" earlier this summer, and I was thrilled to find out what all of the fuss is about.
What Does It Claim to Do?
Philips Hue is a system of ZigBee connected smart bulbs that syncs with a central hub to give your full control over your lights using your smart phone. The Hue system has options for bulbs and lighting of just about every shape you can think of, but for this review we'll focus on the "White and Color Ambiance Starter Kit" that uses v2.0 of their hub and 3 a19 bulbs.
Specs
3x White and Color Ambiance a19 bulbs
800 lumens max
16 million colors
15,000hr bulb life
Warm and cool shades of white light
Dimmable via radio frequency to 5% (they do not work with external dimmers)
Includes v2.0 of their hub with compatibility with Apple's HomeKit
Works with Wink, Nest, Smart Things, and other smart home hubs
2 year warranty
Is Philips Hue the ultimate home lighting system? Read on to find out!
Look and Feel
The Hue bulbs have become iconic in the smart home space, with their diminutive size and distinctive angular shape making them both instantly recognizable to the geeky crowd, but fairly nondescript to everyone else. I was actually pretty surprised by the size of everything when my starter kit arrived a few weeks ago; the box was much smaller than their previous packaging for the v1.0 system, and everything was displayed nicely inside when I opened things up. Consumer goods companies: never underestimate the impact of a pleasant unboxing 🙂
There were a few other surprises in store when I began setting everything up. For starters, the new Hub is much smaller than I was expecting, which is beneficial for my already crowded networking shelf; it also looks much nicer than the random blocks of ugly plastic than some smart home systems expect you to use. I also discovered that the Hue bulbs use a thick frosted glass instead of a cheap clear glass or even plastic like the LIFX bulbs. It feels more premium as a product (that's purely subjective, though), and made me particularly fearful of dropping a $60 light bulb or putting these in lamps that kids frequently knock over. Our kids never do that sort of thing though. Maybe.
The base of these "white and color ambiance" bulbs are painted a neutral silver (similar to the aluminum color of a MacBook or iMac), and if you add their "white ambiance" bulbs to your system, you'll find a white base on those. The design of the bulb itself may not matter if you plan to hide yours inside of a fixture, but it's good to know if you plan to use them exposed. The silver on the bulbs I tested does a good job of blending in, since it tends to absorb and reflect the tone of its surroundings.
Although the Hue system pairs with an unbelievable amount of apps and hubs (we'll cover that below), you'll kick things off through Philips' official Hue app, at least for pairing and room set up. I'll cover the user experience below, but the recently updated app for iOS is generally attractive and well-designed (which I hear is a huge improvement on their previous app).
Overall, the product and official app are as thoughtfully designed as you would hope for a premium smart home product.
Performance and User Experience
Setup
You can screw these in and use them immediately like a normal lightbulb, but the real fun begins when you set up the bridge and pair your Hue system with their official app.
Setting up the bridge is painless as long as it's easy to access your wireless router, and it has an ethernet port free; simply plug the hub in, connect the ethernet cable to your router, and follow the prompts in the Hue app to get going (which only involved pushing a button on the Hue bridge when prompted). After I was connected to the bridge, I was prompted to install a quick firmware update and to authorize my device with HomeKit since I'm using the system with iOS devices. That process was kind of novel, involving taking a quick pic of a code sticker on the bottom of the hub.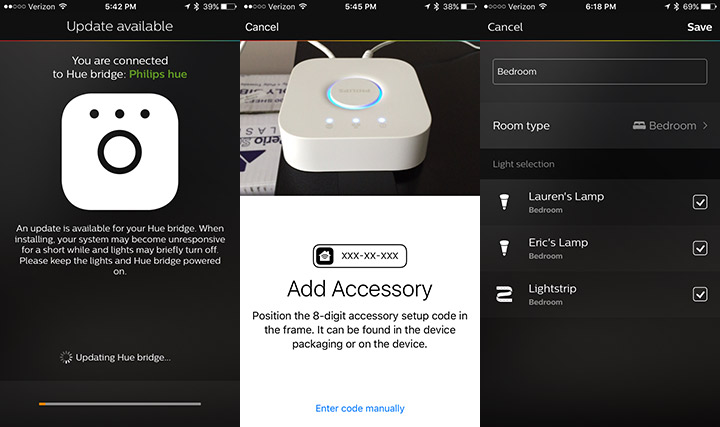 The whole process took me about 3 minutes (including 2 minutes of firmware updates), and the Hue bulbs that I screwed in earlier were immediately controllable through the Hue app. It's a simple install process with nothing to be afraid of.
Everyday Use
Controlling lights through the Hue app is simple, but it does take a little getting used to. You start by naming your lights and grouping your bulbs into "Rooms." From that point, you can turn the whole room on/off, change the dimness with a slider, and choose from several "scenes" (or create your own!) to set your room up with different color palettes. You can also fine-tune every light in the room, turning them on/off individually, tweaking their color or white temperature, and even changing their dim level separately if you like.
To work properly, Hue expects for its bulbs to be left on constantly, using either the app, your voice, or one of their custom switches to turn them on or change their settings. What this means in practice is that your family might constantly turn them off by accident, which means they won't respond to your commands until you turn them back on again. Also, they're not "stateful" like other color bulbs like LIFX, meaning they reset every time they lose power. This isn't a big deal (I'm actually glad they default to "normal" warm white light), but if your power kicks off in the night and comes back on, be ready for lights at full blast!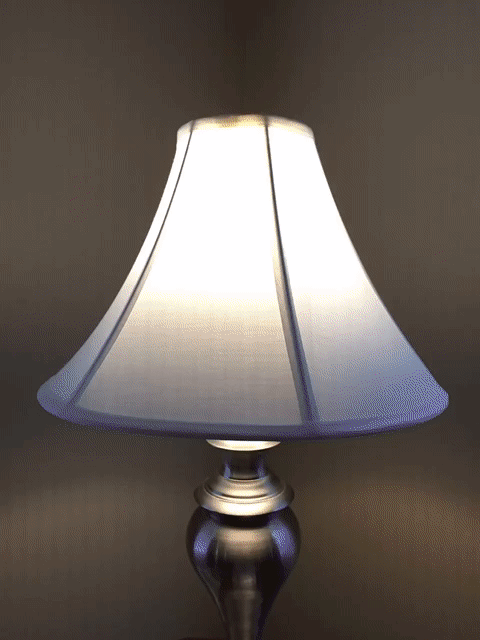 In everyday life, I've found Hue to be especially great for bedrooms and bonus room environments where you frequently want to have ambient light or to set a mood for group gatherings. They're a blast for movie night and dance parties (more on that in a second), and just handy in general for their various white temperatures and excelling dimming ability. Set them at a daylight color temp at full brightness while you're assembling furniture, then set them to soft warm light at 30% brightness when you're winding down with Netflix later in the evening.
It's those constant lighting tweaks that you'll find the most useful, and voice control is really, really fun with these little lights. Due to their excellent integration with Apple's HomeKit, you can use Siri to turn lights on/off, set varying levels of dimness, and even set the room to different scenes or a preset list of common colors. That Siri control is great (">when Siri actually hears you), but we use Amazon's Echo with Alexa for voice control in our home; Alexa thankfully works just as well for common tasks, but for some reason it lacks the ability to set colors or scenes. You have to resort to IFTTT triggers with Alexa for that, which is a big bummer.
I haven't had a chance to test it yet, but the Hue app also includes the ability to schedule lights, turn them on automatically when you arrive at home, and even set ambient sunrise and sunset effects to help you wake up or wind down. There are lots of ways to enhance your life with Hue.
Light Quality
Let's take a second to talk about those colors I keep mentioning. Color is the Hue system's trademark feature, and it does a good job with it most of the time. The a19 bulbs do seem to struggle with producing greens, light blue, and some levels of pink, though they knock everything else out of the park. There's also a limit to the brightness of certain shades of light that are produced, so you're not going to see the a19's 800 lumen max rating all across the board.
Having access to all of these colors and varying temperatures of white light is fantastic, but some competing products like the LIFX bulbs are more vibrant with an extended color range.
Updated Review Available!
We recently had the opportunity to take a look at the new Hue bulbs with "richer colors," which dramatically improves the color range of the Hue product! Check out that
review update here
.
Creative Uses
The real reason you'll be drawn to colored lighting systems like this is the potential for some serious fun. Think birthday parties. Think halloween and Christmas Eve. Think of using them with IFTTT for visual notifications when someone tweets at you or you won an eBay auction.
Two fun things to try right out of the box are using them as party lights and in conjunction with your home theater. Using them with Light DJ (a butt-ugly but very functional iOS app) allows for some awesome, customizable party lighting that syncs with whatever music is playing through your iPhone's mic. I also downloaded Hue TV (mercifully well-designed) which syncs the lighting in the room with the image on the TV screen or whatever else you point your camera at.
There are dozens and dozens of apps like this out there, and I think you'll have a blast coming up with goofy uses for your lamps with the whole family.
Integration with Other Platforms
The question here isn't "what works with Hue?" The question is really "what doesn't work with Hue?" The amount of apps, smart home hubs, and services that support the Hue platform is simply mind-boggling… It's probably the biggest reason you'll want to buy into the platform.
It works with Wink. It works with SmartThings. It works with Echo/Alexa. It works with Nest. It works with Siri and Apple HomeKit (new in v2.0). It works with IFTTT. Seriously, it works with almost everything. If you purchase a smart home gadget in 2016, I can almost guarantee you it has some sort of integration with Hue. You can finally trigger a dance party every time your toast is done… we're living the dream, people.
In all seriousness, Philips' openness and willingness to be associated with dozens of services and platforms is a beacon of hope for the modern smart home, and a shining example for other companies to follow.
Reliability
I've put this system through just about every stress test I could by controlling it through the app, the Wink app, Siri/HomeKit, IFTTT recipes, and my trusty Amazon Echo. Hue kept up with every little tweak and change with extremely fast response times (except for with IFTTT recipes, which is typical since those move through the cloud). A huge perk in buying into a mature product/platform like this is that they've had years to work out most of the bugs!
This kit also uses the new-model bulbs, which have a two-year warranty from Philips and an expected lifespan of 15,000hrs. They're rock solid.
Affordability
The Hue system doesn't feel affordable at first, and that initial starter kit purchase will likely be a tough pill to swallow, especially for families that are just starting to build a smart home. Unless you catch a (rare) sale, you're looking at $199 to buy into the system, which isn't necessarily a bad value; it just requires you to make a larger initial purchase of three bulbs, where hubless platforms like LIFX allow you to get in on the fun with just an initial bulb purchase.
After that initial kit purchase, the costs even out with Hue's competitors, and you have the opportunity to purchase dozens of reasonably priced add-ons (many of which unavailable on other platforms) to make your home a lot more colorful.
In other words, Hue is expensive to start with if you only want to change lighting in a small area, but priced roughly the same as its competitors if you compare buying a handful of bulbs for each platform.
Conclusion
There's a reason the Philips Hue products and system are so popular; competitors may outdo them in a few metrics like brightness and color vibrance (at least with the a19 Hue bulbs), but no one comes close to matching the awe-inspiring flexibility of this system. It produces beautiful light and effects, is unbelievably responsive, and has enough potential for creative uses that I could devote an entire book to it.
There may be cheaper solutions (ie: smart dimmer switches) for simple smart control of your lighting, but if you want full control of the look and feel of your home, Philips Hue is a wonderful system to invest in.