No more wall warts.
If you're looking to upgrade your outlets after reading our recent review of SnapPower's awesome Guidelight product, you might find yourself considering one of their Charger units for your bedroom, kitchen, or office. Does the Charger live up to the SnapPower family name? Read on to find out!
What Does it Claim to Do?
SnapPower produces a range of power outlet covers that claim to add functionality to your outlets without the need for additional wiring or adapters. The SnapPower Charger adds a handy USB port to the bottom of your power outlet, allowing you to charge a phone or similar device without the need to clutter your wall. Let's dive in to the details.
Design
If the packaging for the Guidelight was a bit spartan, the simple plastic clamshell the Charger comes in is as simplistic as it gets; it's a no frills approach that kind of carries over to the Charger cover itself.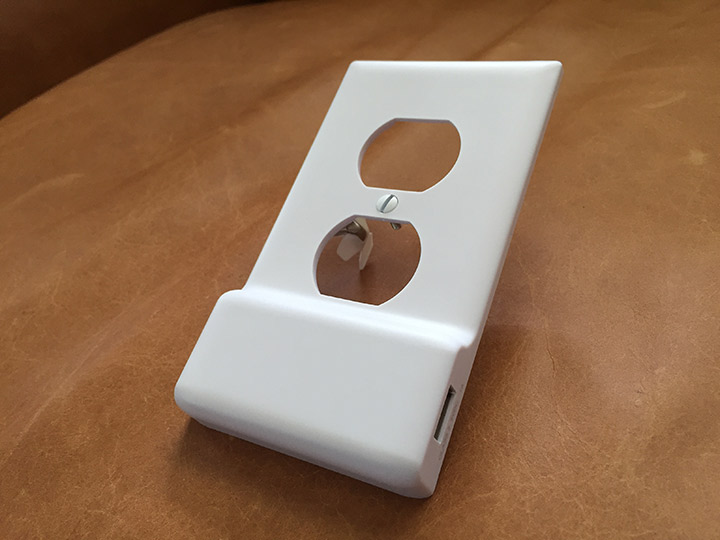 Where as the Guidelight keeps most of it secrets hidden until the lights go out, the Charger adds a sizable extra hump to the bottom of the typical outlet cover that's a little more noticeable. It's not ugly or off-putting, just less discrete than its LED-wielding cousin. Flip the Charger over, and you'll find some springy exposed contacts that route power to the built-in charging unit and USB port; that's it! It features the same innovative technology as the Guidelight, which makes installation a snap.
It comes in white, almond, or ivory, and it blends in fairly well when installed; just keep the charging hump and the slight bump in vertical height in mind if you plan on installing the outlet cover in a tight spot.
Performance and User Experience
Installation couldn't be easier: Cut the power, take off your old cover, pop the Charger on, and screw it in. It will take you about 30 seconds (depending on how long it takes you to find your screwdriver).
In use, it functions exactly as you expect it would, with one small caveat. Whether it was phones, tablets, or toys, every USB-powered gadget I threw at it lit up right away and began charging/drawing power as soon as I plugged it in. It's fantastic having a guaranteed power port in the room without having to dig through doors and backpacks for those easy-to-lose power bricks.
So… about that caveat. That USB port is certainly more handy than most of your chargers, but it's probably less powerful than them too. It's 2.5 v/1 A rating is less than the small square that comes with your iPhone, and is way less powerful than the larger bricks that are designed to charge your tablets (I suspect this is because of the low power draw from its unique product design). It's a workable solution for charging your phone overnight, but if you're looking for a quick top-off for your iPhone, or a solution for juicing up your iPad, you'll want to look elsewhere.
The only other bummer is that only one port is present, when it seems like there would be room for two; again, my assumption is that it's a limitation of the available power.
I don't want to sound too disappointed, because the Charger is going to be a really great solution for many customers; it just may not be the perfect fit that some power (pun!) users are looking for.
Compatibility
The Charger comes in a variety of outlet shapes and colors, so you shouldn't have any trouble outfitting your home with these, even if your decor or home is on the older side.
There is one compatibility issue to consider before you order: you can't use the Charger on outlets that use GCFI breakers, which are common in many bathrooms, kitchens, and laundry rooms; it's not SnapPower's fault that those outlets don't work the same way, but it may limit your options in spaces like kitchens where the Charger cover would be pretty handy.
Build Quality and Reliability
I continue to be impressed with the solid engineering behind the SnapPower products; I've seen some cheapo solutions with flimsy plastic and exposed wires on the back, but the Charger is obviously engineered with care.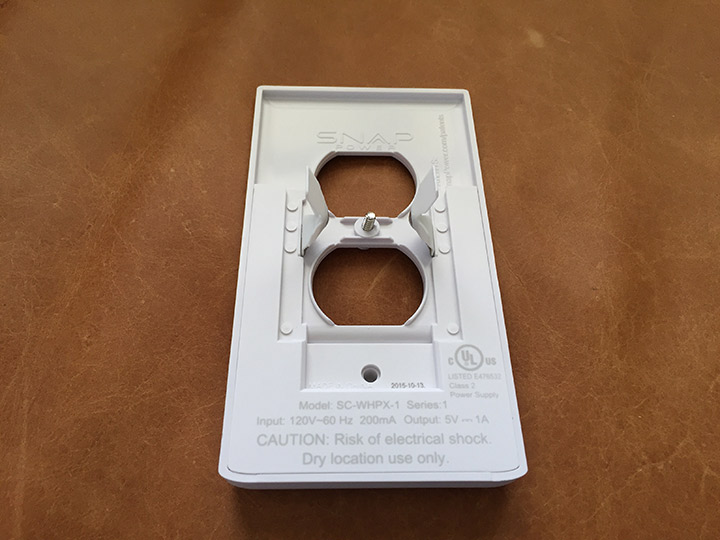 It's hard to predict reliablity without years of testing, but I don't see any reason why the Charger won't turn in years of faithful service.
Affordability
The SnapPower Charger retails for $20/ea, with exponential discounts based on the quantity you purchase. When you think of its ability to replace several charging bricks that will inevitably get lost, that's actually a pretty fair deal. Factor in the utility of decluttering your walls, and it might be worth picking up several to upgrade your home.
Conclusion
Overall, the SnapPower Charger is a good product that's slightly hampered by its underpowered circuitry. However, its there-when-you-need it USB port can add a lot of usefulness to your home. Check it out.