Music to your ears.
The headphone jack has been marked for death, and everyone knows it. When the iPhone 7 left it out earlier this fall, it seemed like a huge deal; now that all of the click-bait headlines have calmed down, I think folks are coming around to the idea of upgrading to some wireless headphones and all of the perks that come without the cable. An article on Music Critic reads that "buying a quality budget Bluetooth headphones boils down to deciding on a style based on your personal preferences and intentions for use." But that is not all – the budget is also a factor.
As I travel a bit more these days, I've had that itch myself. Having a cable dangle from a pocket or backpack always results in getting caught up on something, and wrangling my headphones loose from under a plane seat is a recipe for driving the passenger beside me crazy. With that in mind, I was pumped when the folks at Klipsch offered to send me their newest Bluetooth On-Ear headphones to try out. Can they lure you away from the familiar comfort of the cord? Read on to find out!
What Do They Claim to Do?
Klipsch is legendary for their industry-leading speakers (I'm working on a review of their awesome vinyl set up as I type this), and their Reference On-Ear Bluetooth Headphones claim to bring their pristine acoustic signature to a medium-sized set of wireless headphones.
Specs
20 hour battery life
aptX and AAC high-definition Bluetooth streaming
Integrated mic with cVc
Removable Ear Cushions
Removable Flat Tangle-Resistant Cable
Folding Portable Design
Hard Shell Zip Carrying Case
Let's dig in to the details…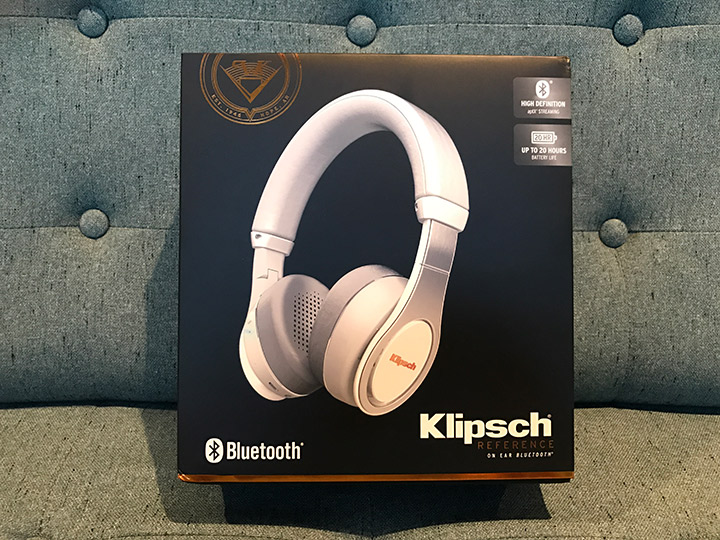 Look and Feel
I grew up with parents in the music industry, and I remember "playing with" (i.e.: being told not to touch) my dad's high-end stereo equipment in the living room when I was little. That feeling of functional luxury is the best way to describe these on-ear headphones.
I opted for the white model, which is extremely handsome in person. The ear pieces confidently fold, unfold, and expand with a satisfying mechanical click. The headpiece is a plush leather that rests lightly on the head, but the two things to focus on here are the amazingly comfortable ear pieces and the overall weight of the headphones.
I have a big head, and my previous on-ear headphones (from a well-respected brand) always feel okay when I put them on, only to leave me with a predictable headache about 30 minutes later. I'm not sure what sort of memory foam magic Klipsch has woven into these pads, but they're freakishly comfortable. Combine that with a set of headphones that are much lighter than they look, and you have an optimum experience for your ears.
Performance and User Experience
Everything I've read about Bluetooth headphones makes the pairing experience sound like a pain, but getting these set up was so simple that I had to make sure I didn't miss a step. Press the power button for two seconds to make them discoverable, tap over to your phone's bluetooth menu, and tap the headphones in the list. That's it! With my iPhone 7, they now pair automatically every time I turn them on, an experience which feels more convenient than hunting for a headphone jack. Nothing to it.
Okay, all of that sounds great, right? But… do they sound good?
No.
They sound incredible! Again, I'm coming from using a good pair of on-ears from a well-known brand, and listening to these makes me feel like I've had dollar store speakers taped to my head for the last few years. Mids and highs are crystal clear. Bass definitely makes itself known, but it doesn't overpower the mix like the Beats headphones I've tried. The only word I can think of to adequately describe the sound is "clarity."
The pads seal my ears off extremely well from outside noise, leaving only a beautifully clear audio mix that doesn't distort on even the highest volumes. I tried my best to make them crackle, but they even made it through some bonkers Flaming Lips tracks without giving in. Honestly, I'm kind of stunned by them.
The battery life is excellent, and I love the little touches like having volume and playback controls built-in to the headset itself (which are also easy to locate by feel alone).
These are the best headphones I've ever used.
Compatibility
If you have a device that can output audio over Bluetooth, it should work with these with no issue. If you don't, that's not a problem either… Klipsch actually includes a 3.5mm cable that plugs into the headphones for use with legacy devices. They're future proof, but still a friend to the past.
Build Quality and Reliability
Like I mentioned earlier, every adjustable part on these moves smoothly and confidently; they feel like a premium product, through and through.
Given my experience with Bluetooth devices in the past, I was a little worried about audio dropouts. The good news is that these bad-boys are rock solid; they didn't even break up with my phone several rooms away. I don't think you'll run into any trouble with them.
Affordability
With a review this positive, this is probably where you'd expect to find the big trade off, but that's not the case this time around. At $249, they're very reasonably priced, and are actually a great value compared to some offerings from the other audiophile brands.
Conclusion
Unless you're looking for ear buds for the gym, or maybe a giant pair of headphones for producing a record, I think Klipsch has made something close the perfect pair of headphones with these Bluetooth On-Ears. If you're ready to get serious about listening to music on the go, add these to your cart and thank me later.