The king of hoverboards.
If you haven't noticed, there's been a renaissance in the rideable space. Bikes and skateboards used to be the only way to get around, but the tech revolution is finally making its way to new categories of personal transportation that were never popular before.
I work on a 30-acre campus, and as our team spreads out among different buildings, it's getting kind of old hoofing it between the opposite sides of our property. A bike has always been out of the question (they're not agile enough to ride indoors), but with so many new solutions on the market, I've decided to try a few of them on for size.
I decided to try a hoverboard first, and I've heard nothing but good things about SwagTron. They were kind enough to send over their top-of-the-line T3 for me to review, so I've spent the last few weeks putting one of the most popular hoverboards to the test. Get hoverboarding and ride around hands-free in your home or park with the best swagtron hoverboards.
What Does it Claim to Do?
The SwagTron T3 is a premium self-balancing smart board (aka hoverboard) that claims to be the safest and most feature-rich unit on the market.
Specs
Dual 300 Watt motors
Bluetooth speakers
Companion app for iOS and Android
LED turn signals and battery indicators
8mph max speed
11 mile range
Supports riders up to 220lbs
UL 2272 safety certified
SentrySafe battery chamber for additional battery protection
Look and Feel
Most of the hoverboards I've used previously felt like cheap plastic toys (because, well, most were). Riding on the T3 is similar to using a real iPad after you've been around counterfeits for months; it's a premium hoverboard through and through, and it's design is angular and sleek (especially in the matte black finish like the one I received).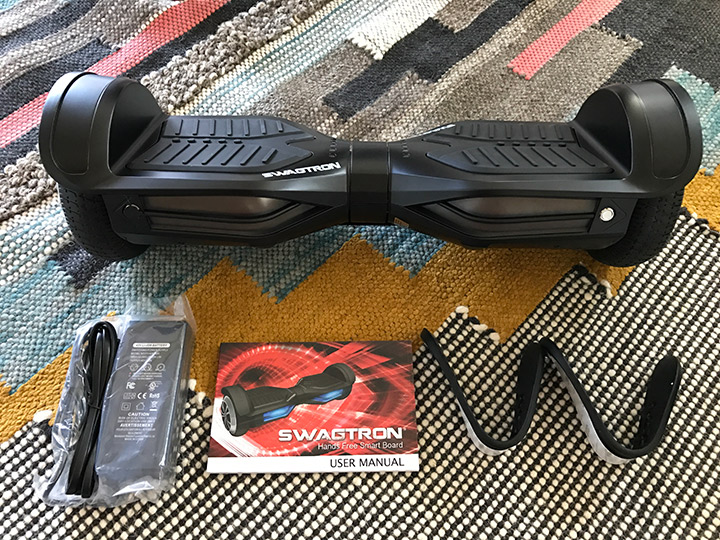 If you're used to the cheap, creaky plastic found in a no-name hoverboard, you'll be shocked by just how sturdy this thing feels; the wheels are a solid thick rubber, and the rims are solid machined aluminum. The battery level and pressure indicator lights are super-bright, and the lights on the front and rear are bright and colorful (though not nearly bright enough to be considered true "headlights.")
The companion app is pretty handy, but nothing to write home about. Unless you're switching modes or checking out your stats, you'll probably rarely use it. The one exception is to check out the speedometer, but that feature is probably more of a novelty to most.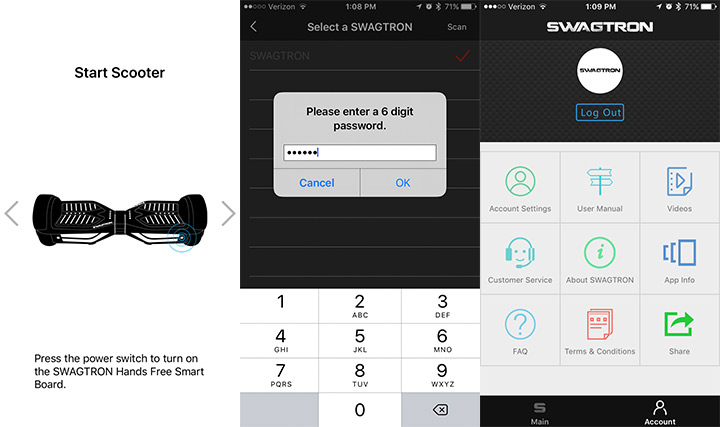 One final thing to note as far a feel goes… the T3 is surprisingly heavy. It's listed at 22 lbs, but I swear it feels heavier than that. As you'll be riding it most of the time, the weight probably won't matter too much to you (it does include a good cloth handle on the bottom). If you plan on using it to zip around your neighborhood or to help with a commute, you may find that lugging it around between destinations is a bit of a chore.
Performance and User Experience
There are a lot of ways to review a rideable like this, but I'm going to cover it from the perspective of my current life-stage: a young professional looking for a fun way to get around work and have fun after-hours.
If you've ridden a hoverboard, you probably know what to expect; if you haven't, you're in for a unique experience… The T3 is a blast to ride, but if you're familiar with other popular rideables, you may find it to be kind of terrifying in comparison.
It's pretty easy to get rolling with the T3 (see what I did there?). You turn it on by pressing a small silver button on the front, which engages its brain and displays the current charge on top of the board. Each side of the board contains two pressure sensitive pads; to get on, place one foot on one side, and calmly place your other foot on the other with a slow, controlled motion. It's easy to get the hang of once you're used to it, but if it's your first time on a hoverboard, you may find yourself shaking violently until you get your balance in check… they're much more sensitive to your center of gravity than you expect them to be!
Turning and movement is so simple that you almost feel as if you're controlling it with your mind once you get used to it. Barely shift your weight forward to go forward, and subtly lean back to come to a stop/back up. To turn left, press your right foot down, and to the opposite to turn right. These are standard controls for every hoverboard these days, but they're smooth as silk on the T3. There's something about the connecting joint in the middle of the pedals that makes these movements seem more confident on the T3 than the cheapo hoverboards your nephew might ride.
As I mentioned earlier, the ride itself can be exhilarating and terrifying at the same time. The T3 is obviously built for speed and agility, and I was able to absolutely fly around the 30-acre campus where I work. That agility and extreme responsiveness is great when you can give it your full attention, but if you're distracted at all, watch out. The tires on the T3 are solid, but since they're smaller and more dense than those found on competing devices like the Segway miniPRO, they're a lot less forgiving. You can feel every crack/seam in the concrete, and I found myself knocked off balance more than a few times.
The T3 handles slopes and inclines with aplomb, but I'm not quite brave enough to take it over uneven surfaces yet. Also, when I gained some significant speed traveling through some corridors, I found that I had to lean back a good deal to come to an effective stop. The SwagTron can go up to 8mph in its advanced mode, but I wouldn't enable that when you're around other folks, or maybe at least until you've had some significant practice.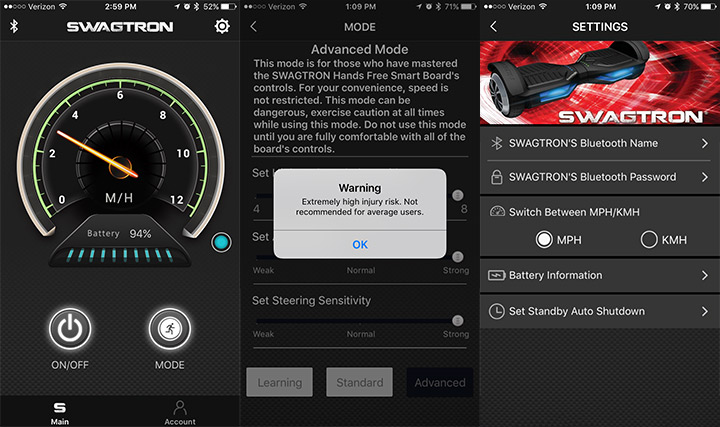 Speaking of tweaking your ride, the T3 is an upgraded model that also includes some surprisingly loud Bluetooth speakers. They're not the best quality, but they're a fun feature to have that makes this little speed demon feel like a party in a box.
Like any hoverboard, the T3 takes some getting used to, but it's really, really fun once you get the hang of it. I'll probably explore some other options for zipping around our work campus, but the T3 is the most solid hoverboard I've ever been on.
Build Quality and Reliability
I can't overemphasize how top-notch the construction is on this thing. It's rock-solid, whisper-quiet, and confidently responsive in a way that makes the cheaper hoverboards out there feel like garbage.
Let's spend a minute on the big elephant in the room. Hoverboards were white-hot in 2015, both figuratively a literally. Dozens of no-name makers rushed them into production, resulting in some shoddy electronics that gained a quick reputation for batteries that were overheating and exploding. The folks at SwagTron have been working their tail off to overcome this reputation, and the the T3 includes so many safety features that it's almost ridiculous.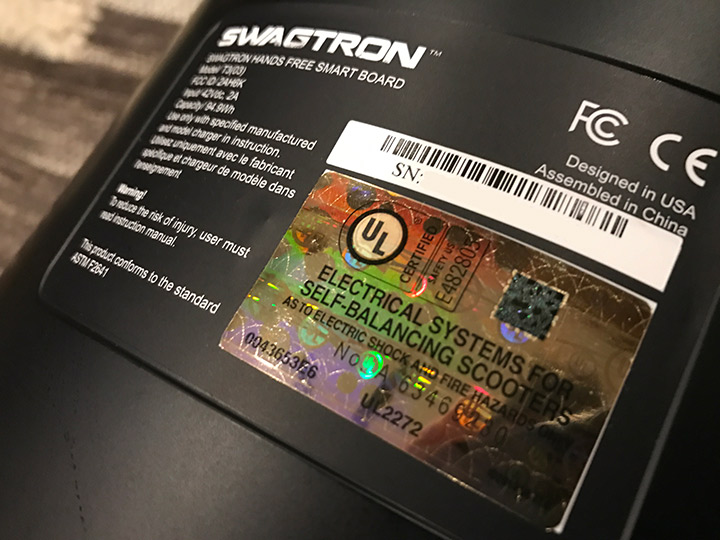 To kick things off, the T3 was one of the first hoverboards that was safety-certified under the strict new UL guidelines that test for electrical malfunctions from vibration, overheating, dropping, etc. They're the only brand at the time of this review that has passed the UL's 10-ton crush test, and the T3 includes several other safe-guards like a fire resistant shell and a patented "SentryShield" battery chamber. In other words, this is one super-safe hoverboard.
It's also very reliable. It has never once lost its sense of balance on me, and its battery just goes and goes on a single charge. You'll likely run out of steam long before the battery does.
Affordability
The SwagTron T3 is an upgraded hoverboard, and its premium features come with a premium price; it currently sells on Amazon for $449, where the less decked-out SwagTron T1 sells for $349. I think the more robust, stylized body is worth the price premium, but if that doesn't matter to you (and maybe you don't care about the Bluetooth speakers), the T1 is a good choice as well.
Conclusion
The SwagTron T3 is the best hoverboard I've ever ridden. Whether or not it's the rideable for you is more of a personal decision. If you're looking for something to zip around on at work that's easy to control and doesn't require much concentration, you may be better off with a more polished rideable like the Segway miniPRO (we'll have a review on that shortly). However, if you're comfortable with the hoverboard concept and have a little bit of an adventurous streak, you'll be hard-pressed to find a better hoverboard on the market.