Your floor's best friend
I love to vacuum, but I hate to mop. That predisposition worked fine for me for years, but when we moved into our new place last fall, I don't think I was prepared for how much care our new hardwood floors would require. After going through a few mops (and attempting to put off the chore entirely), I knew something had to give.
The folks at Shark offered to send us their Genius Steam Mop to test out this Spring, and I jumped at the opportunity to give it a shot.
What Does It Claim to Do?
The Shark Genius Steam Mop claims to clean and sanitize hard floor surfaces, eliminating up to 99.9% of bacteria with nothing but simple steam. Is it a worthy addition to your cleaning closet? Read on to find out!
Look and Feel
The Genius isn't the sort of tool you buy for appearances, but it will surprise you with how cool it looks when you plug it in. Ours is a cool grey with a maroon reservoir, but when you turn it on, the reservoir glows an iridescent bluish purple that looks like something out of a Sci-Fi movie. I love it.
The one-button controls make it gloriously simple to use; you press the same button to cycle power and steam modes. I'll touch more on the rest of the features in a second, but every joint and moving part on the unit is refreshingly solid; it feels like a household tool that will put in years of faithful service.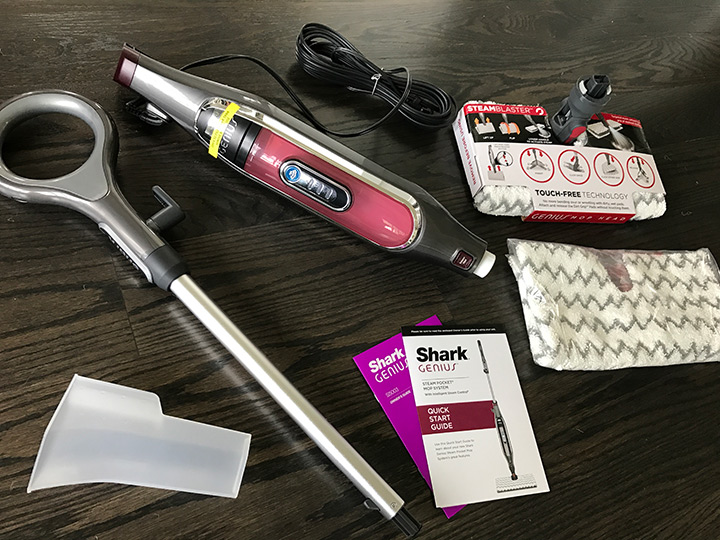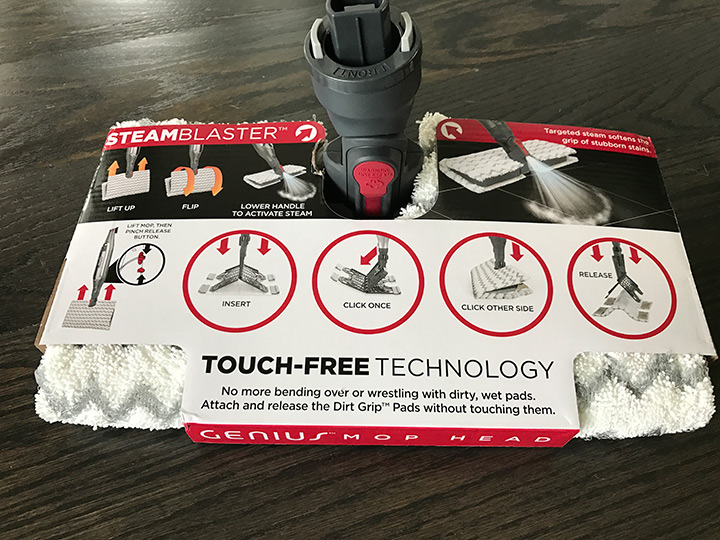 Performance and User Experience
Since I've never used anything other than a typical floor mop and cleaner, I was skeptical of how effective the Genius (using only steam) would be on our floors. Thankfully, I was pleasantly surprised.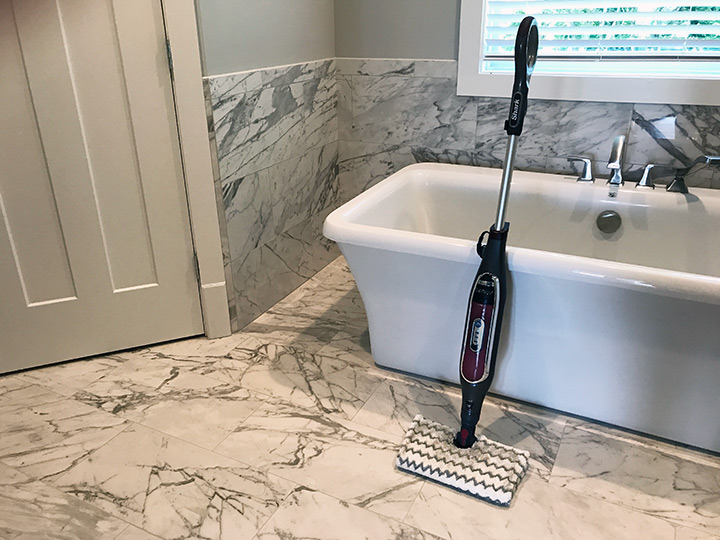 Like I mentioned above, the Genius is very simple to use. Fill the reservoir with water (distilled/filtered water works best), turn it on, and select the level of steam you want to use. The mop comes with two washable pads that click in to the base, where the steam begins saturating the pad and pouring out the sides about 15 seconds after you turn the unit on.
I first tried it out on our hardwood between our kitchen and entry (a high traffic area), and honestly, I was shocked by how much grime the Genius seemed to pick up on what appeared to be an already clean surface. The floor didn't have the typical sterile scent you might expect after a good Pine-sol-style mopping, but it definitely felt super clean; the kids even told us that the floors felt funny afterward (which might tell you how often we mopped previously).
My favorite place to use the genius so far is in our bathroom, where we've had some stubborn sticker residue on the tile in a few spots since move-in. This proved to be a great spot to try the "steam blaster" feature, where you tilt the mop head back to fire a targeted blast on steam on whatever residue you want to obliterate. It took a few blasts (along with some additional elbow grease), but those sticker spots are now a thing of the past.
I also love how mindless mopping has become since it arrived. It's awesome seeing a spot that needs to cleaned up, busting out the Genius, and having everything cleaned up in the same amount of time it would take me to track down the cleaning solution for our old mop.
We've used it all over the house in the last few months, and it seems to handle anything we throw at it. You'll need to refill the reservoir frequently (especially if you're running it on high), and the pads need to be washed fairly often, but that's the most "negative" thing I can think to say about the Genius. It works great, and it's a ton more convenient than a typical mop and cleaner set up.
Build Quality and Reliability
I don't know why I expected less, but the Genius is surprisingly solid. I think years of using cheap cleaning tools trained me to expect cheap joints and flimsy handles. Even as I was putting it together, it was obvious that this is a tool that you don't need to baby.
Affordability
The Genius retails for $119, but I've seen it for as low as $99, which I think is a steal. It's a massive timesaver, and I think it more than pays for itself in just a few months.
Conclusion
Mopping was one of those chores that we used to dread, but the Genius makes it so painless to clean and sanitize the house that I think it's worth every penny. If you have hard floors anywhere in your house, you should run out and get one without hesitation.