Sleep's favorite flavor.
Disclaimer: The folks at Tuft & Needle very kindly provided a mattress and two pillows for this review. As always, the opinions are my own.
I've had the pleasure of reviewing a lot of things over the years, but few things have been as big of a hit with our family as the Tuft & Needle mattress that we originally reviewed in 2015. To this day, we consider it to be one of the most cherished items in our home. It's just hard to beat it's mix of great packaging, extreme comfort, and (still-unmatched) affordability.
If you're reading this review, you're probably aware that there are now dozens of ship-to-home mattress companies, but the handful that I've sampled since then still pale in comparison to our trusty Tuft & Needle. In fact, I've actually turned down review samples of several other brands, mostly because my friends and family have had poor experiences with them. I can't tell you how many friends of mine have ordered Casper and Purple mattresses, only to send them back when they tried out our Tuft & Needle to compare. It's just a phenomenal mattress.
All of that to say, I was sleeping easy every night until I discovered that Tuft & Needle released a new premium product, the Mint mattress. They were kind enough to send a Mint and two of their &Pillows over for us to review; does the Mint improve on an already nearly-perfect product? Read on to find out!
Mint Mattress Specs
Enhanced T&N Adaptive Foam
30% more graphite for maximum heat dispersion
Premium charcoal knitted cover
12″ thick
3 layers (including extra adaptive transition layer)
30% more gel beads for added support and cooling
Added edge support
Premium polyurethane foam certified by CertiPUR-US
100 night trial
10-yr warranty
Made in the USA
&Pillow Specs
5″ thick
Hypoallergenic cover made of TENCEL fibers
Made of cooling Adaptive foam
100 night trial
3-yr warranty
Made in the USA
Shipping and Unpacking Experience
As with the original mattress, our Mint arrived in the customary white box with bold black lettering. As our bed uses a King-sized mattress, the box itself was relatively compact, but still fairly heavy. Thankfully, the box includes some handle cut-outs that helped us navigate it up the stairs and down the hall to our bedroom.
Out of the box, the mattress is compressed in plastic in a shape similar to a giant swiss cake roll. The plastic is easy to cut, and honestly, it's a little bit of a thrill flopping it onto a bed frame and watching it expand when your break the plastic seal. If they offered a tour of the factory where they compressed these things, I'd be the first in line.
The &Pillow's unboxing involves considerably less fanfare, but its packaging makes it feel like the most luxurious pillow I've ever encountered. Unlike the Mint mattress, the &Pillow is surprisingly light (even in the King-sized version that we tested).
Design
Whereas the original T&N Mattress was pleasant, if nondescript, the Mint immediately feels like you've added a luxury item to your bedroom. The cover is something you'll rarely look at (unless you sleep without sheets… Is that a thing for some people?), but it's a beautiful charcoal grey with white stitching that's so elegant you'll hate to cover it up. Looking at photos on their website, I was worried that the subtle ripple design on the cover would be a texture you'd feel under the sheets, but that's not the case in practice.
The &Pillow features a cover similar to the original mattress, and it's super soft to the touch. I don't know if it's just in my head, but I swear the plant-based fibers they use in the cover have a cooling effect on the skin. More on that in the next section of the review.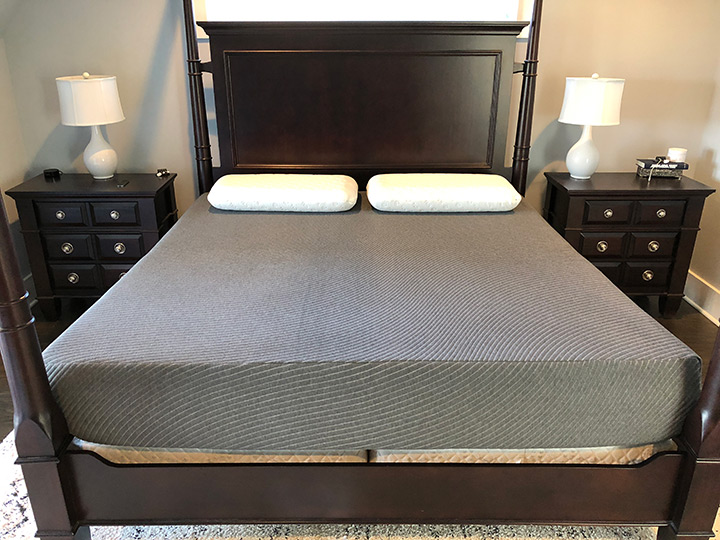 Sleep Experience and Feel
Alright, let's get to the important part. How do these things actually feel when you sleep on them?
After sleeping on my original T&N Mattress for a few years (with it's perfect 7/10 firmness), I was both excited and even a little bit hesitant to sleep on the Mint. One of its key features is an additional 2″ of comfort foam on top of an enhanced version of the Adaptive foam from the original mattress. The idea is to cradle the body a little bit better (rather than just feeling firm and floaty), but some of the other mattresses I've laid on that use a similar approach are way too soft and sinky to support the spine well.
I'm delighted to report that the Mint feels a m a z i n g. Honestly, it's a bit hard to describe. It's almost imperceptibly less firm than their standard mattress (something like a 6.7/10 compared to the original's 7/10), but it adds some key support around the hips and shoulder areas that I didn't realize I had been missing for the last 3 years. The extra comfort foam is a real treat, especially since it doesn't turn the mattress into a mushy mess; it's still pleasantly firm and supportive.
The Mint also uses 30% more graphite in its foam, thereby pulling something like 50% more heat away from the body. Neither of us are hot sleepers, but I do find it to feel notably cooler every time I roll over at night.
One final benefit to celebrate is the 12″ height compared to the 10″ original. Coming from a typical spring mattress, the only drawback to the original T&N mattress was a height that always felt a little less than ideal on our bed. It's a small thing, sure, but the extra height of the Mint is nice, and it's notably more solid around the edges. The revised foam setup makes it much less prone to squish down as you climb in and out of it.
Enough gloating about the Mint… is the &Pillow a worthy companion? Yes! It's great. Looking at pictures, you would expect it to feel super-thick and rigid, but it's made out of the same Adaptive foam that compresses down quick and is surprisingly flexible. You can bend it, twist it, and fold it however you like. It puts traditional pillows made out of stuffing or feathers to shame.
If you're coming from a typical pillow, you'll be surprised by how much cooler the T&N foam sleeps at night. As for thickness, I think you'll love it if you enjoy a puffy plush feel, but you may find it a hair too thick if you're one of those people who enjoys sleeping on something akin to a pancake. Pillow feel is radically subjective (even more so that mattress preference, I think), so don't be afraid to kick the tires with one of their 100 night trials.
Build Quality and Reliability
There's a night and day difference between the Tuft & Needle products and the competitors that you might find at a big-box store. One of my favorite things is their 10-year warranty on the mattress (3-years on the &Pillow). If your body seems like it's designed to sink mattresses, you can rest assured that these folks stand behind their product.
Also, I love that their products are designed and manufactured in the USA using foam that's certified by CertiPUR-US. I'm reviewing a competing product right now, and the chemical smell coming off of that mattress is so strong that we've had to close the door to the guest room.
The Mint, by comparison, had only the faintest foam odor right out of the plastic, which dissipated in a matter of minutes. The quality of materials that goes into these things is a big deal and shouldn't be overlooked.
Affordability
As far as premium mattresses go, the Mint is priced competitively compared with the competition. A Twin-sized is $650, and even the California King is only $1050. That's considerably more affordable than competing brands who offer their Twin-sizes at almost $1000 more, with King prices in the nosebleeds.
The &Pillow carries fair pricing as well at $75 for a Standard-sized and $100 for a King-sized. Once you're head-over-heels for your Mint, get ready to splurge on a set of matching pillows.
Conclusion
In case it's not already obvious from the review above, we LOVE our Mint mattress. The only question is whether it's worth the $300 upgrade to you over the still-fantastic original T&N Mattress. As it's something you'll enjoy every night, I'd say the answer is yes. It's everything that's great about the original, but somehow more comfortable, cooler, and more structurally rigid.
If you're remotely in the market for a mattress, go grab a Mint (and a few &Pillows to match). I'm confident that you won't find a better night's sleep.