Always ready for the worst.
Recommended -> Are you interested in survival gear? Check out all of the adventure and survival gear I keep in my truck:
Uncharted Supply Co kindly supplied a SEVENTY2 and other equipment for this review. As always, our opinions are our own.
Being a parent makes you think different about a lot of different things. Your prioritize your budget differently, go to different places for vacation, and develop strong opinions on animated movies. It also changes the way you plan for emergencies.
Although we've always kept a first-aid kit and maybe a flashlight in a drawer, I recently began stocking up on other supplies that could keep our family safe in the event of an emergency. Whether it's a natural disaster or another emergency event, one of my biggest fears is not being able to take care of (or even get back to) my family in the midst of something dangerous. I've been putting aside extra food, water, and supplies at home, but what if the worst happens when we're away from our belongings?
As I've researched portable survival kits and gear, I came across the awesome SEVENTY2 survival system from Uncharted Supply Co. The SEVENTY2 claims to be a 72-hour emergency kit with everything a person might need to weather an emergency, all in an attractive, lightweight backpack.
Is this the perfect one-and-done survival kit to keep close by? Read on to find out.
Look and Feel
The SEVENTY2 is everything you want from a get-home style survival bag, which is funny, because it doesn't look like one at all. That's one of the first big compliments I'm going to give the SEVENTY2. The bag is just top quality and looks like a cool daily backpack instead of an army surplus leftover (like many survival bags).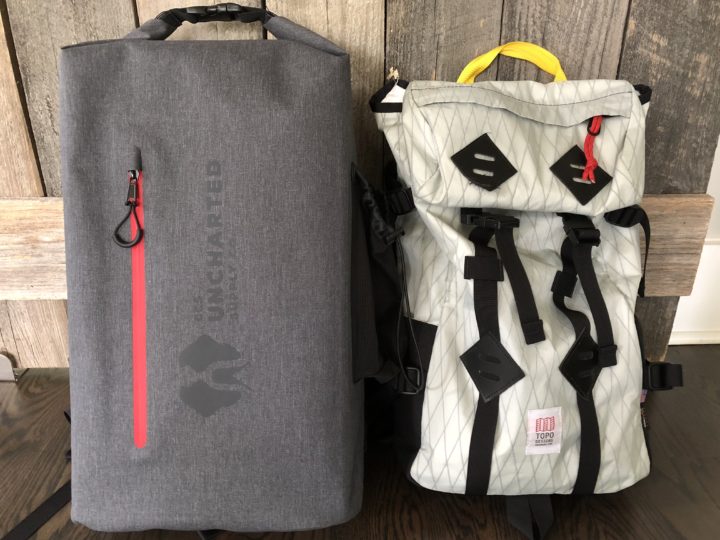 If you're in a emergency situation, the last thing you want to do is broadcast to a crowd that you have a fully-loaded bag of supplies on your back. The SEVENTY2 will help you blend in, but that doesn't make the pack itself any less capable. It's made of a slick and waterproof 600D tarpaulin that feels like it can take an absolute beating, and it's roll and snap shut top enclosure keeps everything dry and secure. It's even air tight enough that you can use it as a makeshift float in a pinch.
It's a highly functional, surprisingly trendy bag that won't raise any eyebrows at the office or on the bus. That's the kind of emergency kit you want to own.
Items Included
Looking cool is one thing, but the main point of owning a survival kit is to feel prepared for if the worst ever happens. Thankfully the SEVENTY2 more than lives up to this challenge.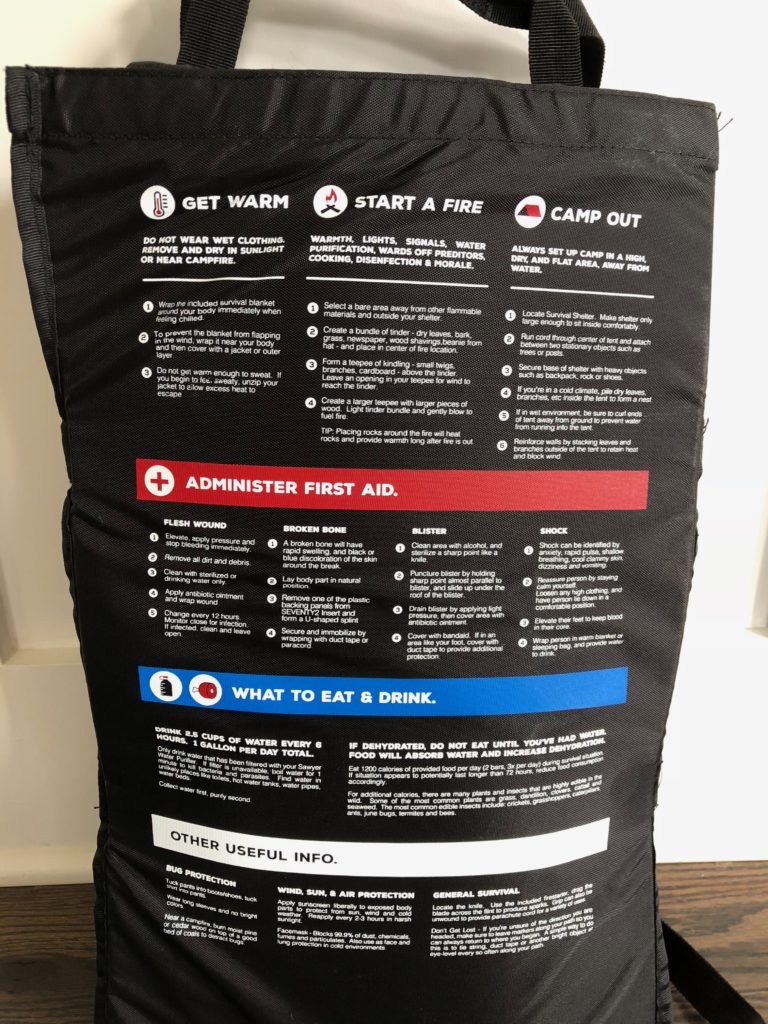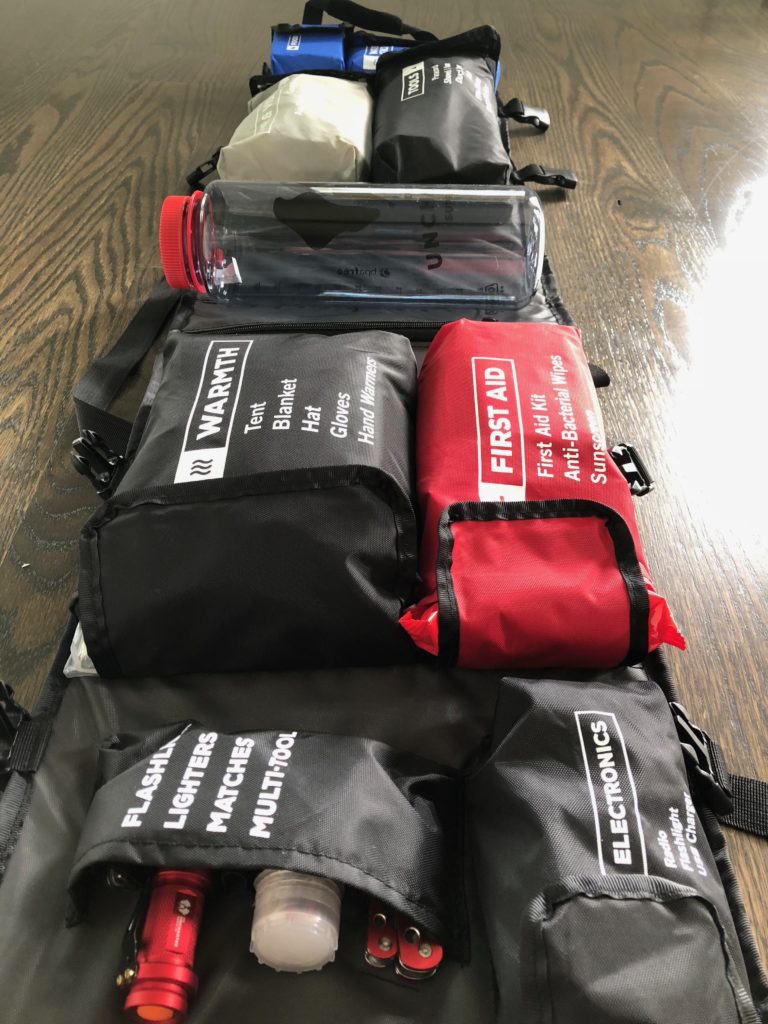 While the pack might be unassuming from the outside, the insert it houses is a treasure trove of well-organized survival gear. Whereas most tactical-style kits require you to dig through endless layers of pockets and pouches, the insert in the SEVENTY2 is designed to help you find exactly what you need, and get to it quick. Here's what you'll find in each of the pouches: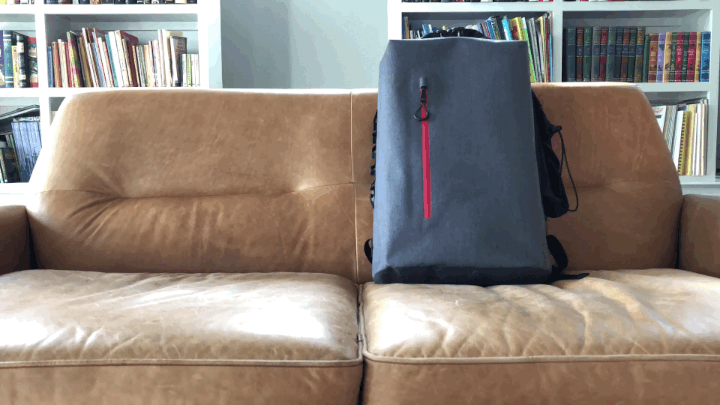 Electronics
3-in-1 Radio (doubles as a phone and USB charger)
Waterproof LED flashlight
Air and Vision
RZ M5 air filtration mask
Googles
Food
Water
2L Collapsable water bottle
Large Nalgene water bottle
Sawyer MINI water filter
Sawyer accessories
Light/Fire
2 6″ Chemlights
Antibacterial wipes
Sunscreen
2 large splints
First Aid
20-piece first aid kit
Matches in waterproof case
Magnesium alloy fire starter
Tools
Multi-tool
5 yards of duct tape
Convertable shovel/pickaxe
100′ 550-lb paracord
Warmth
Waterproof, thermal-lined rubber gloves
Uncharted Supply Co beanie
2 packs of large hand/foot warmers
Mylar thermal space blanket
Mylar thermal survival tent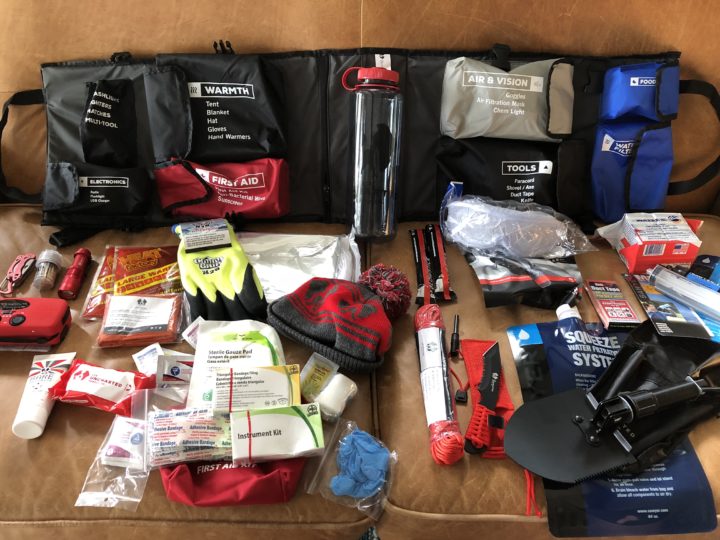 As you can see, that's a lot of gear packed into such a reasonably-sized pack. The organizational system is exceptional, and I love that the insert organizer includes built-in survival instructions, and is designed in such a way that almost everything is multi-functional. For instance, the structural walls of the insert can be used as splints or even snowshoes, and the insert even includes its own backpack straps if you need to use the pack itself to store water or other goods.
Perhaps the most impressive part of the items included is that the total carry weight of this bag is only 11 lbs; it's a great kit that gives you only what you need without weighing you down with too much unnecessary gear.
Build Quality and Reliability
Let's get into the build-quality of the items in this kit. Most are shockingly good. A few are just good. Only one seems to be kind of sub-par.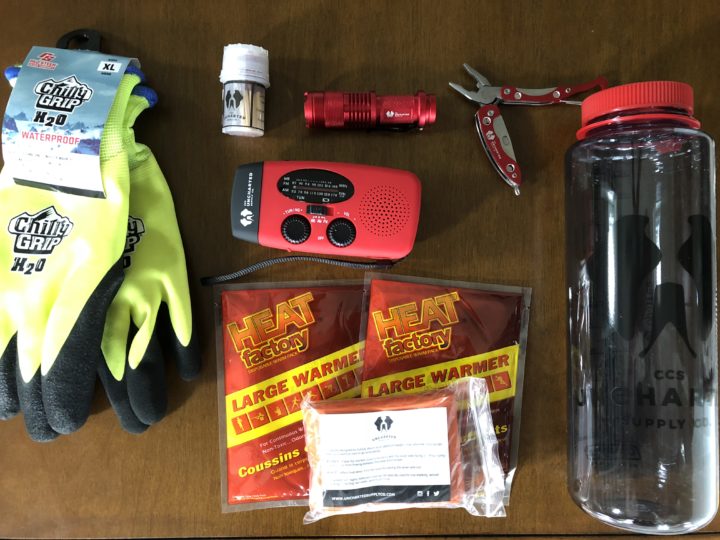 First, the great stuff. The water filter, air mask, gloves and more are all top-notch, highly regarded equipment. Sawyer filter's are among the best out there, that air mask is a serious piece of kit, and the gloves are far nicer than the throw-away quality you'd expect from somewhere like Harbor Freight. This is gear that will actually save your butt if you need it.
The first aid kit, flashlight, and other items are all up-to-par as well. They may not be heavy-duty pieces that you'd want to use on a daily basis, but they all are quality items that will work fine when you need them.
The only piece of this kit that left me underwhelmed was the tiny, flimsy multi-tool; compared to everything else included, it feels cheap and breakable like something that would come out of a Walmart kit. Now, word on the street is that this has been upgraded in kits shipping after this month, but it's worth replacing if you happen to get one of the old ones in your kit.
The packaging of the SEVENTY2 will also instruct you to add in a few extra items to complete the bag. A small lighter, phone charging cable, and water are something you definitely want to have with you. I've thrown a compass and small fire tinder pack into mine as well.
Overall, the SEVENTY2 is a survival kit that you can actually trust. These are real, high-quality items that will actually make a difference in an emergency situation.
Affordability
The SEVENTY2 comes in at $349, which I feel is a very fair price. Sure, you can potentially build your own kit cheaper. Sure, you might want to pick different items. The problem with both of those approaches is that it can take hours of research to properly build out a survival bag like this, and it's surprisingly difficult to weed out the worthless survival-junk and find items that actually live up to their promises. The SEVENTY2 gives you a top-notch bag, a fantastically organized survival system, and well-researched items. Ordering one takes only a minute, and you can just throw it in your car and forget about it (you can't even tell it's under the backseat of my F150 below). It's a fairly priced safety net that you'll be happy to have when you need it.
Add-ons You're Going to Want
Although I'm covering the SEVENTY2 in this review, I want to mention a few of Uncharted Supply Co's other awesome items here too. If you own a car, you're definitely going to want their Zeus mobile charger/jump starter, and they make a pretty awesome recovery strap called the Tug Out as well.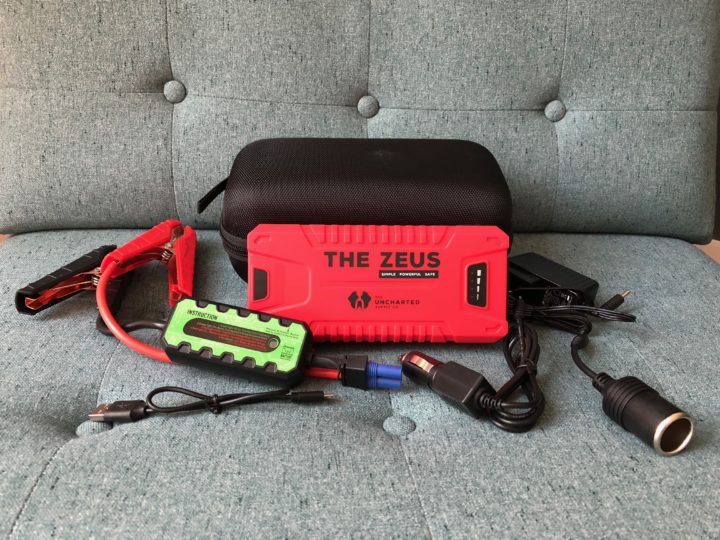 The Zeus is particularly interesting, as it serves as kind of an electrical safety net for your family. It includes a massive battery pack (with a stout built-in flashlight), all sorts of adapters, and even car jumper cables. It's that last part that's really powerful. Not only can this crazy battery pack charge up to 10 phones from dead, but it can jump start even the largest trucks up to 12 times. For only $125, it's a killer addition to add to your emergency kit.
Conclusion
Uncharted Supply Co's SEVENTY2 and other gear is like instant piece-of-mind. Mine now goes with me in my truck wherever I go, and it's awesome to know that I've got a load of grab-and-run gear at my disposal if I ever need it. Whether you live in an area that's prone to disasters, or just want to prep your family for the unknown, the SEVENTY2 won't let you down.