I'm digging it.
Yep, I'm reviewing a shovel, but bear with me…
There's nothing quite as handy as having the right tool at the right time. As a family who spends a lot of time outside, having the right tools in my truck can make all of the difference between having a great time or getting stuck in a rut.
While many families think to bring along the basics like some chairs, a cooler, and a tent, one essential tool that I've found myself needing often is a good shovel. From digging out a fire pit, to clearing debris or just touching stuff that no one wants to touch, a shovel is a piece of outdoors equipment that it super useful every time you have one around. The problem is that the typical shovel takes up a ton of space in the typical SUV, and unless you're willing to play a real life game of Tetris when you're packing up your gear, you're likely to leave your shovel in the garage.
That's where the DMOS Delta shovel comes in. Instead of bringing along a heavy, cumbersome shovel, the DMOS Delta packs a full-sized 51″ shovel down into a 24″ package that's perfect for any car truck or storage bin. It's also ludicrously overbuilt, and is engineered for a lifetime of use and abuse. Does it justify its hefty price tag? Read on to find out!
Performance and User Experience
If you've had any experience with a packable camp shovel or other collapsible digging tools before, you'll know one thing for certain: they're all pretty much junk. From the folding units you'd buy at a camping store to the old army-style e-tools, those collapsible shovels barely work to dig a hole to poop in. They come loose or unscrewed after just a few strikes in the ground, and I've probably broken three just trying to do simple camp tasks around a fire pit. You can see why I would be skeptical of the DMOS Delta.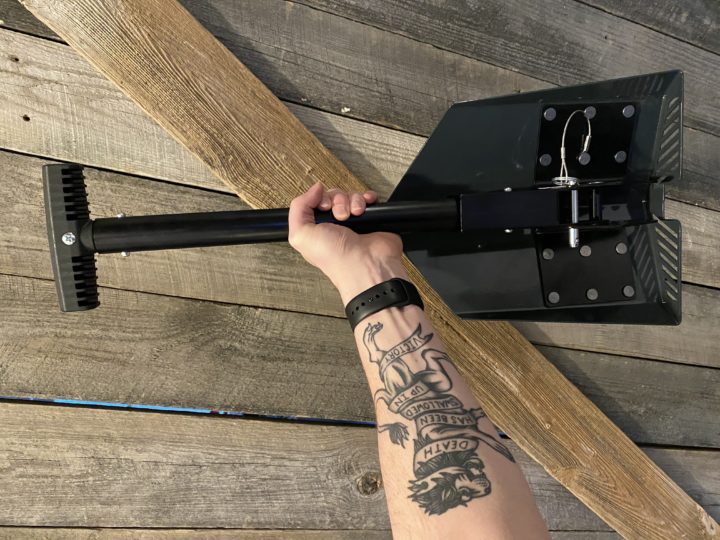 The good news is that the Delta is almost comically over-engineered to be a beast of a camping tool. The stainless steel model I purchased is only 6 lbs or so, but it feels like a serious work tool that's just as at home at a heavy-duty job site as it is having an adventure out in the woods.
It's simple to switch the Delta between its collapsed (or short shovel) mode and its fully expanded form. Simply push down on the metal button locks at each of the telescoping joints and pull until they click into place. The shovel portion itself is connected via a robust metal bracket that's as sturdy as it gets; pull out the thick metal push pin that holds the shovel in place, rotate it to the desired position, and then press the pin back into the connector to secure it. The only word I can think of to describe all of the connectors on the Delta is "beefy."
The Zytel T-grip is solid and sturdy in the hand, and the shovel itself feels great to use. There's very little "play" in the collapsible handle, and the folded over ridge at the top of the shovel gives you plenty of room to stomp and kick the shovel to lift and break through even the toughest ground. Honestly, it can probably handle more than any shovel in your garage.
Flexibility
Part of the fun of the Delta is its shape-shifting usefulness. Not only is it a great full-size shovel; it's also a great short-handled shovel, and even a killer e-toll when you lock the shovel in at a 45-degree angle.
My favorite thing about the Delta is how it's collapsed shape can pack down into some stow-it-and-forget it places in your car or camping gear. I have my truck all prepped-out for whatever adventures come my way, and the DMOS Delta currently lives behind my back bench seat (with plenty of room to pack other tools along with it). I love that I always have a robust shovel nearby, even though it's completely out of sight in my truck.
Build Quality
This. Is. Built. Like. A. Freaking. Tank. When you purchase a product like this (more on the price in a second), you're buying a piece of gear that should last you a lifetime. The Delta might last you ten lifetimes if you could live long enough to test it. There are no weak points or goofy hinges, and everything from the rivets used to the ironclad locking mechanism is bulked up to the point that it's almost absurd. I love using and abusing this thing.
Affordability
If all of that quality has a downside, it's the price tag to be sure. For most people, $229 is a crazy amount of money to spend on a shovel. However, if you're into camping, prepping, or overlanding, you know that good gear is expensive at the outset. What you're paying for are top-notch materials, the insane portability, and an American-made work tool that you'll never have to replace. Whether or not it's the right splurge purchase is up to you.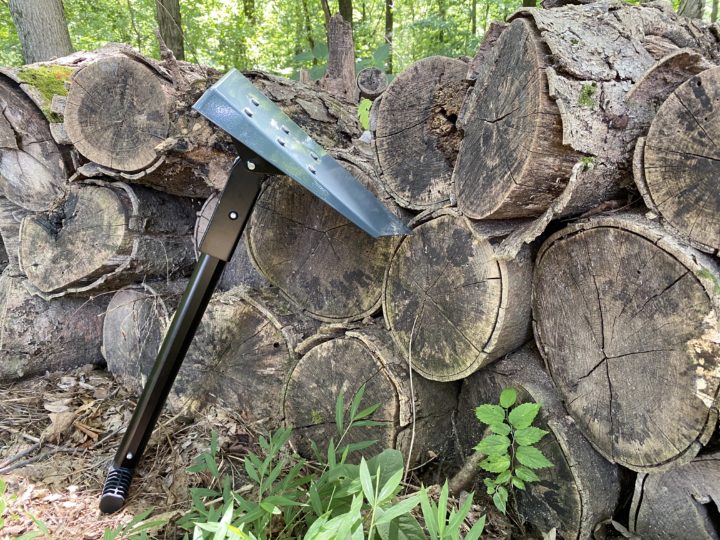 Conclusion
I love this over-the-top shovel. It's replaced years of dinky camping shovels for me, and there's peace of mind in knowing that it's always with me in the event of an emergency (or a spur of the moment adventure). It's earned a permanent spot in my truck, and I think it might deserve a place in yours too.