Step away from the keychain.
Updated Review Available!
We recently had the opportunity to take a look at the second generation Kwikset Kevo. Check out that
review update here
.
Disclaimer: The folks at Kwikset very kindly supplied a Kevo unit for this review. As always, the opinions are my own.
As I mentioned in my First Look at the Kevo, I really hate carrying keys. Kind of a hobby of mine over the past 18 months has been to see how much I can simplify my daily routine. I moved to a slim wallet, sold and consolidated redundant electronics, and cleaned out all of my files in a transition to digital with Evernote. However, that big lump of keys in my pocket remains, taunting me with every step.
That's a problem that smart locks claims to solve, and the Kevo from Kwikset is a pretty great attempt. Read on for the full review.
What Does it Claim to Do?
The Kevo is a Bluetooth deadbolt unit that allows your to use your iPhone (or a provided key fob) as a hands-free key. Rather than fumbling with a cumbersome keychain every time you get home, the Kevo claims to lock and unlock your door with just a quick tap of the finger (assuming you have your iPhone on you).
The Kevo extends this concept further with unlimited guest eKeys, a way to give friends, family, and service contacts timed access to your home that can be changed or revoked at any time (all without changing your lock!).
What's In the Box?
The Kevo deadbolt
Interior locking mechanism
4 AA batteries
Bluetooth fob (if you don't have an iPhone)
2 standard keys
All mounting hardware (no new screw holes required)
Smartkey tool for rekeying the lock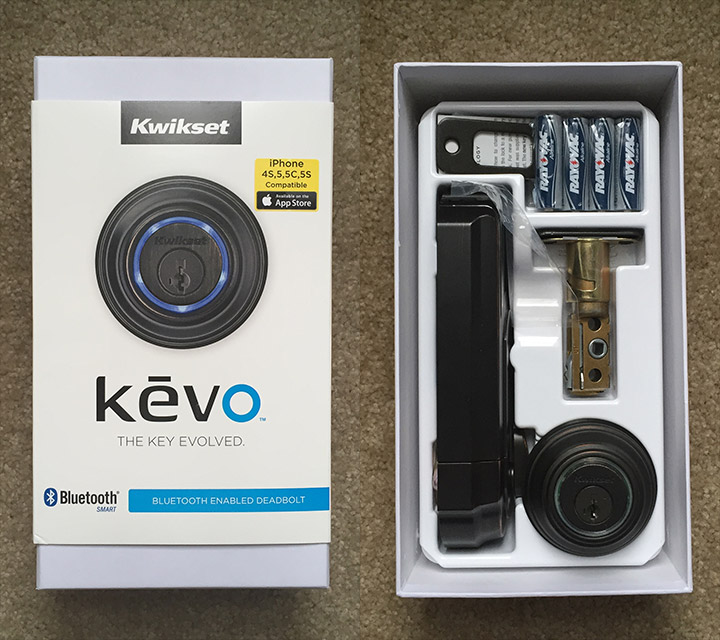 Look and Feel
I went with the Venetian Bronze, and was immediately impressed upon unboxing the unit; the lock itself is a much more handsome in person than the photos I've seen online. I was expecting a cheap plasticy finish to compensate for the high-tech components, but am extremely impressed with how high-end the deadbolt feels. If it weren't for the (droolworthy) ring of lights that appeared when the lock was engaged, you would never know that there's some really interesting tech going on behind the scenes.
The free companion app is similarly handsome and graceful in its function. No part of the Kevo feels like an afterthought.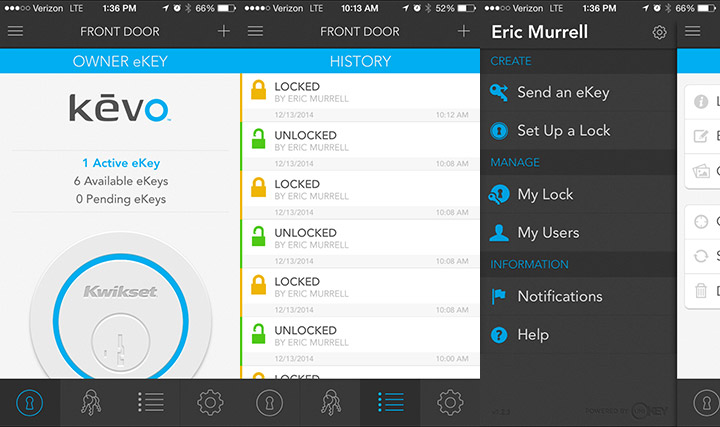 Performance and User Experience
If you've ever changed or removed another deadbolt, you'll be right at home with the Kevo. The included illustrated instructions are detailed and thorough; I was able to replace my existing deadbolt in about 10 minutes from start to finish. True to their promise, the Kevo required no new screw holes in the door thanks to a well thought out mounting bracket. It sits sturdy on our door and the locking mechanism is smooth as silk.
But enough about that… The reason you're reading this review is to find out how it actually works! The short answer is that it works very well; in fact, it's hard not to grin like an idiot every time I unlock our door with just a touch… It definitely has the cool factor.
Upon first set up, the Kevo wants to pair with your iPhone to make an owner key that will serve as the main device to lock and unlock the unit. This involved pressing a button, touching my phone to the back of the lock for a few seconds, and… that's it. It was very simple to set up, and my iPhone 6 has worked great as a key ever since.
Simply approach your door, tap the lock (a blue ring will appear), and the lock should engage in just a second or two. A cool little extra, the Kevo app even keeps track of when the lock was engaged, and by who.
Sharing eKeys is a cinch, as long as your friends are iPhone users as well; Android users are currently out-of-luck due to fragmented support of the required Bluetooth 4.0 standard on Google's platform.
Integration with Other Platforms
One of the few downfalls of the Kevo is that it only operates on its own proprietary system. There's no support for WiFi, Z-Wave, Zigbee, or any of the other smart home protocols, making integration with a home automation hub impossible. This is a big bummer for me, as it greatly limits its usefulness in light of the rest of the home.
Build Quality and Reliability
As I mentioned earlier, I'm pleasantly surprised with how premium the unit feels. Even the mounting brackets and other components are well engineered and sturdy.
As for reliability, I've had a few minor hiccups where the lock didn't detect my phone the first time, causing me to wait a few seconds longer while it attempted to identify my phone again. It does this about 1/20 times, so it's little more than a minor annoyance.
One big issue is its ability to detect what side of the door you're standing on; in my experience, this feature isn't nearly as reliable as I hoped it would be. Upon initial setup, I could stand (right) inside the door while Lauren unlocked it from the outside almost every time. I tried the calibration tool in the Kevo app, which seemed to increase the inside/outside detection, but made normal unlocking from the outside of the lock less reliable for some reason.
This behavior may improve over time (or with a software update), but just to be safe, I don't answer our door with my phone in my pocket.
Affordability
The Kevo retails for a very reasonable $199, which is a great value for all you get. It looks great, makes your life more convenient, and is a revelation if you have frequent visitors to your place.
As a standalone product, the Kevo is a great little smart lock that does what it promises. I only wish it had wider integration with other products to make it a core component of a smart home system instead of standalone tool.