Big sound in a small package.
Disclaimer: The folks at Sonos very kindly provided a PLAY:1 for this review. As usual, the opinions are my own.
As we discussed recently, we live in a time when there are countless ways to listen to your favorite music. In a marketplace crowded with dozens of brands and technologies, it's easy to get lost in a sea of options.
The Sonos system has stood out to me for a while now due to two compelling promises: rock solid stability and synchronization among speakers. If you've used any other wireless speakers, you know that these features are sort of the white whale of the audio industry. For that reason, I wanted to give Sonos a closer look. We'll start today with their entry-level product, the PLAY:1.
What Does It Claim to Do?
The Sonos PLAY:1 is a compact monotone speaker that claims to play your favorite music wirelessly from dozens of available sources. It tout's Sonos' reputation for faithful audio reproduction, synchronization with other Sonos products, and audio playback that doesn't pause or drop out due to wireless interference.
All it requires from you is a wall outlet, a WiFi connection, and a companion app on your smart phone or computer.
Specs:
Two Class-D Digital Amplifiers
One Tweeter
One 3.5″ Mid-Woofer
Supports WiFi/Ethernet
Pairs with Other Sonos Speakers
Humidity Resistant
6.36 x 4.69 x 4.69 (in)
4.8 lbs
Does the baby of the Sonos line live up to the family name? Read on to find out.
Look and Feel
The PLAY:1 feels like a compact wireless speaker that has been distilled to its purest form. The compact form and elegant lines adapt well to almost any setting, which is a welcome departure from some of its Bluetooth competitors that resemble exhibits from a modern art museum.
It has a confident weight to it and a grippy bottom that anchors it well to to any location. Besides play/pause and volume controls, all other functionality is assigned to a handsome companion app that's used to configure, update, and send music to the speaker. At first I didn't like the idea of being locked down to a single app, but the Sonos team has done an excellent job on their software. It's intuitive and well thought out.
Performance and User Experience
Setup
Before we get to the sound quality, let's talk about the setup. You simply plug the speaker in, wait for a few indicator lights, and follow the instructions in the app to connect the speaker to your wireless network. The whole process took me about 3 minutes, including the download of a software update for the speaker itself.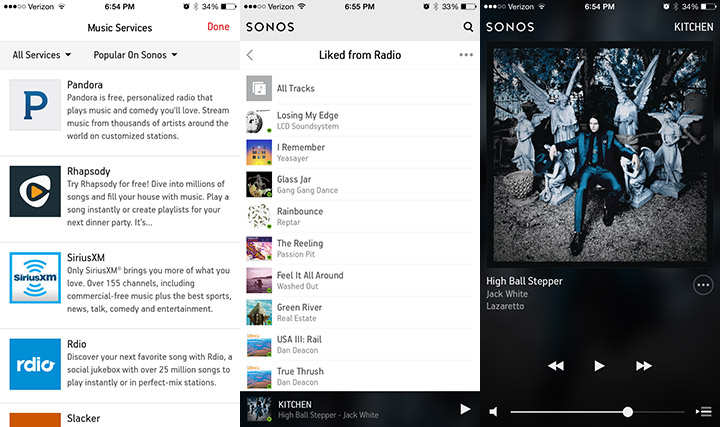 After that, it's simply a matter of adding your favorite music services to the Sonos app, and you're ready to start listening. It took just a few seconds to get Spotify set up (I have a premium account there), and the Sonos app pulled in all of my starred tracks, playlists, and more. The only disappointing omission is the lack of Spotify Radio, though I'm sure that can be added in a future software update.
Note: I encountered a weird glitch upon initial setup where the app refused to display any of the available music services. All it took was a quick support call to Sonos and a speaker reboot to get it fixed. Their customer support was extremely helpful, and I never encountered the error again.
Sound Quality
Honestly, I'm a bit mystified over how such incredible sound comes from this tiny little cylinder, especially with such dynamic range. I've put it through the paces with a few of my favorite tracks from different genres:
Probably the most shocking attribute of the speaker is its low-end response, which is surprisingly robust for its form-factor; what amounts to a distorted rumble in comparable Bluetooth speakers is surprisingly nuanced from the PLAY:1. Equally impressive is the mid-range response, which is only slightly muddy in densely layered pieces like the Radiohead track above. That slight muddiness never crosses the line into distortion though… only the awareness that you're listening to a great song on a (very capable) small speaker.
If you're using the PLAY:1 in a smaller space like a kitchen or bathroom (likely scenarios in my mind), you'll be blown away. It's a wonderful little musical companion.
Other Features
Its excellent wireless playback already justifies the PLAY:1's reasonable price, but the fun doesn't stop there. All Sonos speakers have the ability to magically sync with each other to provide seamless music playback throughout the house, or in this case, join forces with another PLAY:1 to form a stereo pair. This is the kind of feature that I would never expect to work properly (or reliably), but I'm happy to report that it works flawlessly. All it takes is a few taps in the app to instantly broadcast your tunes to one, a few, or all of the Sonos products throughout your home. I've been testing this functionality (and trying to break it!) along with a PLAY:3 and PLAY:5, and I'm simply astounded by how well it works. I bet it would also pair smoothly with the Sonos Playbar (reviewed here), which sounds incredible with an additional speaker. It's something you definitely can't accomplish with AirPlay. It's something you definitely can't accomplish with AirPlay.
Similarly, the Sonos architecture allows you to broadcast different tunes to different speakers at the same time. I blasted some Jack White to the Living Room/Kitchen on Saturday while Lauren was rocking some Alt-J upstairs.
Finally, a cool footnote I discovered on the PLAY:1 is that it's engineered to be humidity-resistant, something that makes it a perfect fit for a spot like the master bathroom where other electronics would succumb to a moist environment. It's obvious that every aspect of the killer little speaker is extremely well thought out.
Integration with Other Platforms
Although you're restricted to the Sonos App/Sonos Controller software for audio playback, the folks at Sonos have cultivated partnerships with just about every music provider you could ask for directly within their software. They support all of the streaming heavyweights such as Spotify, Rdio, Google Now Music, Amazon, and much more. There are a few omissions like iTunes Radio, but it looks like they're the result of the closed nature of those platforms.
Additionally, Sonos can connect to local music archives on your computers or a network accessible storage device with support for every popular audio format.
It's a bit of a bummer being limited to the Sonos software alone for control, especially when you're used to a workflow that's as seamless as AirPlay. However, I'd trade a minor inconvenience for Sonos's reliability any day of the week.
Build Quality and Reliability
As I mentioned above, the speaker has a satisfying heft with clean lines; it is obviously engineered with a lot of care. Even the sparse buttons at the top are precise and have a premium feel.
The biggest topic to discuss in this section of the review is the rock-solid reliability that Sonos is legendary for… these speakers absolutely deliver. With or without the (now optional) Sonos Bridge accessory, it has been impossible for me to make these speakers skip a beat. That's even more impressive considering the fact that I'm testing them in a home with 25+ devices connected to a cheap router that frequently brings my AirPlay set up to its knees. I watched Netflix, gave a toddler my phone, and even turned on the microwave (8 ft from the speaker), and nothing could knock Sonos out.
All hail the king of wireless reliability.
Affordability
The PLAY:1 retails for only $199, which is a nearly obscene value in its segment. Unless you need a solution that's battery operated or you absolutely require AirPlay/Bluetooth, I can't conceive of a better small speaker.