High fidelity sound with no strings attached.
Disclaimer: The folks at Sonos very generously provided a PLAY:3 for this review. As always, the opinions are my own.
If you're taking a first look at the Sonos system (a standout in our recent comparison of audio solutions), you're probably torn between the PLAY:1 and the PLAY:3. The PLAY:1's small footprint and affordable price are extremely attractive (read our review), but there's always the siren song of bigger sound and more features for a slightly larger investment.
Today, I'll attempt to shed a some light on the differences and help you make a decision in my in-depth review of the Sonos PLAY:3.
What Does It Claim to Do?
The Sonos PLAY:3 is a compact stereo speaker that claims to play your favorite music wirelessly from dozens of available sources. It touts Sonos' reputation for faithful audio reproduction, synchronization with other Sonos products, and audio playback that doesn't pause or drop out due to wireless interference.
All it requires from you is a wall outlet, a WiFi (or ethernet) connection, and a companion app on your smart phone or computer.
Specs:
Three Class-D Digital Amplifiers
One Tweeter
Two Mid Range Drivers
One Bass Radiator
Supports WiFi/Ethernet
Pairs with Other Sonos Speakers
5.2 x 10.6 x 6.3 (in)
5.71 lbs
Does one of the most versatile speakers in the Sonos line deliver the goods? Read on to find out.
Look and Feel
Continuing the trend of understated (but thoughtful) design I discovered in my review of the PLAY:1, the PLAY:3 is a simple design that wouldn't stand out if you put it side-by-side with other products on the market. In fact, it resembles one of the satellite speakers you might find in a high-end home theater system. That's not a knock on the design, just an observation that it won't draw attention to itself (until you turn it on, but we'll get to that in a minute).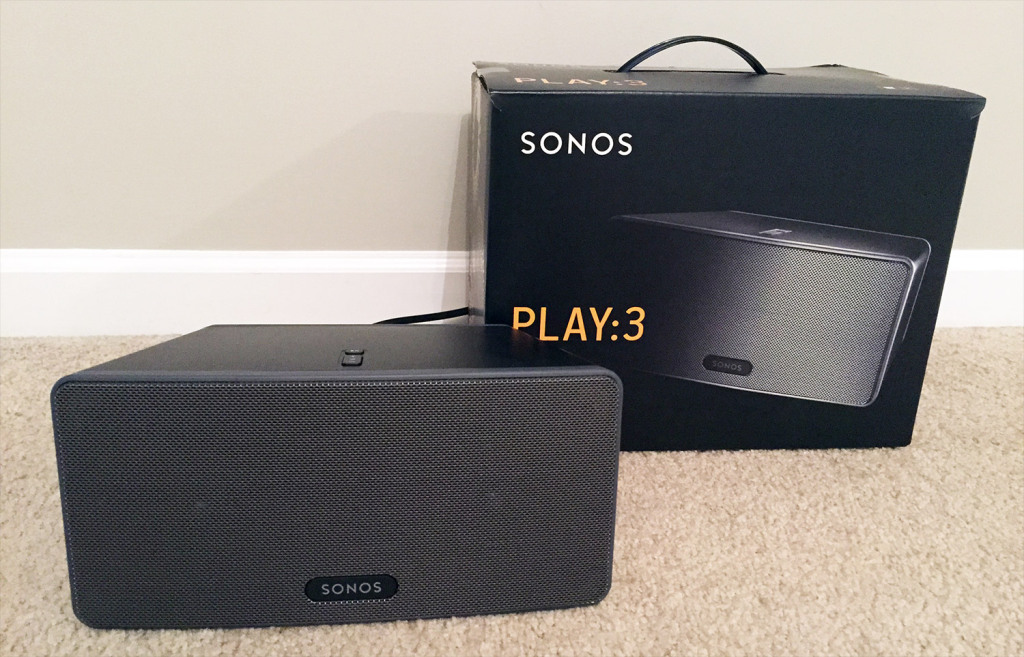 Like its little brother, it's satisfyingly heavy, and the PLAY:3 can be positioned horizontally or vertically depending on the scenario. Besides play/pause and volume controls, all other functionality is assigned to a handsome companion app that's used to configure, update, and send music to the speaker. At first I didn't like the idea of being locked down to a single app, but the Sonos team has done an excellent job on their software. It's intuitive and well thought out.
Performance and User Experience
Setup
Before we get to the sound quality, let's talk about the setup. You simply plug the speaker in, wait for a few indicator lights, and follow the instructions in the app to connect the speaker to your wireless network. The whole process takes about three minutes (if you're starting from scratch).
This was the second speaker I added to my Sonos system, which means the setup process was even more brainless; all it took was opening the app and giving the speaker a name. I can think of few other products that offer integration with each other that is this simple for consumers… It's all very Apple-esque.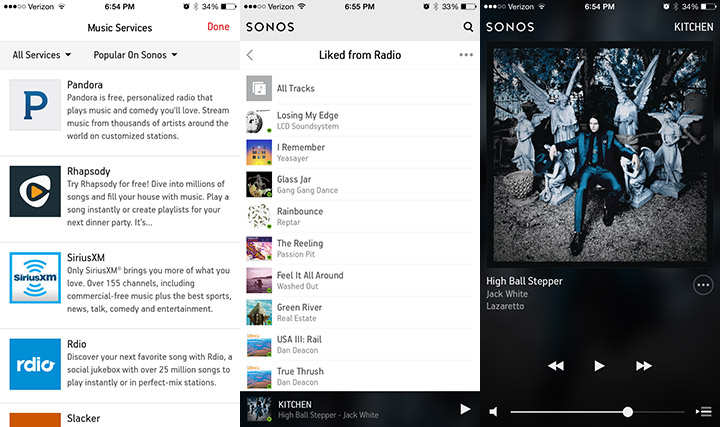 After that, it's simply a matter of adding your favorite music services to the Sonos app (if you haven't already), and you're ready to start listening. I imported my Spotify Premium account during my testing of the PLAY:1, and the Sonos app pulled in all of my starred tracks, playlists, and more. The only disappointing omission is the lack of Spotify Radio, though I'm sure that can be added in a future software update.
Sound Quality
This speaker sounds really, really fantastic. In a step up from the PLAY:1's (already excellent) dynamic range, the PLAY:3 increases the soundstage with more depth and livelihood between the highs and lows of your favorite tracks. Here are a few I used in testing:
In an effort to describe the difference between the PLAY:3 and PLAY:1 (which retails for $100 less), lets pause for a moment on the "Be Above It" track mentioned above. A little bit of throwback psychedelic rock, the track has a underlying chant at its core with a partial whisper of "I gotta be above it" repeating over and over behind the rest of the layers. While this can be lost with the limited range of the PLAY:1, the PLAY:3 has enough separation and range that the chant is crisp and present as intended.
The PLAY:3 also offers fuller sound and more nuanced bass that's obvious in synthetic tracks like "Side of the Road" above. It's hard to describe, but everything just has more texture and resonance. For 50% more, you get a speaker that sounds twice as good as the PLAY:1… That's a pretty fair trade in my mind. We have the PLAY:3 in our bedroom and are loving it.
Other Features
All Sonos speakers have the ability to magically sync with each other to provide seamless music playback throughout the house, or in this case, join forces with another PLAY:3 to form a stereo pair. This is the kind of feature that I would never expect to work properly (or reliably), but I'm happy to report that it works flawlessly. All it takes is a few taps in the app to instantly broadcast your tunes to one, a few, or all of the Sonos products throughout your home. I've been testing this functionality (and trying to break it!) along with a PLAY:1 and PLAY:5, and I'm simply astounded by how well it works. It's something you definitely can't accomplish with AirPlay.
Similarly, the Sonos architecture allows you to broadcast different tunes to different speakers at the same time. I blasted some Jack White to the Living Room/Kitchen on Saturday while Lauren was rocking some Alt-J upstairs.
Finally, the PLAY:3 lacks the humidity resistance of the PLAY:1, but it gains the ability to serve as a wireless adapter for another ethernet-connected device (if your setup includes a Sonos Bridge or Boost). That's a pretty great bonus if you have other smart gadgets nearby that lack built-in Wifi.
Integration with Other Platforms
Although you're restricted to the Sonos App/Sonos Controller software for audio playback, the folks at Sonos have cultivated partnerships with just about every music provider you could ask for directly within their software. They support all of the streaming heavyweights such as Spotify, Rdio, Google Now Music, Amazon, and much more. There are a few omissions like iTunes Radio, but it looks like they're the result of the closed nature of those platforms.
Additionally, Sonos can connect to local music archives on your computers or a network accessible storage device with support for every popular audio format.
It's a bit of a bummer being limited to the Sonos software alone for control, especially when you're used to a workflow that's as seamless as AirPlay. However, I'd trade a minor inconvenience for Sonos's reliability any day of the week.
Build Quality and Reliability
As I mentioned above, the speaker has a satisfying heft and an understated design; it's casually elegant, and obviously engineered with a lot of care. Even the sparse buttons at the top are precise and have a premium feel.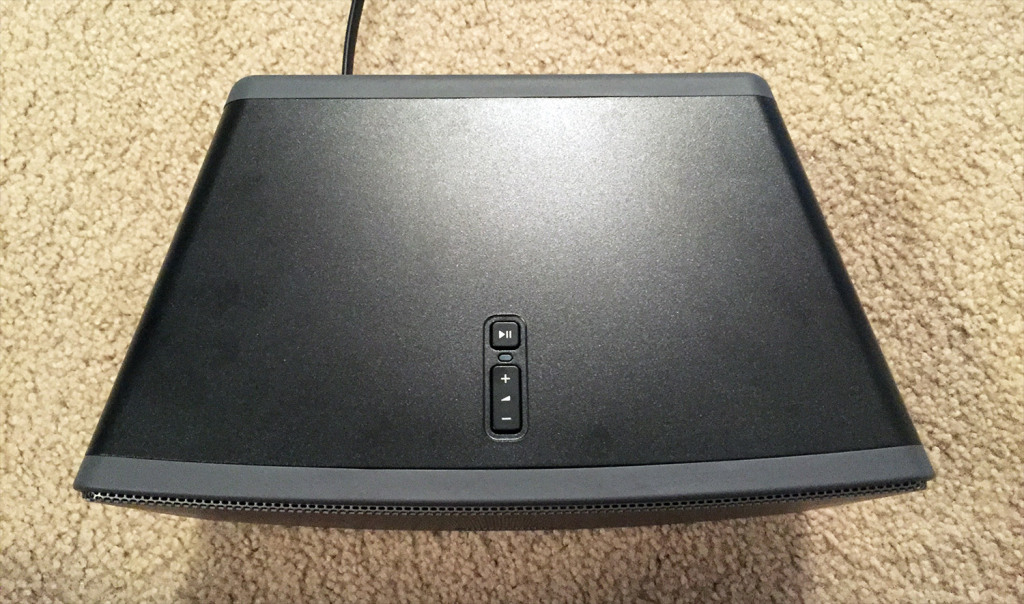 The biggest topic to discuss in this section of the review is the rock-solid reliability that Sonos is legendary for… these speakers absolutely deliver. With or without the (now optional) Sonos Bridge accessory, it has been impossible for me to make these speakers skip a beat. That's even more impressive considering the fact that I'm testing them in a home with 25+ devices connected to a cheap router that frequently brings my AirPlay set up to its knees. I watched Netflix, gave a toddler my phone, and even turned on the microwave (8 ft from the speaker), and nothing could knock Sonos out.
Sonos is the wireless audio system you want for your home… Trust me; I've tried them all.
Affordability
At $299, the PLAY:3 is a great deal, even if it's price puts it above the "impulse buy" category of the PLAY:1. However, if you're okay trading a smaller speaker for a much larger sound stage, the PLAY:3 offers a significant step up in quality for a small step up in price.
Whether you're starting your Sonos system or adding another speaker, you simply cannot go wrong with the PLAY:3.