Potentially the best speaker you can buy.
Disclaimer: The folks at Sonos very generously provided a PLAY:5 for this review. As always, the opinions are my own.
So you're ready to dive head first into the Sonos ecosystem, but you don't want to mess around with a compact speaker; you're ready to rattle the windows and feel the bass in your chest. I understand where you're coming from.
A few years ago, I invested in a set of Audio Engine A5s (paired with an AirPort Express for wireless) in an effort to fill our entire house with some of the best audio I could buy. As I've mentioned before, the speakers absolutely lived up to the promise, but AirPlay lacked the stability I looked for in our home audio setup.
This leads me to this Fall, when I began researching all that Sonos has to offer. Their wireless stability and ability to sync together have always been attractive, but I was reluctant to leave the spectacular sound quality of my A5s behind. That's when I found the Sonos PLAY:5.
Let's wrap up our tour of the Sonos lineup with a review of their most powerful speaker.
What Does it Claim to Do?
The Sonos PLAY:5 is a compact stereo speaker that claims to play your favorite music wirelessly from dozens of available sources. It touts Sonos' reputation for faithful audio reproduction, synchronization with other Sonos products, and audio playback that doesn't pause or drop out due to wireless interference.
All it requires from you is a wall outlet, a WiFi (or ethernet) connection, and a companion app on your smart phone or computer.
Specs:
Five Class-D Digital Amplifiers
3.5mm Headphone Jack
3.5mm Audio Line-in
Two Tweeters
Two 3.5″ Mid-Range Drivers
One 3.5″ Woofer
Supports WiFi/Ethernet
Pairs with Other Sonos Speakers
5.2 x 10.6 x 6.3 (in)
5.71 lbs
Does the most robust speaker in the Sonos line deliver the goods? Read on to find out.
Look and Feel
The PLAY:5 is a fantastic study in functional minimalism, and probably the most attractive of the Sonos lineup. It reminds me of some of the best looking iPod docks from years ago, with no superfluous lines or features. It's big enough that you'll notice its presence on a bookshelf or table, but its elegant form is something you won't mind seeing every day. I'm testing the black model for this review, but the white is equally handsome.
Like its smaller siblings, the PLAY:5 has a reassuring heft to it (so much so that it's bass port on the back doubles as a carrying handle). Besides play/pause and volume controls, all other functionality is assigned to a handsome companion app that's used to configure, update, and send music to the speaker. At first I didn't like the idea of being locked down to a single app, but the Sonos team has done an excellent job on their software. It's intuitive and well thought out.
Performance and User Experience
Setup
Before we get to the sound quality, let's talk about the setup. You simply plug the speaker in, wait for a few indicator lights, and follow the instructions in the app to connect the speaker to your wireless network. The whole process takes about three minutes (if you're starting from scratch).
This was the third speaker I added to my Sonos system, which means the setup process was even more brainless; all it took was opening the app and giving the speaker a name. I can think of few other products that offer integration with each other that is this simple for consumers… It's all very Apple-esque.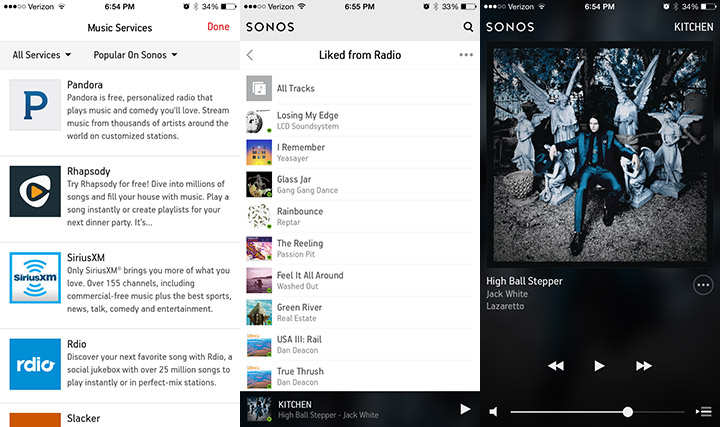 After that, it's simply a matter of adding your favorite music services to the Sonos app (if you haven't already), and you're ready to start listening. I imported my Spotify Premium account during my testing of the PLAY:1, and the Sonos app pulled in all of my starred tracks, playlists, and more. The only disappointing omission is the lack of Spotify Radio, though I'm sure that can be added in a future software update.
Sound Quality
Here's the part of the review you've been waiting for… Can a streamlined wireless speaker compare with the audio quality of the legendary Audio Engine A5s? In short… absolutely (with a few minor caveats).
As I mentioned in my review of the PLAY:3, it seems like each step up in the Sonos ecosystem brings with it a huge jump in sound quality and features; that's a trend that definitely continues with the PLAY:5. The PLAY:1 and PLAY:3 both sound pretty amazing, but the PLAY:5 is in a whole other league with a wide-open soundstage and a full body that you just can't match with a smaller speaker. I put it through the paces with the same tracks as the other two speakers:
It's truly hard to quantify the difference between these speakers in words, but the best way I can describe the step up to the PLAY:5 from the 1 or 3 is that the smaller speakers sound like a great reproduction of a recording, while the PLAY:5 almost sounds like you're at the studio hearing your favorite song recorded live. There's just an extra level of clarity and authenticity that the other speakers lack (and those speakers already sound great).
In comparison with the Audio Engine A5s, the PLAY:5 probably sounds 95% as good, and maybe 50% as loud. The A5s have a slight edge in clarity (due to some huge Kevlar drivers) and overall volume. Unless you plan on throwing a block party, I'd still pick the PLAY:5 due to its stability and other features.
Other Features
All Sonos speakers have the ability to magically sync with each other to provide seamless music playback throughout the house, or in this case, join forces with another PLAY:5 to form a stereo pair. This is the kind of feature that I would never expect to work properly (or reliably), but I'm happy to report that it works flawlessly. All it takes is a few taps in the app to instantly broadcast your tunes to one, a few, or all of the Sonos products throughout your home. I've been testing this functionality (and trying to break it!) along with my PLAY:1 and PLAY:3, and I'm simply astounded by how well it works. It's something you definitely can't accomplish with AirPlay.
Similarly, the Sonos architecture allows you to broadcast different tunes to different speakers at the same time. I blasted some Jack White to the Living Room/Kitchen on the weekend while Lauren was rocking some Alt-J upstairs.
Like the PLAY:3, the PLAY:5 can serve as a wireless adapter for nearby ethernet-only devices, which is extremely handy. Interestingly, the PLAY:5 also includes a headphone jack and even a 3.5mm line-in for another audio device. If you're feeling adventurous, that means you could conceivably hook your PLAY:5 up to an Airport Express to hack in some AirPlay functionality and give you the ultimate wireless speaker.
Integration with Other Platforms
Although you're restricted to the Sonos App/Sonos Controller software for audio playback, the folks at Sonos have cultivated partnerships with just about every music provider you could ask for directly within their software. They support all of the streaming heavyweights such as Spotify, Rdio, Google Now Music, Amazon, and much more. There are a few omissions like iTunes Radio, but it looks like they're the result of the closed nature of those platforms.
Additionally, Sonos can connect to local music archives on your computers or a network accessible storage device with support for every popular audio format.
It's a bit of a bummer being limited to the Sonos software alone for control, especially when you're used to a workflow that's as seamless as AirPlay. However, I'd trade a minor inconvenience for Sonos' reliability any day of the week.
Build Quality and Reliability
As I mentioned above, I love the look of this speaker; the construction is as solid as it gets… Even the sparse buttons at the top are precise and have a premium feel.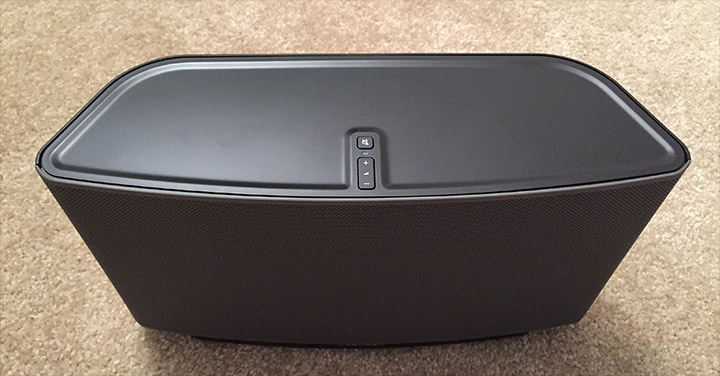 The biggest topic to discuss in this section of the review is the rock-solid reliability that Sonos is legendary for… these speakers absolutely deliver. With or without the (now optional) Sonos Bridge accessory, it has been impossible for me to make these speakers skip a beat. That's even more impressive considering the fact that I'm testing them in a home with 25+ devices connected to a cheap router that frequently brings my AirPlay set up to its knees. I watched Netflix, gave a toddler my phone, and even turned on the microwave (8 ft from the speaker), and nothing could knock Sonos out.
Sonos is the wireless audio system you want for your home… Trust me; I've tried them all.
Affordability
As the top speaker in the Sonos lineup, the PLAY:5 carries a premium price tag of $399. That may appear pretty high at first blush, but when you consider the incredible sound, the powerful Sonos ecosystem, the extensibility, and the reliability, this little beauty is packed to the gills with audio bliss. We're buying several to put throughout our home, and I think you'll want to do the same.