A little polish away from something great.
Controlling your entire home with your phone is great… until you can't find your phone.
The smart phone is as close to the ideal remote as we'll get for our homes, but it still comes with its own set of caveats; they get lost in couch cushions, run out of battery, and can easily be dominated by yogurt-covered toddler fingers (at least in my house).
For that reason, Lauren and I have been looking at the Wink Relay wall panel for a while now. As I mentioned in our first look a short time ago, we were initially considering mounting some iPads to the wall before we discovered Wink's solution. Everything we've read about it since makes it seems like the Relay is a tailor made solution to our predicament.
Is the Relay all that we hoped it would be? Read on to find out!
What Does It Claim to Do?
The Wink Relay claims to be a souped up control panel for your home that replaces a standard light switch with a 4.3″ touchscreen, two digital switches, and a wide array of sensors. It works on its own, or in conjunction with the $50 Wink Hub that adds compatibility with several more protocols.
Specs/What's In the Box
6.6″x5.9″x1.2″
Installs in a single/double gang box (more specifics on this below)
4.3″ capacitive touchscreen
Runs custom version of Android and the Wink App
Microphone and speaker for intercom functionality
Includes wall panel, wire stripper, screwdriver, screws, wire connectors, wall snaps, and user manual.
The Relay sounds pretty great on paper… So how does it work in every day life? Read on to find out.
Look and Feel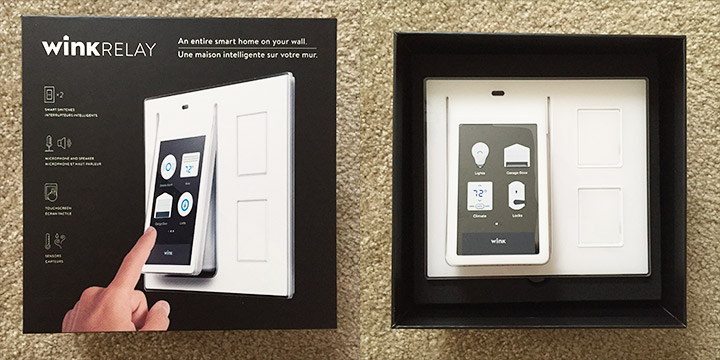 The Relay is certainly an attractive little gadget; its elegant lines and sleek finish look right at home in a modern house.
The construction of the unit itself is immaculate, and the glossy plastic (with a white finish behind) is especially appealing. It definitely passes the "wife test," as Lauren and I have stopped several times as we walk by just to admire the design.
I've also enjoyed the proximity sensor that activates the screen whenever someone is nearby. It's nice to have a frequent reminder of the time and temperature, and a simple tap brings up the rest of the Wink interface. I'd love it if the Wink team added more customization to the standby screen in the future (think family photos, additional notifications, etc).
The two physical buttons on the panel are programmable, but can function like a typical light switch by default (press once to turn on, press again to turn off). They're a little mushy on press (and I wish they had a little more tactile feedback), but they do the job just fine.
Performance and User Experience
Installation
I'm not going to lie… Installing the Relay was a little intimidating. Upon unboxing the unit and reading the installation instructions, the Relay actually has an extremely strict set of guidelines for where it can be installed:
It can only be used with copper or copper-clad wires.
It can only be installed in a light load gang box (a gang box that controls lights only).
It can only be used in a single or double gang box. Do not install in a multi-gang box unit.
It can only be used in a single or double gang box where a neutral wire is present.
It only replaces single or double light switches not wired to an AC outlet.
If you have a Dual Band router, the Relay can only connect to the 2.4Ghz band from that router.
It will only connect to WPA and WPA2 security encryption. WEP is not supported.
That's a pretty hardcore list of restrictions. That only left me with two spots to install it in our current home (for testing), and I'll have to add a few gang boxes in our new place just to compensate for the Relay's finicky set of rules.
As for the actual installation, it took me a while to figure out what I was doing. I had to read up on wiring, and I very cautiously set the panel up with the provided tools (all of which worked fine). If you're like me (not an electrician, as recommended), the instructions probably won't offer much help.
Once I got electricity running to the unit, the rest was painless. It mounts to the wall with some simple clips (included), and the software setup process was clean and straightforward. All I had to do was connect it to our WiFi network, log in with my Wink account, and all of my Wink connected gadgets were ready to go.
Every Day Use
The Relay's interface is like a paired down version of the Wink smart phone app. The time, weather, and Wink shortcuts are displayed on the home screen, and your devices and Wink activity are each only a swipe away. Weather expands to a slightly more informative view with a tap, and some high level settings are available when you touch the gear icon.
Shortcuts, lights, locks, and other devices are controlled identically to the smart phone app, with the exception of being able to add a new device (you'll have to use your phone for that). Everything seems just as responsive as you're used to from the mobile app, taking 2-3 seconds on average to respond to your commands.
If the Relay's physical switches are connected to hard-wired lights (mine are), the response is instantaneous like a normal wall switch. Those hardwired lights will also turn into newly available lights in the Wink app, which is an additional benefit that's pretty handy. You can also program those switches to control a variety of other functions instead, including activating a Wink shortcut. Lots of fantastic potential there.
In daily use, the Relay works pretty well. The software is nice looking but is oddly under-baked compared to the mobile apps, which is something I didn't expect. I've experienced a few minor glitches where the Relay was unresponsive; those seem to be related to a network outage on Wink's end or WiFi hiccups on our end. In both instances, it appears that the Relay just reboots its Android backend and goes back to normal in a few minutes.
Other Thoughts
The screen has a resolution that is similar to the first generation iPad, which will pale next to your Quad-HD smart phone even though it looks fine in practice. It's plenty bright, and viewing angles are acceptable.
The software is just a tiny bit sluggish, but generally responsive enough. I'm guessing an older version of Android is powering the whole thing. I have to admit, I have a little bit of apprehension that the unit could be seriously dated and maybe even obsolete after a few years on my wall. Hopefully that's not the case.
The Relay's included sensors are surprisingly cool. Through a recently added panel in the Wink app, I can see temperature and humidity readings from the Relay and my Nest thermostat on the same screen. I don't do much with that data now, but its fun to have nonetheless.
I'm excited about the intercom functionality (we plan to have four of these in the new place), but haven't had a chance to test it yet with only one Relay panel installed for testing.
Integration with Other Platforms
Out of the box, the Relay can integrate smart home devices using WiFi, Bluetooth, and the ZigBee protocols. Add a Wink Hub into the mix (as we did), and you'll get support for Z-Wave, Lutron, and just about every smart home protocol on the market. It's obvious that the Wink system is still in its infancy, but when it works as expected, its hard to beat the compatibility and functionality for the price.
Build Quality and Reliability
I've already covered the build quality above… We're really happy with the design, finish, and general care that went into crafting the panel. I definitely have no complaints there.
Reliability, however, is definitely a concern with the Relay and the Hub unit itself. It can be a little buggy, and its dependance on the Wink cloud to function (it has to talk to their servers before it can talk to your devices) could be a liability. Thankfully, most of the issues I've had with it seem to be easily remedied with software. I've been testing the Wink Hub itself for a few months now, and it has become dramatically more stable and feature-rich on almost a weekly basis. I'm hoping the trend will continue with the Relay, which has been on the market for less than a month at this point.
For now, I'm going to be optimistic.
Affordability
The Relay is $299, and built for a very specific specific market. You have to use Wink. To have to have a very specific electrical setup. You have to have a solid WiFi network. You also have to have the patience of an early adopter.
However, if you have all of those things, the combination of great design and a boatload of features makes the Relay reasonably priced and a compelling product for the Wink-based smart home. It's not (currently) the solution for everyone, but it's worth your consideration and will hopefully get better with time.