Updated Review Available!
We recently had the opportunity to take a look at the 3.0 version of the XY Find It tag. Check out that
review update here
.
Disclaimer: The folks at XY Find It very kindly provided several bluetooth tags for this review. As always, the opinions are my own.
It's human nature to be forgetful. Although Evernote, Google Calendar, and 1Password have whipped my digital life into shape, very few tools have been developed to solve life's more common challenges: a misplaced wallet… a purse that has gone missing… or even (if you're like me) a lost set of keys.
The folks at XY Find It are trying to rescue our stuff from our scatterbrained lives with a simple little tag that always knows where it is. I've been excited over the past few weeks to try out a few of the XY Find It Bluetooth Smart Beacons.
What Does It Claim to Do?
The XY Find It is a pint-sized location tracking tag that uses low-energy Bluetooth 4.0 technology to keep in constant communication with your phone. It's designed to attach to just about anything, and is engineered to keep track of where your stuff has been and send you notifications when items get too far away.
Specs:
Slightly wider than a quarter and about 1/3″ thick
Available in six different colors
Water resistant
Powered by a user-replaceable CR2032 battery
Supports many Bluetooth 4.0 smart phones
Companion iOS/Android app required
Does a young family have any use for a device like this? Read on to find out.
Look and Feel
For a little gadget that you don't want drawing too much attention to itself, the XY Find It is functionally attractive. The packaging is nothing to write home about (it's a little busy and undercooked for my tastes), but the unit itself is tastefully designed with a pleasant, slightly rubberized texture. It's just a hair larger and thicker than I'd like it to be, but that doesn't matter for how it's intended to be used. An array of trendy designer colors and a distinctive geometric design make it a handsome addition for your keychain, backpack, or purse.
Performance and User Experience
Setting up a XY Find It beacon is pretty straightforward. Simply unbox it, remove the protective battery strip, and pair it with the XY Find It app through a fun setup wizard. The process worked well for me on each of the three tags I set up, though opening the beacon to remove the protective strip from the battery compartment was surprisingly challenging. Opening one of the beacons required me to torque its side with a screw driver, so much so that it left some significant cosmetic damage to the side of the tag. Only the most perceptive geek would ever notice, but still, it's worth mentioning.
Thankfully, pairing the tags to the app itself was a much smoother process. I tested with my trusty iPhone 6, and all I had to do was open the app, select the tag (which identifies itself through Bluetooth's discovery mode), and keep my phone nearby while it paired with the tag through a fun progress circle. That's all there is to it!
Once you've paired your tags, there are almost endless possibilities for how you can use them with your family. The XY Find It app regularly communicates with your tag over Bluetooth to keep track of where it has been, give you real-time stats for your proximity from the tag, and even trigger an audible alert through the tag's tiny speaker to help you track it down.
One of the first uses I found for one of my XY Find Its was to pop it onto my keychain. I'm notorious for leaving my keys in various places throughout the house, so being able to pull up the app for "hot-or-cold" style location awareness is a Godsend. In fact, it's so fun that Jovie (my 5-year-old daughter) and I have turned it into a game; we each take turns hiding the keys and sending each other on a "treasure hunt" throughout the house using the XY app's signal strength indicator. Needless to say, it's a hit with the Pre-K crowd.
One thing we discovered as part of our game is that the built-in speaker isn't very loud. You may be able to use it to track down your keys in a silent house, but forget being able to rely on that in an environment with ambient noise of any kind. That's kind of a bummer.
The coolest feature of these little tags has to be their ability to immediately notify you when you leave something behind. Of course, this is helpful for items like keys and purses, but I think it has pretty incredible potential for one surprising task: protecting your kids.
An Unexpected Use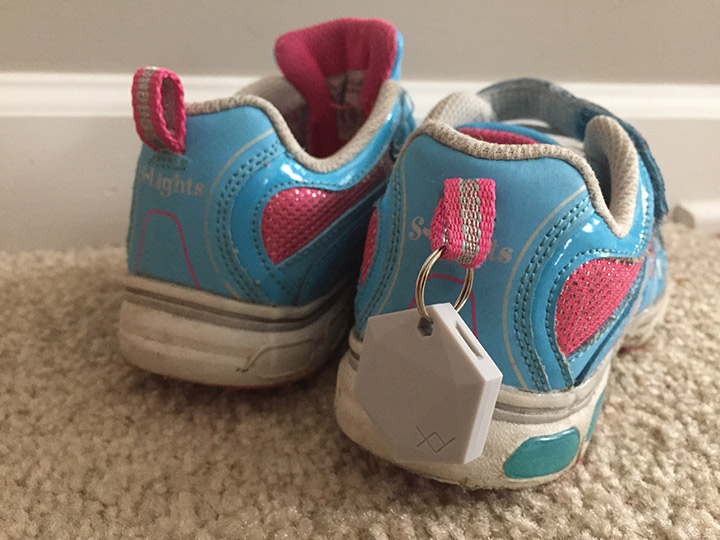 I'm not proud of it, but I will shamefully admit that we lost Jovie last Fall during a family outing at a local pumpkin patch. Despite walking around as a group of parents, grandparents, uncles, and cousins, we managed to accidentally leave Jovie behind at the petting zoo (a mistake that took us several minutes to realize). If you're a parent, I think you're familiar with the feelings that came over us when we realized what happened: utter panic and terror.
Thankfully, Jovie immediately found a staff member and told her she was lost, but you can imagine the horrific scenarios that ran through my head as I sprinted to her last known location. Even though we found her perfectly fine (if not a little rattled), you can imagine my resolve to never let that happen again.
With that story in mind, I was more than happy to attach an XY tag to my children's shoes on a recent outing to the mall. Using the app, I set the tags to "Alert Mode," meaning I would receive a notification the instant my phone lost contact with either of the tags. I tested this later in the day when Lauren took our kiddos to the Lego store while I was trying on a pair of shoes.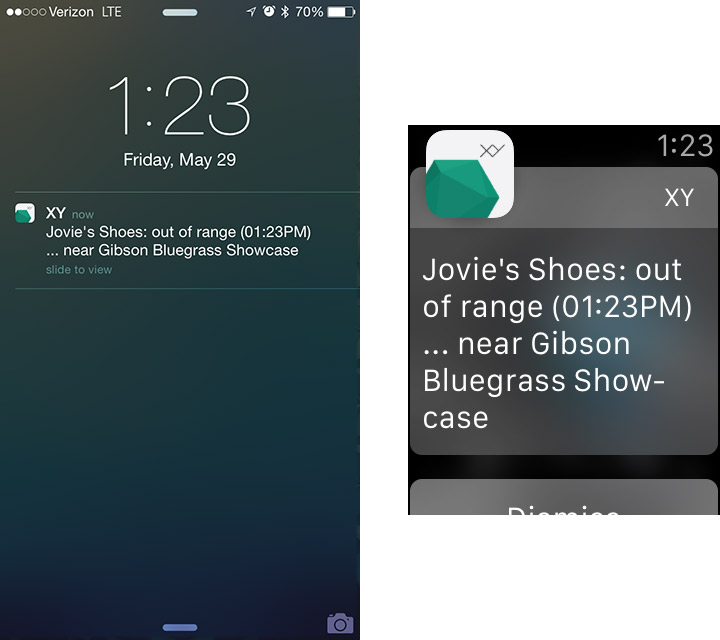 A few seconds after my family went around the corner and out of sight, my Apple Watch tapped me on the wrist to let me know that it lost contact with "Jovie's Shoes" at our current location. Very cool. I was also pleasantly surprised a few minutes later when my wrist received another tap during my walk to the Lego store; apparently, the XY Find It will also notify you when something comes back in range, allowing you to open the app and track it further if it's needed.
Long story short, this sort of peace-of-mind is invaluable to me as a parent. It's now an invaluable piece of tech for our family that should help us avoid experiencing something like the pumpkin patch ever again.
Additional Notes:
The XY Find It app keeps constant tabs on the last place it saw your items, even when you have the tags muted (where you won't receive alerts). This is extremely useful for scenarios like a date night where you could have left your wallet at any number of venues.
The XY Find It app uses a cell-phone style signal strength indicator to let you know how close you are to the tag, which is helpful, but I wish it had a way to give you a general direction to walk in as well. Maybe Bluetooth tech just isn't there yet.
I was worried about passive battery drain from my iPhone constantly being paired to the tags (especially with location services enabled), but I haven't noticed a change in my battery life since I've been using them. Your mileage may vary.
Each tag is estimated to have a battery life of about 6 months, which is less than I would like, but seems reasonable. A huge plus is the use of a user-replaceable watch battery, which make these tags a much more compelling product than competing devices on the market; who would want to pay $25 for a cool Bluetooth tag that you have to throw away after a year?! Crazy.
Integration with Other Platforms
The tags currently pair with both iOS and Android devices, which is a great start. A desirable upgrade would be a smart home hub or similar integration that could alert you when certain tags left or arrived at the house. Again, I want my kids to live in a surveillance state 🙂
Build Quality and Reliability
Aside from the issues I had accessing the battery in one of the tags, their utilitarian shells have proven to be tough and sturdy.
They also seem to perform consistently in my testing, though sometimes the responsiveness of the lost/found tag notifications can vary. Sometimes they pop up after just a second, and sometimes it takes half a minute. I'm guessing this is related to how quickly your phone realizes that it's no longer in communication with the tag.
Affordability
Starting at $25/ea, the XY Find It is just within the realm of "impulse buy" territory. Since you'll probably want more than one, I think the best value is to take advantage of the multi-pack discounts so you can track all of the items that are most important to you.
Conclusion
The XY Find It is a handy little helper for your connected lifestyle. It's extremely useful if you're a forgetful person, and a must-buy for every tech-savvy parent who frequents crowded places as a family.
Ready to try one out? I'm pleased to announce a special deal with the folks at XY Find It to offer 15% off of your purchase before June 21. Simply use the code FUTURE15 at checkout. Go grab a couple, and let me know what you think!