The best thing you can buy for your lawn.
Disclaimer: The folks at EGO very generously provided a Trimmer for this review. As always, the opinions are my own.
Historically speaking, weed eaters don't have a good track record with our family. We've owned three of the gas-powered standards over our 10 years of marriage, and all of them have met an untimely demise. The first was a hand-me-down that tended to burn my arm with its exhaust faster than I could edge the lawn. The second worked fine until we accidentally ran it over.
The third is an object of scorn in our family, the likes of which has grown into somewhat of a legend. You know that one chore you dread so much that you put it off indefinitely? This unit is so bad that it made me avoid weed eating and edging like the plague. Despite being a higher-end item (we paid ~$200), it's a nightmare to start, the line never advances properly, and it is completely unpredictable in its use; some days it works without issue, and others it takes 5 minutes (plus a dislocated shoulder) to get started, after which it will only trim for about 2 minutes before stopping inexplicably.
Now, I realize there are some caveats here… as I mentioned in my review of the EGO Mower, I'm not a mechanically minded person; I'm sure there's some maintenance step I've overlooked here, but frankly, I'm just tired of messing with gas trimmers and purchasing a new one every few years. With that in mind, I began the search for alternatives earlier this summer.
Electric trimmers are nothing new, but some of the technology in the marketplace has dramatically changed the game over the last two years. The unit that quickly rose to the top of the pack for me was EGO's Power+ 56v 15″ Trimmer, part of its outstanding 56v lineup that tops just about every "best of" lawn care list that I could find.
Is it worth leaving your gas cans behind? Read on to find out.
What does it claim to do?
The EGO Power+ 56v 15″ Trimmer claims to be a top-of-the-line unit with all of the power of gas, but with none of the drawbacks. It has all of the features and high-end construction you'd expect from a high-end unit, but is powered by EGO's insane 56v battery packs that start the trimmer with a push of a button.
Specs:
Brushless motor
15″ cutting swath
.095″ twist line
Duel feed
Bump head
Weather resistant construction
Extended aluminum hinged shaft
Available in a battery/charger kit, or as a standalone unit
So, has the Power+ Trimmer changed my luck with trimmers? Read on to find out!
Look and Feel
You obviously wouldn't buy a weed eater based on appearance alone, but it doesn't hurt that the Power+ Trimmer (and the rest of their line-up) is so handsome. These guys know how to make a tool that is sufficiently rugged, and built with the user in mind.
As with their mower, I expected these electricity-based tools to feel cheap (maybe like something from Black+Decker), but the Trimmer has a satisfying heft to it and a balance that certainly helps with long edging sessions. In short, it feels like a high-quality lawn care tool.
Performance and User Experience
My standalone unit came in a long box with the unit in two separate pieces. Simply connect them together with an allen wrench (included), attach the handle to your liking, and you're ready to make short work of weeds and rogue patches of grass.
I've got to be honest here… I fell blissfully in love with the Power+ Trimmer based on one feature alone: It starts up right away with just the press of a button. That's it. My gas trimmer has a long set of instructions on the side that were more wishful thinking than a reliable way to start the stupid thing. "Prime the pump… Adjust the choke… Pull cord twice… Adjust the choke… Capture the tears of a virgin…" You know the drill. Even if the EGO didn't trim very well, I would chose it over a gas trimmer every time for this reason alone.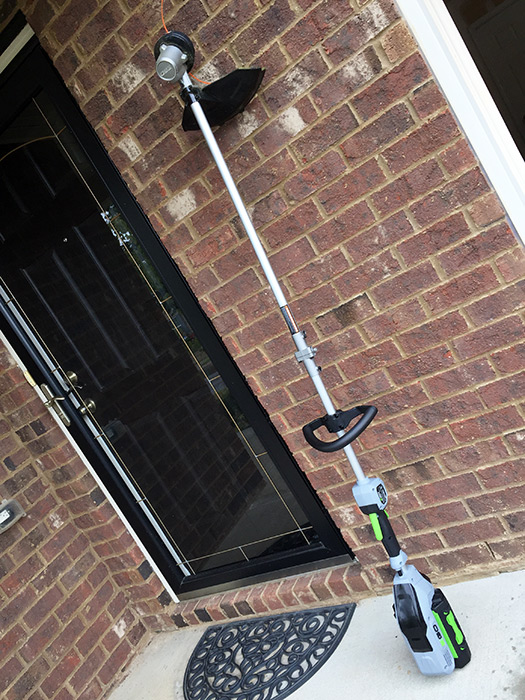 Thankfully, this thing isn't just easy to use… It's an absolute beast when it comes to taming my yard. Whether it's cutting back weeds or flipping it upright to do some serious edging along the driveway, the Power+ Trimmer was more than up to the task. I also need to mention how well the bump system works on this; one tap advances the line better than every other trimmer I've ever owned. It's fantastic.
Battery life seems pretty fantastic too. I've been using the 4Ah 56v battery from my mower (I need to pick up the more appropriate 2Ah version), and besides being a little heavy, I've yet to have the battery give out on me, even in the midst of a long Saturday in the lawn. Again, it's not the most accurate test, but it's gone 40 minutes for me without fail. I have no complaints.
Integration with Other Tools
The trimmer would be nice enough as a one-off tool, but its integration with EGO's fantastic tool ecosystem makes it especially attractive. Batteries can be switched out between their excellent mower, blower, and other tools from their lineup, making each additional component an enhancement to your entire electric toolshed.
Build Quality and Reliability
I've only been using it for about a month, but I just can't find any fault in the Power+ Trimmer. The polycarbonate used throughout the unit is top-notch, and everything from the clamp holding the shaft to the ergonomic handle is crafted with care and built-to-last.
As for reliability, I want to shout from the rooftops about this Trimmer. The fact that it starts up instantly and runs predictably every time just can't be overstated. It's a phenomenal tool.
Affordability
As of writing this post, Home Depot has dropped the price of the kit (including the battery and charger) to a very reasonable $179. If you already have other EGO tools, you can get the trimmer alone for even cheaper. Keep in mind that there's no gas to buy and store, no oil to change; just charge the battery and go… I think it'll pay for itself in the long run.
Conclusion
My opinion may be slightly biased from my hatred of gas trimmers, but this is one of my favorite items I've reviewed on this blog. Between its high-end cutting power and brainless ease-of-use, the EGO Power+ 15″ Trimmer is a must buy that should be the next addition to your tool shed.