An entire home theater in a single bar.
Disclaimer: The folks at Sonos provided a PLAYBAR for this review. As always, the opinions are my own.
As TVs have become progressively thinner, it seems like speakers have been the main casualty; they're either tremendously underpowered, or mounted behind the screen in such a way that they sound like a garbled mess (at best).
Thanks to this terrible TV audio and an exodus from traditional (overcomplicated) sound systems, the sound bar is a white hot segment of the consumer electronics market right now. They come in just about every shape, size, and price point, but I've noticed one common thread: none of them sound that great.
Since I've fallen in love with our Sonos system for home audio, I was decided it was time to give our bonus room the Sonos treatment as well. Can Sonos' PLAYBAR soundbar break with the herd and deliver a truly outstanding experience?
What Does it Claim to Do?
The Sonos PLAYBAR is Sonos' attempting to do for the home theater market what they've done for high-end wireless home audio. With 9 speakers and only two cables, the PLAYBAR attempts to deliver a virtual surround sound experience to compliment the wireless hi-fi performance they're known for.
Specs:
Nine Class-D digital amplifiers
9 speakers: 6 midrange and 3 tweeters
Virtual surround sound through left, right, and center channels
Supports WiFi/Ethernet
Pairs with other Sonos speakers
Expandable to full 5.1 surround sound with the Sonos SUB and a pair of PLAY:1s or PLAY:3s
12 lbs
3.35 x 35.43 x 5.51 in.
Natively decodes Dolby Digital 5.1
Does the PLAYBAR live up to the quality you'd expect from the Sonos name? Read on to find out.
Look and Feel
I've always been surprised that Apple hasn't made the move to acquire Sonos, because I feel like their design sensibilities go hand-in-hand. Much like some of Jony Ive's best work, the PLAYBAR doesn't look like something that was designed… it looks like something distilled to its purest form… something that "always was." It's elegant and understated in all of the best ways.
The packaging is thoughtfully designed as well, and I was delighted to discover that the PLAYBAR is satisfyingly heavy (a trait that's almost always a good sign for a speaker). A speaker isn't something you'll handle often, but like every other Sonos product we've tested, it's obvious that the PLAYBAR is precision engineered from nothing but premium materials.
Whether it's under your TV or mounted on a wall, the PLAYBAR is a triumph of minimalist design that will look at home in any environment.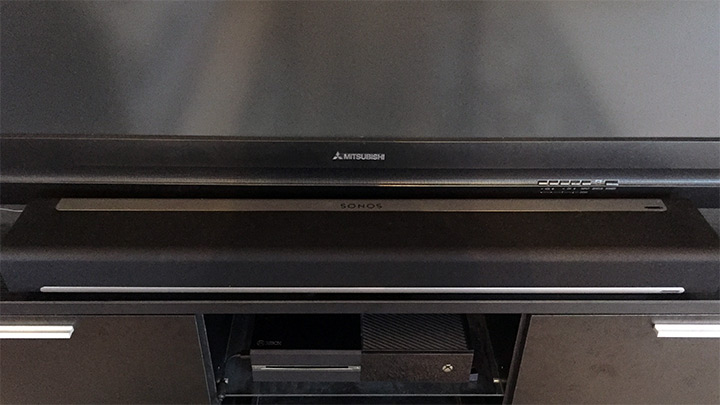 Performance and User Experience
Setup
When it comes time to set up the PLAYBAR, you'll notice this isn't your normal home theater component. Instead of the usual array of ports and connectors, the PLAYBAR is simple in its focus with just a power cable, optical audio input, and two ethernet ports (one in, one out). Home theater buffs and tech nerds may be upset that there aren't more options, but I think most will be thrilled by this simple set up.
Sonos recommends that you route all of your devices to your TV via HDMI, and then connect your TV alone to the PLAYBAR via the included optical cable. The assumption here is that most modern TVs will pass Dolby 5.1 audio along from other sources, but I experienced a small hiccup in my testing; my TV (a Black Friday lightning deal from 3 years ago) doesn't even have an optical out. I was able to work around this using my Xbox One (since all of my components are routed through that anyway), but its worth checking your TV's specs before you purchase a PLAYBAR.
After the 30 seconds it took to plug everything up, it only took an additional 60 seconds or so to integrate it with my existing Sonos setup. The process wraps up by learning the IR commands from your current remote so changing the volume is easy (it just asks you to to push a button on cue… that's it), and requesting that you turn off your TV's internal speakers.
When all is said and done, I have to say that this is one of the easiest AV components I've ever set up. The best way to summarize things is to focus on the work I didn't have to do. I didn't have to run a bunch of wires. I didn't have to dramatically rewire my home theater setup. I didn't have to relearn a complex (and wife-madding) new way to activate inputs and control the volume.
Note: If it's your first Sonos product, it will take you a few extra minutes to pair the system with your Wifi and log in to your different streaming accounts. It's still very easy, though.
Sound Quality
Everything sounds fantastic… like really fantastic. On their spec sheet, it lists a simple mantra that perfectly describes the PLAYBAR: "Not louder… clearer." With 6 midrange speakers, 3 tweeters, and 9 Class-D digital amplifiers, upgrading to a PLAYBAR is about far more than the cheap loudness you've experienced from other sound bars.
My TV's speakers were always plenty loud, but I didn't realize how terrible they sounded until we worked through our normal watchlist with the PLAYBAR cranked up. Sometimes it's prominent, and sometimes it's subtle, but it's like I'm hearing a whole dimension to my favorite shows and movies that I've never heard before. It silly to mention this, but even the local news sounds fantastic; voices that formally sounded shrill and tinny now have a rich vocal presence that I didn't realize I'd been missing. It's pretty wild.
I've spent a lot of time over the last few weeks comparing the PLAYBAR to TV speakers, a typical big box surround sound setup, and a friend's mid-range sound bar; it categorically beats them all with a nuanced soundstage that has to be experienced to be believed.
Speaking of experiencing the PLAYBAR, I'm surprised at how effective it is at mimicking a full surround set up with only three distinct channels. I'm using mine in a 14×18 bonus room, and it does an excellent job of both filling the space and adding some great dimensionality to your favorite shows and movies. It's not a replacement for a true 5.1 surround sound setup (you can read our review of Sonos' solution for that here), but it gets very close on its own.
Other Notes
There are a few different ways to control the PLAYBAR. Since it learns your remote's IR codes, you can simply turn the volume up and down like you're used to. You can also pause and adjust volume using the small buttons on the right of the PLAYBAR, but I didn't use those very often. There's also the fantastic Sonos app for both iOS and Android (iOS used here), which allows you to adjust volume, configure the equalization, and of course, send some tunes to the PLAYBAR to enjoy.
Its hard to mention or review a Sonos product without speaking volumes (no pun intended) on their musical prowess. The PLAYBAR is no different, and it's continually obvious that music is at the core of everything Sonos produces… The PLAYBAR sounds amazing. From Sufjan to Radiohead, the PLAYBAR performed beautifully with everything I could throw at it. It has a little less bass than a music-focused product like their excellent PLAY:5 (that includes a 3.5″ woofer), but if you're looking for a great home theater component that doubles as an incredible hi-fi stereo set up, look no further.
On the software side, the PLAYBAR includes two very cool software features that we find ourselves using all of the time: night mode and speech enhancement. With our bonus room only steps away from the doors of two sleeping young children, night mode is an absolute godsend. Simply put, one tap of a button in the Sonos app makes the PLAYBAR equalize your movie's audio so that sudden explosions won't wake up the toddler that you desperately want to stay asleep.
Speech enhancement is just like what it sounds like… it helps you hear what people are saying. That may not sound like a big deal, but we've found it especially helpful for services like Netflix, where some shows and movies play inexplicably quiet for some reason. It tends to distort the rest of the audio just a hair with all of the processing going on behind the scenes, but it puts a firm stop to the "what did he just say?!" conversations during your next LOST binge.
Finally, one of my favorite "hidden" features is that the TV/movie audio going to your PLAYBAR can be synced to other speakers throughout the house just like you'd sync your music. Watching the big game? Sync it with the speaker in your kitchen so you can hear the action while you're making yourself another sandwich. It's very, very cool.
Integration with Other Platforms
One of the PLAYBAR's greatest strengths is its seamless integration with the rest of the Sonos family. If it's your first Sonos product, then get ready to purchase some more… Their PLAY:1, PLAY:3, and PLAY:5 speakers are just phenomenal, and outfitting your house with Sonos products will become an addiction.
For cinema audio and virtual surround sound, the PLAYBAR will work with any product that can output audio through an optical cable. It's important to mention that it only supports Dolby Digital 5.1 for surround sound – not DTS or some of the other audiophile standards. If your TV or device only outputs optical audio in stereo, then stereo is all you'll get from the PLAYBAR.
Speaking of surround sound, a really appealing aspect of the PLAYBAR is its ability to be upgraded to a full, legitimate 5.1 surround setup by adding the SUB and two PLAY:1s or PLAY:3s. You can read our glowing review of that setup here.
Musically, you're restricted to the Sonos App/Sonos Controller software for audio playback, but the folks at Sonos have cultivated partnerships with just about every music provider you could ask for directly within their software. They support all of the streaming heavyweights such as Spotify, Rdio, Google Now Music, Amazon, and much more. There are a few notable omissions (Apple Music still isn't supported at the time of this review), but it looks like they're the result of the closed nature of those platforms.
Additionally, Sonos can connect to local music archives on your computers or a network accessible storage device with support for every popular audio format.
From its wealth of music options to its unparalleled integration with the rest of the Sonos ecosystem, it's hard to find a more flexible soundbar.
Build Quality and Reliability
As with every other Sonos product I've laid my hands on, the PLAYBAR is expertly constructed with premium materials that definitely reflect its price point. There's no doubt that this is a premium product.
The most important thing to cover in section of the review is the rock-solid reliability that Sonos is legendary for… these speakers absolutely deliver. With or without the (now optional) Sonos Bridge accessory, it has been impossible for me to make these speakers skip a beat. That's even more impressive considering the fact that I'm testing them in a home with 25+ WiFi devices that frequently brought my old AirPlay set up to its knees. I'm not sure of all of the magic that Sonos has going on behind the scenes, but it absolutely works without a hitch.
Sonos is the wireless audio system you want for your home… Trust me; I've tried them all.
Affordability
If the PLAYBAR has one downside, its the price. In an increasingly competitive marketplace, $699 is a whole lot of money to spend on a a sound bar, and that should give you some pause.
If you just want some loudness to crank up the volume on Wheel of Fortune, there are probably better options at Best Buy. If you love music, want to add clarity and depth to your favorite shows/films, and enjoy investing in products with premium features and unmatched ease-of-use, the Sonos PLAYBAR is worth every penny.
Conclusion
Sonos is one of those companies that gets more impressive to me as time moves on. It's obvious that they're razor focused on delivering remarkable sound through premium products that do what they promise to do. The PLAYBAR is no exception.
If you're looking for a versatile home theater experience that doubles as a top-notch hi-fi stereo, look no further than the Sonos PLAYBAR.