Keep a watchful eye.
Disclaimer: The folks at Withings provided a Home camera for this review. As always, the opinions and conclusion are my own.
It seems like streaming cameras are all the rage these days, but few are designed specifically with young families in mind. The folks at Withings (you may know them from their excellent health products) are aiming to change that, and I've been spending some time with their Home camera for the last few weeks. Is it the perfect solution for your home? Read on to find out!
What Does it Claim to Do?
The Withings Home is a WiFi streaming camera that claims to feature the security functions you'd expect, along with some family-centric functions that are unique in the marketplace.
Specs
5 MP, 1080p camera with 12x zoom
Night vision
Motion/Noise/Air Quality tracking with alerts
Event recording with 48 hours free (30 day premium plans available)
Complimentary app for iOS/Android
Look and Feel

When you first see the Withings Home, its obvious that Withings began their design with beauty in mind. You'd be hard-pressed to tell that this diminutive cylinder is packed full of some bleeding edge tech… It presents itself as a little bamboo accent sitting in a dish that you'd happily display on a buffet or a shelf on a corner.
The app(s) are equally welcoming with a streamlined interface and timeline that's both simple and functional. The experience translates well to their iPad, Apple TV, and Apple Watch apps as well.
Although my fellow nerds would enjoy it, Withings has crafted a product/experience here that isn't just for the tech-obsessed; it's designed for every member of the family.
Performance and User Experience
The positive vibes from the design continue through the straight-forward set up process. Simply install the app, create an account, and follow the extremely easy instructions to get the Home plugged in and connected to your WiFi network. That's pretty much it!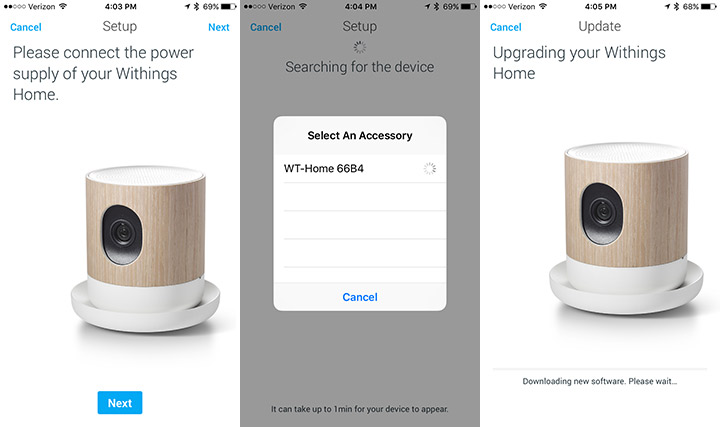 The Home offers 4 recording modes: Active Monitoring, Do Not Disturb, Baby Monitor, and Camera Off. With the default Active setting, you'll get notifications any time motion, noise, or air quality disturbances are detected, the sensitivity of which can be adjusted by a simple set of sliders. It works as well as you would hope for, sending notifications right away; in fact, it almost works TOO well, which caused me to immediately tweak the sensitivity within minutes of installing the Home; my kids are loud, and the Home was losing its mind as they played hide-and-seek around the house 🙂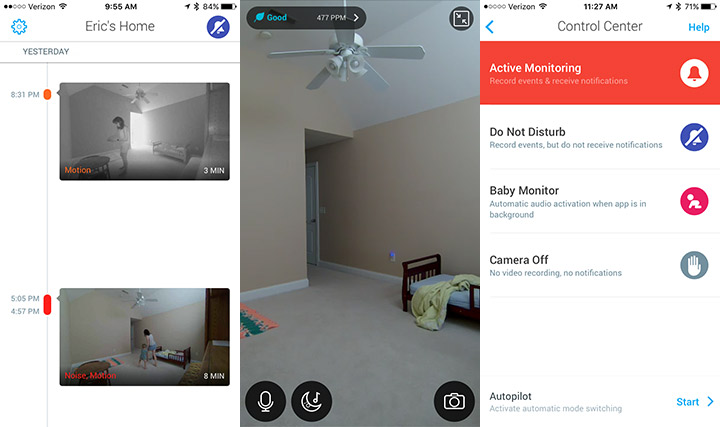 If it's set to Active Monitoring or Do Not Disturb, the Home will record the events that it detects, which is great, but there are some caveats; sound is not recorded, and the video is recorded at an abbreviated 1 fps, which is disappointing if you're used to the full recording capabilities of products like Canary and Nest Cam. Live streaming is fast, and works much better, streaming both audio and video at what looks like about 15fps (again, lower quality than Nest Cam and Canary). In both cases, the image has a good amount of detail, though its night vision mode is a little washed out.
The Home is a decent security camera, but there's one role where it really excels: as a smart baby monitor. We used "high-end" video monitors to keep an eye on our kids in the past, but those are both overpriced and anything-but-smart; they have a range of about 30 feet in actual use, they're unsecure, and there's no way to look in on your baby when you're away. The Home's Baby Monitor mode makes pretty much every other device we've used feel obsolete.
The Baby Monitor feature works by keeping the audio running in the background of your phone, even when it's locked; you can hear everything going on just like normal, and you'll also receive instant notifications any time motion is detected, linking you straight to the live audio/video feed. The two-way talk feature is useful too for answering questions or soothing a crying baby. This more than replicates the functionality of a standard video monitor, but it's way better since the range is virtually unlimited. Maybe you want to run next door after you put the kids down to grab dessert with some friends – the Home makes that possible (don't judge our parenting 😉 ).
Add in some of the Home's other features like its air quality monitoring and built-in light/sound machine, and you have a smart gadget that I think a lot of parents will be happy with.
Compatibility with Other Platforms
If you're an Apple house (we are), you'll find that the folks at Withings have cooked up some outstanding support for your favorite devices. Both the iPhone and iPad app are great, but I've been surprisingly blown away by the Apple Watch app, and some unexpected support for the Apple TV. The Watch app features a little video feed, which is handy, but having the full live video feed available on the Apple TV is really, really fun. I'll admit that we've done some full-screen spying on the kids as they're bothering each other after bedtime.

The downside to the Home is that it doesn't integrate with anything else (at least at the time of this review). That's a huge bummer if you planned on using it as a security device with your smart home hub, IFTTT, or anything else. Hopefully that will change in the future.
Build Quality and Reliability
As with the other Withings products I've had some experience with, the Home is a high quality device with excellent build quality. Reliability has been shockingly good as well; I've seen no service outages or buffering issues whatsoever in my time with it, and those are issues I've come to expect from streaming cameras. Withings must be doing something right on the back-end.
Affordability
At $199, the home is competitively priced with other security devices like Nest Cam and Canary, and pretty much on level with a video baby monitor; it's a good value for the feature set.
Conclusion
The Withings Home is a good security/home streaming device, but it's an excellent smart baby monitor. I think you'd be better served with a Canary for home security/general streaming, but if you're in the market for a device for your kids' rooms, look no further.