Your eye in the sky (er, cloud).
Disclaimer: The folks at Google very kindly provided a Dropcam Pro for this review. As always, the opinions are my own.
Wouldn't it be great to instantly know if everything's fine at home?
I don't travel often, but when I do, it seems like I frequently forget to do something at home before I left. Maybe I'm a little OCD, but I can't seem to get more than a few miles down the road before I begin my mental checklist… Did I lock the back door? Did I shut the oven off? Was there someone hiding in the closet?
Okay, I'm not that crazy, but it would be nice to check in occasionally and make sure nothing unusual is happening while we're away. That's where the folks at Dropcam come in.
The latest model of a well-respected line of WiFi cameras, the Dropcam Pro promises top-notch 1080p audio and video feeds that are available any time, from anywhere. It's a great little product that offers just the peace-of-mind I've been looking for.
What Does It Claim to Do?
The Dropcam Pro is a high-definition WiFi camera that claims to stream high quality audio and video that's viewable via their app from anywhere in the world. Highlighted features include a wide field of view, built-in night vision, two-way audio, and an optional cloud recording feature (for an additional fee).
Specs:
3 megapixel Sensor
130 degree field-of-view
8x digital zoom
Dual-band WiFi
Free live streaming and alerts
Two-way audio
Clear night vision
Includes long power cord and optional wall mount
How does the most well-known WiFi camera perform in daily use? Read on to find out!
Look and Feel
The Dropcam Pro is about as big as you would expect from the photos; it's roughly 5″ tall, and surprisingly well-built. Immediately out of the box, I was shocked by its unexpected heft, and the smoothness of the hinge that connects it to its base. It's obvious that a lot of care went into this design, something that immediately distinguishes the camera from countless cheapos on the Walmart shelf.
Although it's smallish and nondescript, I do wish it were available in a range of colors other than black; even a white option would be preferable to me, as the black tends to stand out among our current decor. It's not a big deal if you're placing it on a shelf or somewhere out of the way, but I've already seen Lauren Googling for a more attractive wall mount/case since our placement in the new house will be a little more visible. It's not an eye-sore, but you'll definitely notice that it's there.
Setup is quick (we'll go over that below), and the companion app is bright, attractive, and easy-to-use.
Performance and User Experience
Installation
To get the Dropcam Pro up and running, I simply plugged it in an launched a 60-second setup process through the companion app on my iPhone 6. It was quick and painless to give it access to my WiFi network, after which it was set up and ready to use.
A quick peek in the camera's settings menu reveals a wealth of helpful options, including schedules for alerts, toggles for night vision and the status light, and settings for the optional cloud recording service (which I was able to test in a two week trial).
Every Day Use
I wasn't expecting to be wowed by the Dropcam Pro, but seeing its feed in the app for the first time immediately brought a geeky smile to my face. The video is crystal clear (as long as our network isn't bogged down), and offers a full view of our living room and kitchen that is much more detailed than I hoped for. As long as you place it somewhere central in your house, I think you'll be surprised by how much you can see with it.
By far the coolest feature is the enhanced zoom that appears to double or triple the blurry mess that normally accompanies the digital zoom of many other cameras. Simple pinch-to-zoom the part of the image you want to see, then tap the magic wand icon; you'll immediately see a cleaned-up image that is much better than it has any right to be. It's awesome.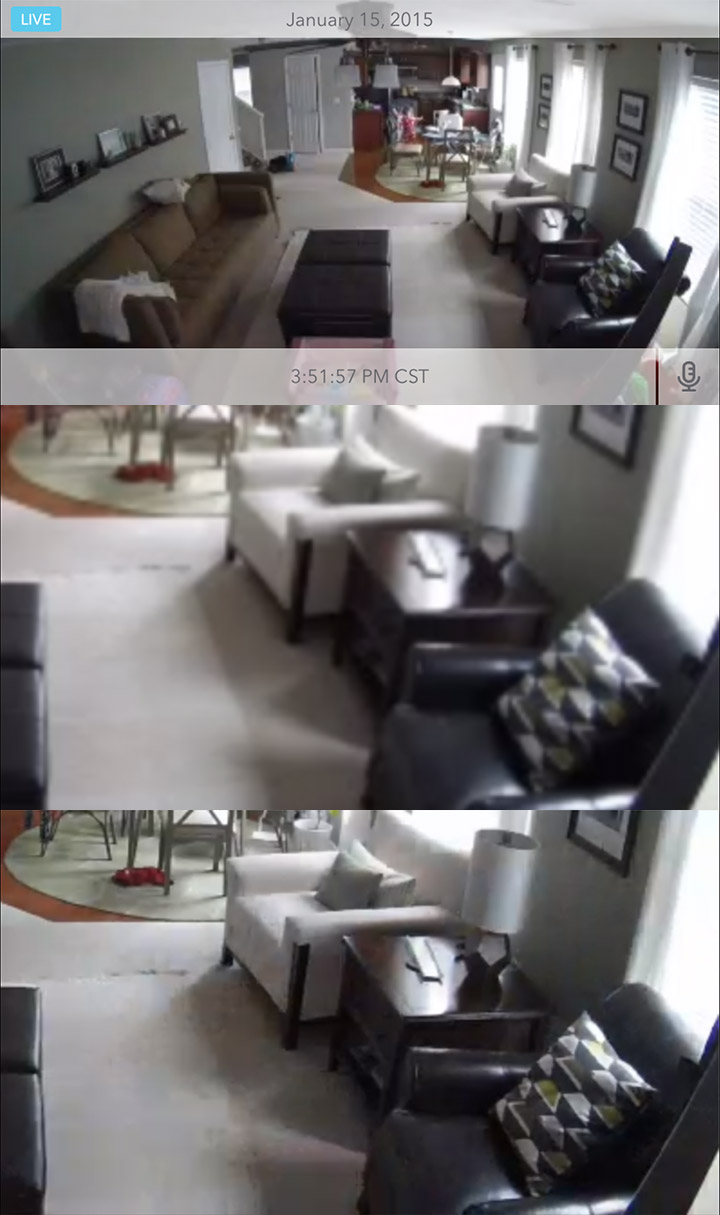 Similarly great is the night vision, which is simply a revelation if you've ever used the night vision in another camera product. Instead of a sparsely detailed green mess, you see an unbelievably bright and detailed video feed that is almost comparable to a black-and-white daytime view. You'll have no trouble identifying intruders (or night-time cookie bandits), which offers some tremendous peace-of-mind.
The cloud recording feature is great, and works exactly as advertised. I only participated in the two-week trial (I'm not yet ready to spend the $100/yr), but I could see its value, especially if you're using the Dropcam Pro to keep an eye on the workplace. The recorded clips are high-quality, and the 30-second rewind feature is especially useful when you're trying to figure out what made that noise downstairs.
As mentioned in my First Look, I really wish the Dropcam Pro included a free cloud recording tier of 12 or even 3 hours. Those features make up about half of its usefulness, and really should be included as part of the package in some shape or form.
Other Thoughts
The two-way audio feature is cool, but the delay and way it operates keeps it from being truly useful. You have to hold down a button on the app to talk (muting audio from the camera), making it difficult to have a normal conversation. It's nice to have, but right now I use it mostly to freak out my kids.
Motion notifications seem to work well, but are delayed by about 10 seconds in my testing. It also seems to take a lot of motion to trigger them. They should be sufficient to catch an intruder, but I'm a little worried about their reliability.
Psychologically, it may be better to leave the status light off. We've been using the Dropcam Pro for weeks now, but it sometimes weirds me out to see that little status light glowing blue and always watching. It's secure and encrypted, so that shouldn't be a concern, but I think I'm going to turn that status light off for the long haul.
Integration with Other Platforms
Dropcam has been around for a while now, which means its secure platform and API has been integrated into dozens of other services and platforms. The Dropcam company is also a recent Nest acquisition, which brings with it a wealth of nifty features such as (free) cloud recording when a Nest Protect detects smoke in the home.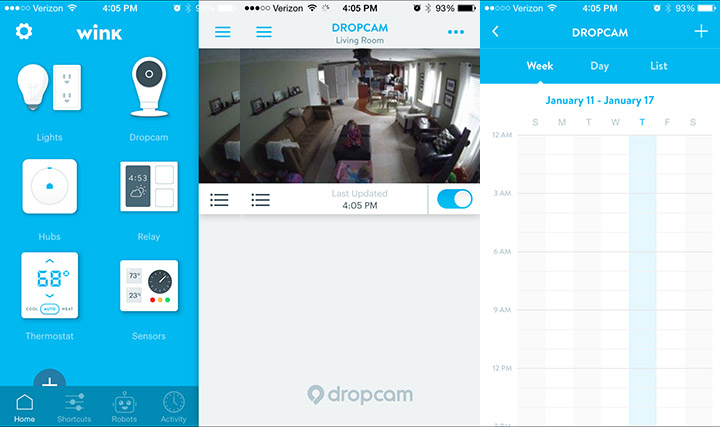 I've combined the Dropcam Pro with our Wink setup, which is nice to have, but not very feature rich. Dropcam's API seems to limit Wink to a static image that updates every 20 seconds rather than the live video feed I was hoping for. You can turn the camera on-and-off and make some modifications to the schedule from the Wink app, but that's about it. I'm happy to have those features, especially on the Wink Relays we'll have throughout our house, but I wish their API was more flexible.
Build Quality and Reliability
As I mentioned earlier, this is one rock-solid little camera. It's indoor-only, but is definitely built to survive whatever your home (or your toddler) can throw at it.
The video feed has also been rock-solid in my testing. It was available every time I tested it, and appears to only be hampered by the strength of your WiFi router or fickleness of your ISP. The Dropcam Pro has become a trusted little member of our family, and I sleep better being able to keep an eye on our home from anywhere in the world.
Affordability
I've been blown away by the Dropcam Pro, and its price of less than $200 makes it an extremely attractive addition to the home. However, the optional cloud recording features are locked behind a pay wall, limiting some of its usefulness out of the box.
If you don't mind the monthly fee or can live without recorded footage, you should pick up a Dropcam Pro without hesitation.