Always in the know.
Sensors are a key component of the smart home. Almost every smart home gadget you buy these days includes at least a few sensors; thermostats can detect motion, locks detect tampering, and wall switches can detect humidity.
All of these sensors are great, but what if you don't need the expensive gadget that goes with them? There's been a hole in the market for a while for a simple magnetic sensor (Dropcam almost filled it last year), but no company seems to manufacture them on a large scale.
Thankfully, the folks at Quirky in a partnership with GE just introduced a great solution in their Tripper sensor for doors and windows. I've been testing it for a few weeks now, and I'm pretty excited at all it has to offer.
What Does It Claim to Do?
The Quirky+GE Tripper is a small, adhesive-backed ZigBee sensor that claims to monitor the status of doors and windows to send alerts and trigger various smart home actions.
Specs:
Plastic Housing with Sensor and Magnet Bar
ZigBee Wireless Radio
Operates on User-Replaceable CR2032 Batteries
Sold in a Two-Pack
Designed for Use with the Wink Hub/Relay
Look and Feel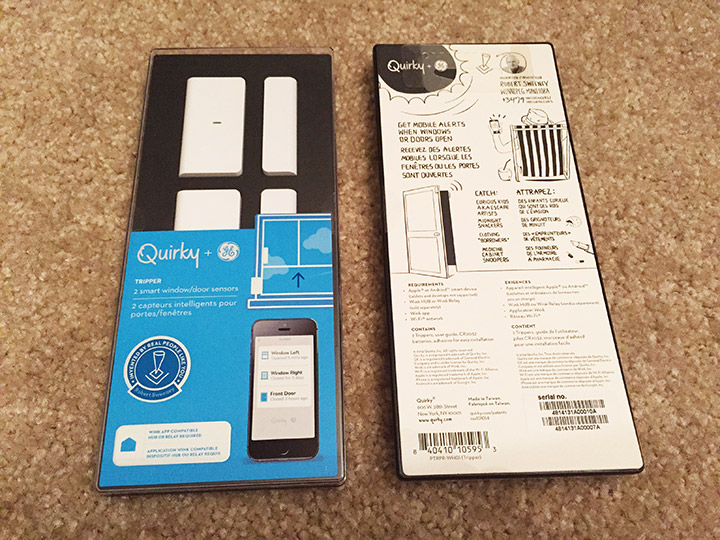 There's not much to the Tripper sensor, but that's a good thing. The sensor and magnet bar together are about the size of a pack of gum, with rounded corners and an attractive white finish that blends into the trim of where they're placed. There's a tiny indicator light that blinks on initial pairing with your system, but seems to stay dark otherwise (something that is great for battery life, I'm sure).
Each component has a little adhesive pad on the back that seems to do the job pretty well; they haven't fallen off so far and seem like they're going to stay put. Unless you have dark trim or wood on your door, you'll probably forget the Tripper is there a week after you install it.
Performance and User Experience
Mounting the unit to my door was easy, but I had some initial worries about placement and distance between the sensor/magnet due to the molding and gap around my door. All of the Tripper promo images show the unit mounted on flat windows and craftsman style moldings, but not at the angles my door has to offer. Thankfully, the sensor seems to operate just fine, even with the components at an angle and almost 1/2″ away from each other with the door closed.
Setting up the Tripper is extremely straightforward; simply remove the battery tab, open your Wink app (or the software for your compatible hub), and pair the unit. The whole process took me about 30 seconds, and was gracefully free of the random issues that sometimes can pop up when you're pairing a product to the Wink Hub.
It's pretty exciting to see all of the cool things you can pull off with the Tripper sensor. I have mine set up to send me a notification if the door is opened in the middle of the night, but you can do all sorts of cool things with these… Turn on lights when you walk in the garage door; turn off the A/C when you open a window; it's pretty fantastic.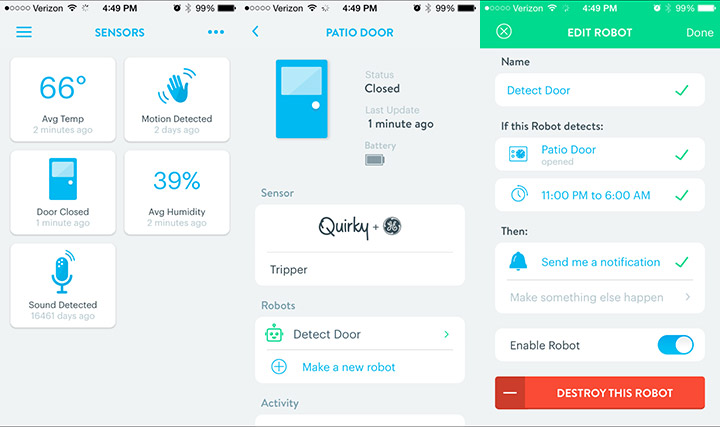 Wink even features the Tripper in the Sensors section of their smartphone app/Relay panel, making it simple to reassure yourself that a door or window is closed, even if you're across town.
The ease-of-setup and genuine usefulness makes the Tripper a fun little product.
Integration with Other Platforms
Although it's designed with Wink in mind, the Tripper operates on the ZigBee smart home standard, which means it should pair reliably with a variety of other smart home platforms. I haven't had a chance to test this, but I have a feeling the tripper is going to show up in a lot of homes over the next few years.
Build Quality and Reliability
The Tripper is well engineered and seems like it will stand up to indoor use just about anywhere around the house.
It also responds reasonably fast in my testing. It normally sends a notification to my phone within 3-5 seconds of opening the door. I've been using it for a few weeks now, and it's never failed to update properly.
Affordability
The Tripper is sold in a two pack for $40, making it only $20 for every location you want to use it; I'd say that's a pretty good deal.
If you're looking to add some simple automation to your home for cheap, or even work toward a home grown security system, the Tripper is well worth your consideration.