A cut above.
Chainsaws are terrifying (to me, at least) by nature; they're loud, intimidating, and so good at their job that they've become a staple of horror movies for the last 4 decades.
Part of this reputation comes from their obnoxiously temperamental gas engines that can be a pain to start and unnerving to work with. I may be overstating things here, but attaching a hot and wobbly explosive device to a notoriously powerful super knife has always made be dread cutting things down.
With that in mind, I was thrilled to receive a 16″ 56v chainsaw from the folks at EGO to put through the paces. Does it improve on a back yard staple? Read on to find out!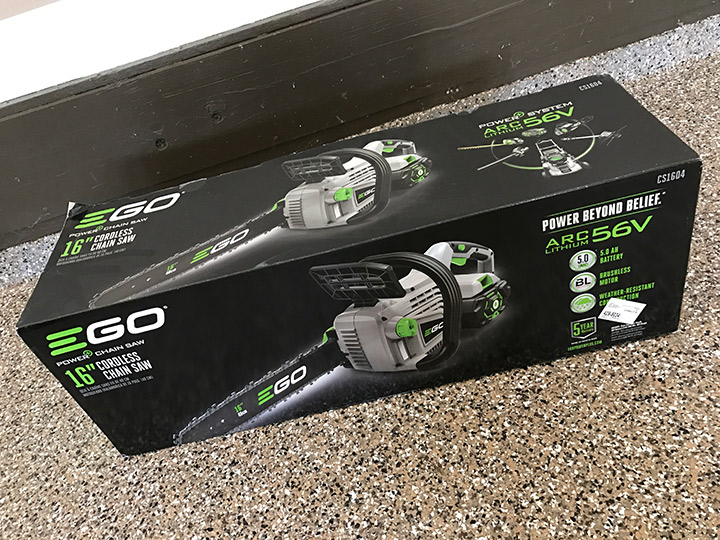 What Does it Claim to Do?
The EGO Power+ 56v chainsaw claims to be a 16″ powerhouse that adds a smooth and powerful electric engine to everything you expect a chainsaw to be.
Specs
Brushless electric motor
Powered by 56v Arc Lithium rechargeable batteries
Kit tested includes a 5.0Ah battery and quick charger
Maximum cut diameter: 32.5″
6800 RPM
Water resistant construction
5 year warranty
Look and Feel
If you've read my other reviews of the EGO Power+ mower and weed eater, you already know that these aren't the inferior electric tools your dad complained about growing up. This chainsaw is thoughtfully designed with a rugged chassis that's meant to be used without being babied.
It is a bit heavy with the battery plugged in, but it's on par with a gas motor thanks to a balanced heft that makes you feel in control.
Performance and User Experience
If this is your first EGO 56v tool, the experience will be revelatory; for existing owners, it's everything you would expect. Charge the battery; click it into place; disengage the safety features, and pull a trigger to start. That's it.
That unparalleled simplicity is even more welcome with a chainsaw, where everything involved with a pull start seems like a terrifying way to activate such a formidable cutting tool. I no longer break into a cold sweat when it's time to clean up some downed limbs, which is far from an insult to the EGO's deceptively capable cutting abilities. It's like butter with a hot knife, and it makes me feel like I have super powers.
The kit I received came with a ridiculous 5.0Ah battery (1Ah larger than the one I use with our EGO mower!), and it both charges faster than you'd expect and seems to outlast my stamina to keep cutting things down. I could see this chewing through smaller batteries, but the one included in the kit should be all you need for all but the most demanding cutting tasks.
Compatibility with Other Tools
Although they've added more tools to the family, EGO has kept the same battery connectors and interoperability throughout the entire line of products. That makes your initial purchase an investment, and every additional tool an upgrade to your whole setup. Too bad the consumer electronics industry doesn't follow the same rules.
Build Quality and Reliability
This chainsaw is rock solid, with easy-to-understand controls and the meticulous construction that you'd expect from a high-end power tool. Even better, that fantastic 56v technology means you can spend your energy on cutting wood instead of messing up your shoulder just to get it started. It's refreshing to have a tool that just works.
Affordability
The kit I tested includes the 16″ chainsaw, plus that insane 5.0Ah battery and charger for $299. If you've already drank the EGO kool-aid on another tool, you can grab the chainsaw itself for a little over $200. Yes, that's more than a comparable gas model, but the time and mental anguish you're saving yourself with an electric tool is more than worth it in my mind.
As a side note, the only thing else you'll need to buy is some bar and chain oil for the saw, which oddly isn't included in the box. It's only $5 at the hardware store, but kind of a bummer that you can't use your saw right away.
Conclusion
Whether it's your first EGO tool or the next upgrade to your workshop, I just can't find much to complain about in this awesome electric chainsaw. If you have a need to deal with trees or large cutting tasks around your house, go grab an EGO chainsaw and thank me later.