The new king of thermostats.
I love my Nest thermostat. Well… I used to.
As construction neared completion on our new home, I enthusiastically purchased two 3rd generation Nest thermostats since I had such a good experience with a first-gen unit at our old place. I soon discovered that those thermostats were riddled with bugs… they rebooted once every two weeks or so, neither seemed to accurately recognize when someone was approaching, and our upstairs device would sometimes take 5 seconds or so to even light up.
When I realized that I couldn't use the units with SmartThings (our current smart home hub), I knew it was time to look into other options. Thankfully, the folks at ecobee provided new thermostats for us to test this fall, so I eagerly made the switch to see what all of the fuss was about.
What Does it Claim to Do?
The ecobee3 is a smart thermostat that offers intelligent scheduling, better heating/cooling through an array of sensors, and enhanced control of your HVAC system through a companion app for your phone and tablet.
Specs
About 4″x4″ on the wall
Works with b/g/n Wifi
3.5″ 320×480 display
Compatible with Wink, SmartThings, HomeKit, Alexa, and more
Companion app for iOS/Android
Can the ecobee3 woo you away from its more well-known competitors? Read on to find out!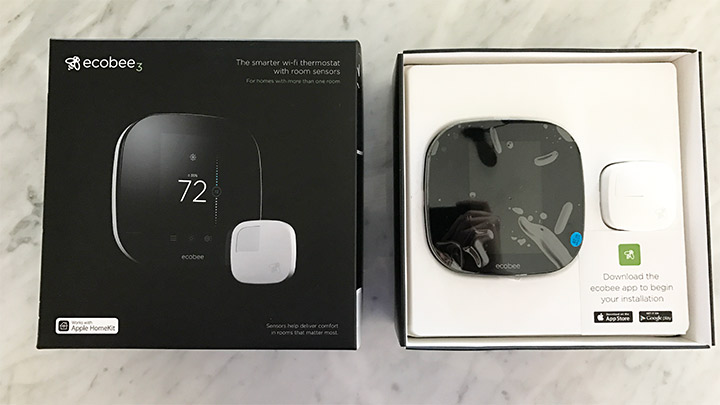 Look and Feel
The ecobee3 has a design that grows on you. It never struck me as particularly compelling on display in the store, but now that I've had two on my walls for the last month or so, I've come to appreciate the understated design.
The simple black "squircle" blends right in to our craftsman-style abode, and its simple touch interface is actually more convenient to use than even the Nest UI that we really love; whereas the Nest interface would completely confuse my parents and babysitters, everyone seems to intrinsically understand the ecobee's simple touch screen.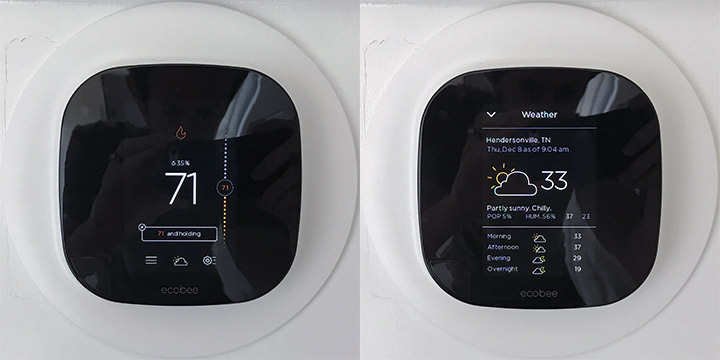 The app features the same stark controls, and mirrors the thermostats UI almost exactly. It's clean, intuitive, and easy-to-use; your family will get used to it in no time.
Performance and User Experience
Smart and programmable thermostats are great, but all of their extra intelligence isn't very useful if it's difficult to use. Thankfully, the ecobee puts a lot of intelligence at your fingertips in a practical way.
Installation
If you've ever installed a thermostat (old-fashioned or smart), the ecobee3 goes in pretty much the same way; if you're spooked by switching a thermostat out on your own, don't be.
There's not a lot to it… shut off the power, remove the old thermostat, connect the wires to the ecobee mounting plate (much less scary than it sounds), and click the ecobee3 into place. Once you flip the power back on, the ecobee3 walks you through a simple setup process where it verifies your wiring and helps your pick the right settings for your HVAC system. For our house, all of the right settings were chosen by default, but it doesn't hurt to reach out to your HVAC technician just to make sure the right boxes are checked.
Inside the House
The basic controls for the ecobee3 are as simple as it gets. The current temperature and the outdoor temp/weather is always clearly displayed on the unit, and it's clearly visible from even 15-20 feet away. As you approach the unit, it uses an array of sensors to somehow know that you're getting close as it automatically changes the display to provide current settings and a simple slider to make temperature adjustments. Tap the circle to drag the temperature up and down, and that's all there is to it.
It might sound like a minor thing, but I have to mention here that the ecobee3's presence sensors here are much more reliable than the 3rd generation Nest thermostats we used to use. The Nest failed to recognize my approach probably 50% of the time, which really got on my nerves. For one of the units, I thought it was because of its placement in our upstairs hall with a bunch of windows, but the ecobee3 recognizes my approach flawlessly every time.
As far as thermostat performance goes, it behaves exactly like you'd expect it to. Heat and air turns on without a hitch, and the inclusion of room sensors adds some special functionality that seems to be unique to the ecobee line. Since our bonus room stays noticeably cooler than the rest of the upstairs, I put one of the room sensors in the corner; when the heat kicks in, if the sensor detects motion in the room, it will run the heat until the bonus room reaches the desired temperature, not just the thermostat in the warmer hallway. It's very cool, and might solve some actual heating and cooling problems for your family.
Away from Home/Using the App
One of the best things about a smart thermostat is the ability to control things when you're away and tweak a variety of settings. Although you can do it on the thermostat itself, it found it a lot more convenient to schedule my ecobee3s through the app (and actually, through a web browser too).
To be honest though, the most common thing we do with the app is to change the temperature when we're away (or when we're laying in bed and being lazy). Having remote access to these controls is fantastic, especially during the winter months when running auxiliary heat can run up an energy bill pretty fast. The app works instantly and flawlessly.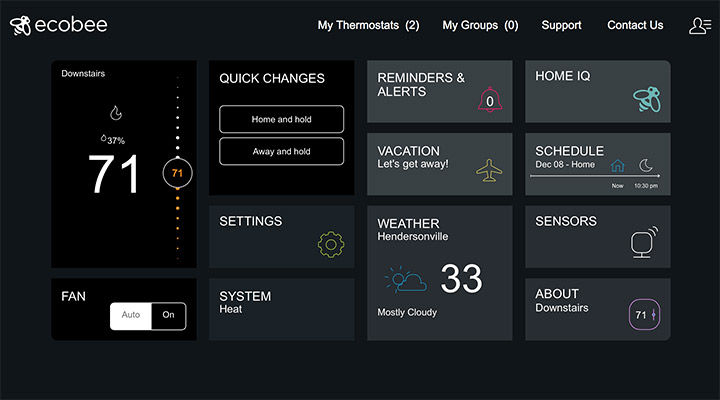 Compatibility with Other Platforms
The ecobee3 has become the Philips Hue of thermostats, and that's a huge compliment. This thermostat works with absolutely every system I can think of; if you use Wink, SmartThings, Amazon's Echo/Alexa, Apple's HomeKit, or IFTTT, it works with it. It's the kind of unparalleled integration that I wish every smart gadget maker would strive for.
Reliability
As I've mentioned, it's surprisingly reliable, especially compared to its competitors. The main thermostat functions work as great as expected, but the maturity of its software and reliability of its sensors truly caught be off guard. It exhibits none of the flakiness I've come to expect after using the 3rd generation Nest.
Affordability
Smart thermostats are still expensive up front, but remember that their energy savings alone (ecobee claims around 23%/yr) tend to pay them off within a year or two; all of the other features that come along for the ride are just gravy.
The ecobee3 usually retails for $249, but if you don't need the additional room sensor, you can pick up the equally capable ecobee3 lite for a substantial discount at $169.
Conclusion
Although I initially switched over to the ecobee3 mostly for compatibility, I'm honestly caught off guard by how much I love this little thermostat. It's got a great user interface, it actually recognizes when I'm approaching it, and the inclusion of an array of sensors provide some truly compelling use cases.
I feel confident in recommending the ecobee3 to every home owner, and truly feel that it is the best smart thermostat on the market. Don't hesitate to add one to your home.