A different look at outdoor security.
Since the Canary is my favorite smart home security camera, I've been openly biased toward their brand for a while now. Many of the smart home brands have begun to focus on outdoor cameras in recent months, so I was delighted to see Canary enter the fray late last year with the Flex.
As I continue to bulk up the security around the exterior of our new home, I was excited when Canary offered to send me a Flex to review in February. I've been testing it vigorously ever since, and I'm finally ready to deliver our verdict.
Does the Flex live up to the affection I have for its big brother? Read on to find out!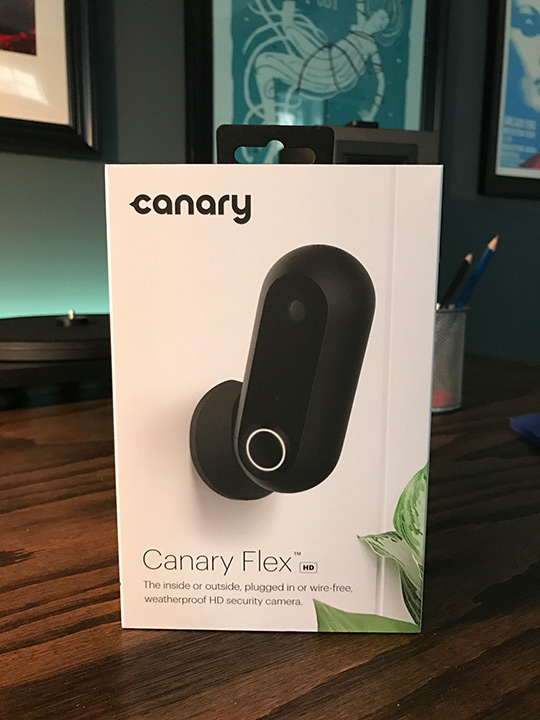 What Does It Claim to Do?
The Canary Flex is an weatherproof indoor/outdoor HD security camera that works with WiFi, claiming to deliver live video and recorded clips with or without a constant power source.
Specs
Wide-view HD camera with night vision
Weatherproof design that be exposed to the elements in both hot and cold temperatures
Works both wired and unplugged with an built-in battery
Includes a magnetic mount with extremly flexible camera placement, both upright or mounted to a wall.
Twist and stake mounts available as optional accessories
Works over WiFi with iOS and Android companion apps
Look and Feel
Like its big brother, the Canary Flex is beautifully designed in a way that you'll never notice. Its understated elegance comes from an organically derived shape that is somehow less obtrusive than competitors like the Ring Stick Up Cam or the Nest Cam Outdoor. Whether you place it by a door or hide it in your shrubs, you won't mind seeing it every day.
The Canary app hasn't changed much since we originally covered their indoor camera, but that's not a bad thing. It's still beautiful, easy to use, and has a sense of logic to it that carries through to every corner of the app. The initial view is still sparse on detail, featuring a blurred out view of recent activity that isn't especially helpful, but everything else about it is great. The interface doesn't feel like "work" to use, which is saying something compared to the utilitarian UI's of some of the more "techy" cameras out there.
Canary still offers a design and presentation that leads the pack for smart home security in 2017.
Performance and User Experience
Setting the Flex up was extremely simple. I already own two of Canary's full size cameras, and the process for adding the Flex to the mix was as simple as plugging the camera in and following a few prompts in the Canary app to get it synced to my account.
True to its name, the Flex is really versatile as far as potential placements go. You could use it indoors, on your patio, in your backyard, or just about any other covert location you can dream up. We have poor visibility of our driveway at our new place, so the Flex seemed like the perfect solution to place above our garage doors and cover the landing at the top of our driveway. You may also be interested in this voiceofsafety review.
There are multiple ways to mount the Flex (upright on its stand and plugged in, in a plant outside on a stake, etc), but we choose to use the included magnetic mount to place it about eight feet up in the hardy board beside our last garage door. Now, I'm hesitant to mess with mounting systems like this, but I have to say that the Flex's is easily the most pain-free I've ever encountered. It only required one screw, with an indentation in the mount that gracefully slides onto the screw and feels surprisingly secure against the wall. Compare that with the more intimidating multi-screw mount that came with our Ring Stick Up Cam, and installation alone is a far more pleasant experience with the Canary.
The Camera itself attaches to the base with what seems to be a supernaturally strong magnet; seriously, I'm not sure what kind of alchemy was involved in building this thing, but it's shockingly secure. I was hesitant about it at first given the crazy wind we get up on our hill, but nothing short of an actual tornado is going to knock this camera loose.
In practice, the Flex works just like the indoor Canary cameras, complete with motion-based recording (more on that in a sec) and some pretty fantastic image quality. It doesn't feature the bigger Canary's innovative siren (a bummer), but it does include an integrated speaker for two-way talk (which hasn't been enabled yet by the Canary team).
The live view is pretty great, especially for a batter-powered connection like the one I'm using. In practice, it takes about 15 seconds to load, which seems to be a bit quicker than the similarly-designed Ring Stick Up Cam (for reference, the larger Canary loads its live view in 3-5 seconds). As I mentioned earlier, the image quality is really fantastic, with a notable improvement on every other battery-powered camera we've tested. It's still a bit pixelated (with some noticeable pixel smearing during high-motion scenes), but more than sufficient for a home security camera.
The night vision is fine, and is probably sufficient if you have it covering a small environment or maybe one where all of the subjects are close to the camera. It is tremendously underpowered compared to what I was used to from its big brother, but the small infrared LED is probably to blame for that; I can imagine that a larger LED array would probably drain the battery pretty quick.
Speaking of battery, I've been using it in a high-traffic area, completely unplugged, and that results in the same battery drain I've come from expect from other high-powered wireless cameras. That means charging it (roughly) every month.
The big thing to talk about in this review is the Flex's performance if you're using it as a security camera. Honestly, I've found it to be kind of poor in this role. Let me explain.
For the first three weeks using the Flex, it was comically bad at detecting any sort of motion. Whereas my Ring Stick Up Cam detects motion without fail (sending notifications in less than two seconds), the Flex initially only detected motion maybe 1/5 times in my testing, with notifications sometimes coming 30-60 seconds after the motion first began. As you can imagine, this is far from ideal.
It would be one thing if that motion was a bird flying by, or even something quick like a kid running at the edge of the camera's view, but that wasn't the case here. The Flex was failing to see large UPS trucks driving right into the center of the camera's view, parking for 3 minutes, and then slowing pulling back out of the driveway. It was kind of nuts.
Thankfully, that issue inexplicably resolved itself after the first few weeks. I don't know if it was a software bug or some sort of machine-learning happening in its motion algorithm, but the Flex now accurately detects motion about 95% of the time, which is on par with every other camera I use. It has been a lot more reliable ever since.
After that issue worked itself out, I've found the Flex to be a great alert system for deliveries and unexpected visitors, but that 30-60 second notification delay keeps it from living up to its role as a security device (in my mind at least). For example, we had friends over a few weeks ago, and our Ring Doorbell alerted us to motion at our front door before I even received a Canary notification that there had been a car coming up our driveway. Those delays are a bummer, and something I hope they can work out in the future.
With all of that said, I've found the Flex to be a great camera to have around the house if you want to passively keep an eye on what's going on. Given its (comparably) large delay in sending notifications, I don't think I would recommend using it as an active security device where seconds count. For now, Ring's line of cameras are a better fit for those use-cases.
Compatibility with Other Platforms
In addition to the excellent smart phone apps for iOS and Android, Canary also supports some interesting integrations with the Apple Watch, Apple TV, the Wink smart home platform (for mode switching), and a few recipes on IFTTT. It's not quite the most promiscuous camera platform on the market, but they've slowly added more features and integration since my original reviews, which is some good progress.
Build Quality and Reliability
From an industrial design and software standpoint, I feel like the Canary devices (including the Flex) are probably the best cameras on the market. Everything from the weight of the camera to the thickness of the plastic feels meticulously tested and designed.
With the Flex, it's that reliability that I'm concerned about. Although my initial motion issues seemed to work themselves out, I'm not entirely confident that they won't pop up again. Also, those delayed notifications are a huge bummer, making the camera overall feel noticeably less reliable than it actually is.
Affordability
The Flex retails for $199, and I've seen some really great package discounts available from Canary and others over the past few months. Given the fantastic software and industrial design, that's definitely a fair price.
A quick word here on affordability over time… Canary includes 24 hours of free recording for your family of Canary devices, divided evenly by the number of devices you own. For instance, since I own 3 Canary devices, I get 8 hours of free recording per device. That's a great deal.
If you want to take it further, Canary now offers a paid "Membership" tier for $99/yr that will grant you 30 days of recording for all of your devices along with other perks like incident assistance if you experience a break-in, an extended warranty period, and even reimbursement of your home insurance deductible (up to $1000) in a worse-case scenario. That's a pretty great deal among the paid offerings for smart home security cameras.
Conclusion
I'm both fairly happy and slightly disappointed with the Flex. If it weren't for its initially terrible motion detection, and still flaky notification system, I would probably recommend it over other immediate competitors. As it stands, I'm not as elated with it as I am with its big brother, the original Canary.
If you're looking for a way to keep a flexible eye on your home, the Flex is definitely worth your consideration. If you're looking for a reliable security camera, you may want to compare it against some of the other market leaders first. As it stands, its worth checking out despite its faults, and will hopefully improve over time.