Great things come in small packages.
I hate carrying a bunch of stuff around. I don't know where this quirk came from, but it grates my nerves to travel, camp, or even commute with a load of bulky and heavy items that I feel the need to keep with me just in case.
I think the folks at Matador feel the same way. What began with their awesomely packable pocket blankets has multiplied into a lineup of thoughtfully designed adventure gear that packs top-notch convenience and craftsmanship into pint-sized products that are smaller and lighter than they have any right to be. They recent sent over a few of their top sellers to check out, and I've had a blast putting them through the paces.
I'm going to structure this review a little differently than normal because I want to focus on the unique experience that each of these products offer. All of them are shockingly light, pack down amazingly small, and feature some surprisingly rugged materials, making them feel like camping and adventure equipment that you might come across a decade from now.
Our little family has been testing these for about a month, and it's amazing how quickly we've grown attached to these products. Here's a quick overview of each.
Matador Pocket Blanket 2.0
I'll just get this out of the way up front… You're going to want a Pocket Blanket for every vehicle you own. Weighing in at 3.5oz, the Pocket Blanket is an ultra portable seating surface that (easily!) packs down to something that's roughly the size of a pack of playing cards. It's the perfect thing to grab for an impromptu picnic or even your favorite music festival.
The ristop fabric is water proof and puncture resistant, and it even features slightly weighted corners that help keep it in place when no one is sitting on it (which also pull out to act as ground stakes if you need them). My favorite touch is the sewn-in folding instructions that take all of the guess work out of putting it back together. It's a brilliant little product, and I can see why it was an instant hit.
Note: It may be called a blanket, but it isn't really intended to keep you warm; think of it as more of something to keep you comfy and dry wherever you're sitting on the ground.
It retails for $29.99.
Matador Mini Blanket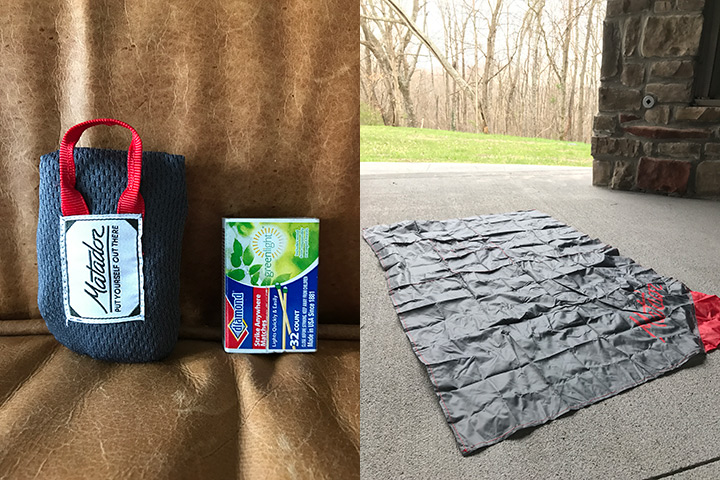 The Mini Blanket is essentially a smaller version of the Pocket Blanket. It's missing a few of the features like the weighted corners and sand pockets, but it's so ludicrously small and compact that it may be my favorite item of the bunch. It's 1.3oz and about the size of a zippo lighter, and I've found myself taking it everywhere; there's basically no reason not to.
I've used this bad boy at the airport, on a quick hike, and even at the park with the kids. Since it's water and puncture resistant like its big brother, I think you'll find dozens of imaginative uses for it in your daily adventures.
It retails for $19.99.
Matador Transit 30 Duffle
Ever wish you could bring along an extra bag without, well, having to bring along an extra bag? That's what the Transit 30 is for. Since I pack light for most business trips, there's rarely any extra room in my carry-on for the treasures I find along the way. The Transit 30 solves that problem, taking up practically no space in my roller board when I don't need it, and giving me a good-sized extra bag when I do.
Although I haven't run into a scenario where this would matter, it's water resistant (with waterproof zippers!), puncture resistant, and ludicrously light for its function at just over 4oz. If I'm going on a trip, I don't leave home without it.
It retails for $49.99.
Matador Daylight 16 Backpack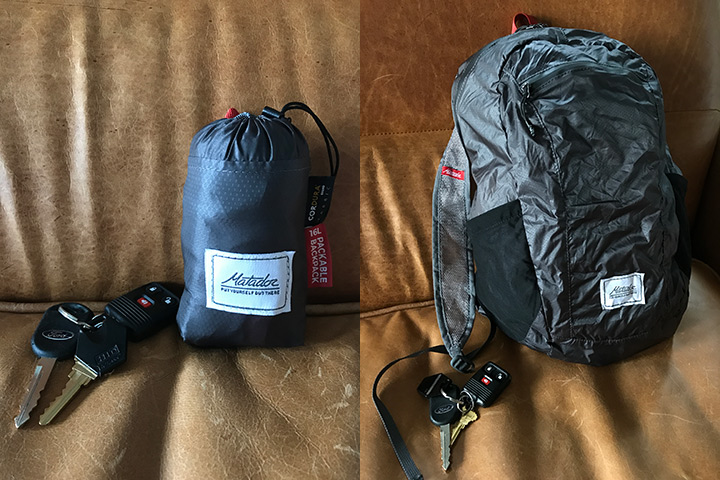 Disney should sell these. That's the first thing I thought as we trekked around with the Daylight 16 over Spring Break. This tiny, ultra-compressible backpack is the perfect thing to stuff into a pocket before a day in a theme park or any other impromptu adventure.
I used mine touring Mammoth Cave with the kids, and it was shockingly useful as I became the family pack mule, inheriting water bottles, discarded jackets, and gift shop trinkets to tote around. The backpack is small, but surprisingly comfortable; I barely felt it on my back throughout the cave tour.
I'm beginning to sound like a broken record, but it's also waterproof, features water-resistant zippers, is puncture resistant, and weighs only 4.1oz. There are a few different pockets, but my favorite features are the drink pockets, which are the perfect size for water bottles and sippy cups.
It's essentially a highly engineered, super comfortable alternative to those dinky rope-and-bag style backpacks that you see around from time to time. We love it.
It retails for $49.99.
Matador Droplet Wet Bag
The Droplet is kind of a secret weapon against everything that's gross. As a super-tiny dry bag that you'll probably hang off of your backpack (or, for families, your diaper bag), the Droplet is there to save the day in some pretty odd circumstances. Maybe it's for gross clothes after your workout. Maybe it's to keep your travel toiletries from turning into an exploded goo mess mid-flight. I've found myself using it more to keep my stuff clean inside of it. The Droplet does an awesome job of keeping phones dry in a rainstorm and keeping sand out of the wrong places. It's just handy.
It retails for $14.99.
Matador NanoDry Trek Towel
Whether you spend a lot of time in the woods or just need something to get the sweat off at the gym, the NanoDry Trek Towel is certainly handy. I've been testing the small version, and it's another one of those great-to-have items with a weight that doesn't punish you for brining it along.
I haven't had a chance to camp with it yet, and I don't go to the gym, so I haven't had a chance to verify Matador's anti-microbial (stink-resistant!) claims, but again, this thing is awesome to have around with little kids. It will save the day next time your four-year-old decides to dump his water cup into his lap at a restaurant.
It retails for $19.99.
Small Reservations
The good far outweighs the negatives for all of these products, but there are a few drawbacks to mention here. All of these products were designed with size and weight in mind, so you'll find very little in the way of padding, support systems, etc. Your stuff can get banged around pretty bad in the bags if you're not careful, and if you're sitting on a pile of rocks with the blankets, you're going to feel them. Although the Cordura material is super-tough, it's extremely thin.
Also, you're going to pay for these premium materials (although not as much as you may expect). The blankets are a steal at $30 for the large size and $20 for the little one, and the bags both come in at a very reasonable $50 for each. You might eventually come across a cheaper alternative on the market, but I guarantee the Matador products will outlast them by a large degree. It's obvious that a ton of care went into the production of these.
Finally, as they're going to be stored in their compressed state most of the time, they're going to look wrinkly. It doesn't bother me a bit, but if you're expecting the pristine lines you see in Matador's product photos, you might be disappointed.
Conclusion
Matador's adventure gear is a dream come true for those who want to travel light. If you're the kind of person who always wants to be prepared but doesn't want to be weighed down, Matador has some of the most exciting products on the market.