The cure for common WiFi?
Disclaimer: Linksys kindly provided Velop 3-pack system for this review. As always, the opinions and conclusions are my own.
"Our old router just isn't cutting it anymore." That's the conclusion I came to after spending about a year with our trusty old Netgear Nighthawk in our 4000+ sq ft new home. Although the Nighthawk worked like a champ in our previous 2400 sq ft home, our new home is long and tall, resulting in a surprising number of WiFi dead zones.
Switching routers can be a giant pain, and I've never seen a range extender work well, so I put off the problem for months until I stumbled across the killer mesh networking system that Linksys developed. Did the Velop 3-pack solve all of my networking woes? Read on to find out!
What Does it Claim to Do?
The Linksys Velop Whole Home WiFi system promises to blanket your home in fast, reliable WiFi by using a number of wireless nodes to create a single, reliable network.
Specs
Covers up to 6000 sq ft (with the tested 3-pack)
Tri-band AC2200 MU-MIMO beamforming radios with speeds up to 872 Mbps
2 WAN/LAN Gigabit Ethernet ports on each node
Built-in parental controls and guest access
Works with Alexa
Look and Feel
No one wants their router sitting out, but depending on where your modem and network wires are located, you might not have much of a choice. The Velop's nondescript monolithic nodes make this a non-issue.
I went with the white model, and each white tower is about the same dimensions as a travel coffee mug. Their slightly curved rectangular shapes blend right in with decor on a table or shelf, making them a lot easier to hide in plain site vs a typical wireless router with its alien antennas. It's a router system that my wife doesn't mind sitting out, and that's a huge compliment.
Feel-wise, what really sets this system apart is the outstanding companion app from Linksys. Being a huge geek, the typical browser admin systems (usually accessed through a web browser) have never been terribly inconvenient, but the Linksys app makes changing settings and troubleshooting issues with the Velop system an absolute breeze. More on that in the next section.
Performance and User Experience
If the thought of setting up a new router makes you sweat, the setup process for the Velop system will be a breath of fresh air. Disconnect your old router, connect any of the Velop notes to your modem, and follow the setup instructions in the app. The first node configures itself in no time, and adding additional nodes takes only a few minutes each (most of which is a waiting game for settings to take effect).
The nodes themselves are where things get interesting. Our Nighthawk did an admirable job covering a portion of our house with decent wireless connectivity, but unless you were within 20 ft or so of the router (located in our pantry), connecting to the higher-speed AC channels was pretty much impossible. In practice, that means that I could only pull down 20 Mbps or so of my 300 Mbps internet connection in most parts of the house (if I could even get a connection at all).
The Velop nodes address this issue by creating a mesh network throughout the home, spreading higher-speed connections to almost every corner of the house with three independent wireless signals. Although you only see one wireless network for the home, your devices are able to jump back and forth between nodes to find the strongest network connection for your current location.
This works great… most of the time. We've spread out three nodes out evenly downstairs (our upstairs is stacked directly on top), and there's a dramatic improvement in WiFi reception and speeds in the furthest corners of our home. For instance, our upstairs bathroom in the corner of the home was a complete dead zone before, but I regularly pull down 200 Mbps on a 5 Ghz AC channel now since there's a node in the office below. Our Ring Spotlight cams on the outside of the house have rock solid connections now as well.
Where it gets tricky is when you move your devices around. Devices like our iPhones seem to want to connect to the wrong nodes every now and then, resulting in a slower connection that requires cycling the phone's WiFi to connect to a closer one. Also, some devices inexplicably connect to a node that's much further away, again requiring a power cycle to hopefully connect to a closer one.
The app's admin options are really great (you can speed test your connection right out of the modem, manage the connection to connected devices, add content restrictions, etc), but the inability to force stationary devices to only connect to a certain node is a big oversight.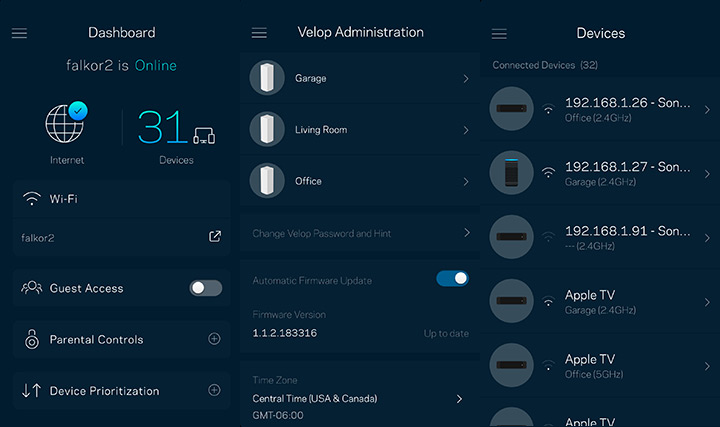 Despite that one complaint, the Velop's mesh Wifi is generally a huge improvement in speed, reliability, and control over my beloved Nighthawk. It's a cinch to limit connectivity to certain devices (like the kids' Kindles), and it's easy to toggle a guest network for when friends are over.
I also love having ethernet ports on each node. There are a few devices I've had in a closet for years because they required a hardwire, and now I can actually use them since I have a few ethernet ports in spots downstairs where it's actually convenient.
Unless you're an IT geek looking for complete control over advanced network and protocol settings (which the app generally obscures), I think you'll find that the Velop system is a great WiFi solution for larger homes.
Build Quality and Reliability
The build quality on each node is top-notch, so I won't spend too much time covering the little towers themselves. They run super quiet and have confident connectors that feel like professional pieces of networking equipment.
Where things get fuzzy are the occasional node dropouts and what happens when the system recovers from a power failure (which seems to happen every few weeks where we live out in the country). Once in a blue moon, a node will lose its connection to the rest of the network for a few minutes, which can be an annoyance if you're streaming a movie or playing an online game. This doesn't happen often, but it has happened to us a few times.
The biggest pain is what happens when your home experiences a power outage. Everything eventually boots back up as normal, but sometimes devices reconnect to distant nodes as closer nodes are still rebooting, requiring you to reboot those devices later so they can reconnect to a closer node. It's not a huge deal, and maybe something that non-geeks wouldn't even notice, it can be a pain if you experience power outages often.
Affordability
At about $500 MSRP (and $350 or so during the occasional sale), the Velop 3-pack is expensive at first blush. However, if you live in a < 3000 sq ft home, you could get by with two nodes just fine. Honestly, the 3-node pack is still a fair deal at its full price when you compare it to similarly equipped normal routers and a few wireless range extenders. It actually comes ahead with more features and better reliability for less money.
Conclusion
Despite a few geeky annoyances, I'm really enjoying the Velop system. Administering our home network is easier than it has ever been. I have much more awareness of every device connected to our network. I have blazing fast WiFi in parts of our home where I wouldn't dream of streaming Netflix before. It's awesome.
If you're okay with the occasional hiccups that seem to come with a mesh system, I think you'll find the Velop Whole-Home WiFi system to be a fantastic solution for quality WiFi in your larger home.