A new bright spot in smart lighting.
WiZ providing a lighting kit and sponsored this review. As always, the opinions and conclusions are my own.
Do you remember when there were just a few smart light products on the market? Connected bulbs and color shifting lights used to be unusual, but now there are many options out there for smart home consumers. The problem is, most of them aren't very good.
I've run into so many boring ones, in fact, that I turn down reviews for most these days. That all changed this summer when the folks at WiZ offered to send me their great looking connected light kit and sponsor a review for their new system. Can this newcomer in the smart lighting space offer a compelling alternative to the leading smart bulbs? Read on to find out!
What Does It Claim to Do?
The WiZ Connected Light kit offers an inexpensive entry point into the WiZ lighting system with two bulbs, a remote, and the promise of a lot great functionality.
Specs
Includes two A E26 bulbs and a remote
Free companion app for iOS and Android
64,000 whites
16 million colors
Integration with Amazon Alexa, Google Home, and IFTTT
Bulbs connect via WiFi; no hub required.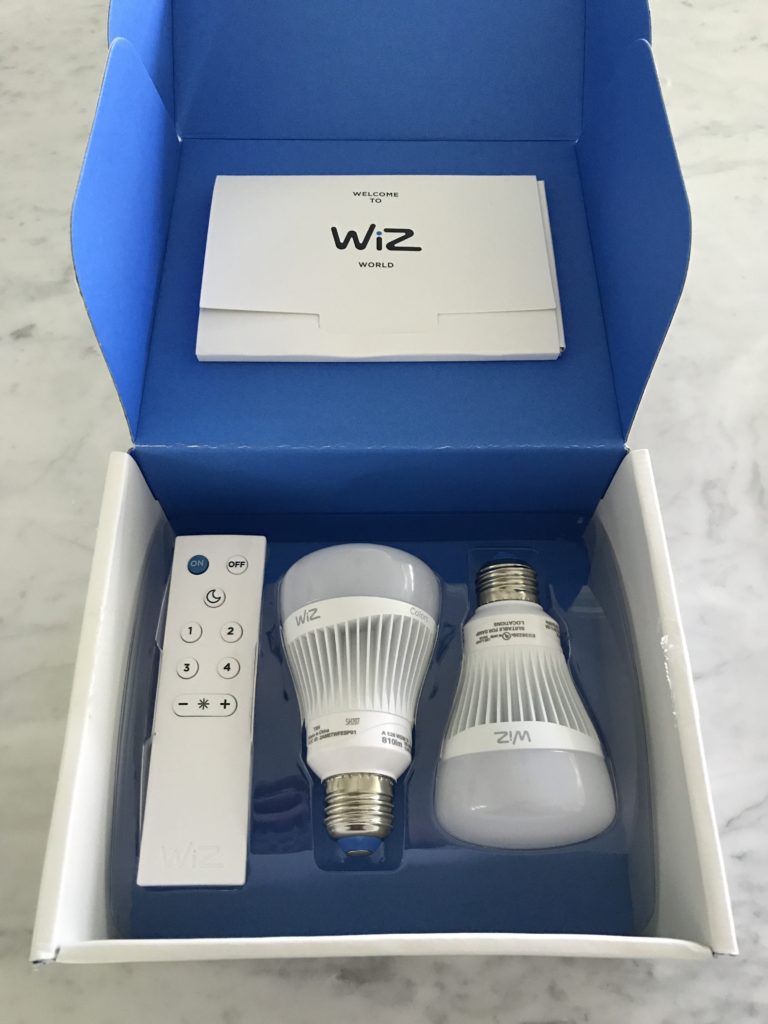 Look and Feel
Unless you're using them in an exposed fixture, you rarely purchase lightbulbs based on their looks. Nevertheless, the WiZ bulbs look pretty cool, with an understated white finish and some stylish heat-sink style fins around the circumference. They're also average-sized, which is a godsend compared with some of the other lights I've tested over the years; the WiZ bulbs neatly disappear behind a lampshade.
The app is also a pleasant surprise. I'll discuss it more in a minute, but it might actually have the smoothest UI I've seen for a connected bulb. I found it easier to find my way around in than comparable apps from Philips and LIFX, and that's saying something. All of the controls are where you initially expect that they would be, and it's very user friendly.
Performance and User Experience
This is my first experience with the WiZ brand, and I have to say, these bulbs make a pretty great first impression.
Setup is easy. Screw a bulb into a light fixture, and turn it on and off a few times until it pulses blue (our kids thought this looked very futuristic). After that, follow the prompts in the app to enter your WiFi info, and your bulbs should be connected in 15-30 seconds. I had a brief hiccup with the first bulb I tried where I had to restart the app, but I connected to both bulbs with no problem after that.
The best part of the set up process is that no hub is required with these bulbs; they work independently off of your existing WiFi network, and after years of using connected bulbs, I think that's probably the best setup to have. Our Hue bulbs and hub work great most of the time, but I've noticed they get flakey when they're not close to the hub. I've got the WiZ bulbs installed in some lamps at the far end of the house, and they connected to our WiFi just fine.
As I mentioned above, the WiZ companion app is easy-to-use and immediately responsive. It's easy to group and name lights, there are large controls for the most common functions, and all of the presets and color modes are contained in one simple menu. You can customize the colors to over 16 million different options if you like, but I love that it comes with a few dozen presets and modes. I think it actually comes with more fun presets out of the box than any other system I've tested.
The WiZ bulbs do a phenomenal job offering a range of warm and cool whites, and do a surprisingly great job rendering distinct colors as well. They're definitely better than the original Hue bulbs, just about on par with the Hue bulbs with richer colors, and just a little bit behind the insane richness that the LIFX bulbs offer.
My favorite feature of the whole package is the included remote. App and voice controls are great, but sometimes a physical switch is the icing on the cake that brings the whole system together. The included preset buttons are especially nice to have (instead of having to remember multiple taps like the Hue remotes). Voice controls with Amazon Alexa and Google Home work great as well, although asking "WiZ" to turn on the lights has elicited more than a few giggles from our little ones.
All-in-all, these have been some really solid smart bulbs.
Compatibility with Other Platforms
Integration can make or break a smart lighting system, so I'm happy to report that the WiZ lighting system already offers some solid options in this arena. They currently support integration with their app, remote, Amazon Alexa, Google Home, and even IFTTT. Those are some powerful partnerships that will give these bulbs a lot of flexibility in your home, but I hope they'll eventually support Wink, SmartThings and HomeKit to support more advanced users and platforms. I think most customers will get a lot of mileage out of the existing options, though.
Build Quality and Reliability
Although they're less expensive, the WiZ bulbs feel better built than their Hue counterparts, and their 25,000 hr expected bulb life is industry standard as well.
What I can say here is that they turned on, off, and changed their color immediately every time I tapped the app or pushed a button on the remote. That reliability is hard to find from hub-based solutions.
Affordability
At $69.99 for the 2 bulb + remote kit I tested, these bulbs are one of the best deals in the smart lighting market right now. Whereas single bulbs with similar features from Philips an LIFX are $50-60, individual WiZ bulbs are only $34.95. It's definitely one of the least expensive ways to upgrade the lighting in your home right now.
Conclusion
Although I've only tested they normal-style bulbs, I'm surprisingly impressed by the WiZ system and companion app. The kit I tested is extremely compelling, both because of its lighting flexibility, but also because of that included remote; it's a fantastic one-stop solution for your bedroom's nightstands and a really great deal.
Unless you absolutely have to have integration with a smart home hub, I wouldn't hesitate to pick some WiZ lights for your home. They'll save you some money and you'll enjoy the lighting flexibility for years to come.