The power of touch.
We reviewed the Philips Hue system last summer, and have quickly fallen in love with having those awesome smart lights scattered throughout our home. As great as smart bulbs are, though, you'll quickly realize that its not always convenient to control your lighting through your smart phone, or even with your voice. It turns out that light switches have been around for more than a century for a reason: they're convenient and easily accessible.
The folks at Philips recently sent over their Hue Dimmer and Tap Switches to try out, and I eagerly added them into our Hue-powered smart lighting mix. Do they deserve a place on your wall?
What Do They Claim to Do?
The Philips Hue Dimmer and Tap Switches are battery/self-powered ZigBee remotes that allow you to control several aspects of your Hue lighting system with just the tap of a button.
Specs
For use with the Hue lighting ecosystem
Powered by the ZigBee protocol
Battery life: Dimmer – 3 years, Tap – 50,000 clicks

Look and Feel
After messing with some cheap Z-Wave remotes in the past, I'm pretty impressed with the craftsmanship on both of these units. Instead of feeling like some hollow cheap plastic, they have a substantial feel beneath your fingers with buttons that feature a meaty and responsive press.
The Dimmer Switch includes a handsome wall mounting plate that makes it look professionally installed beside the other light switch in our master bedroom. What I love about this design is that the remote piece itself is magnetic and removable; if you want to be lazy and bring it to your nightstand on a cold night, you're good to go.
The Tap Switch is a little more modern and "gadgety" in its appearance, but its smaller than it looks on the website, which keeps it from being an eye sore on the wall. Still, you might prefer to mount it in an inconspicuous spot so that it doesn't draw attention to itself if it looks out of place with your decor.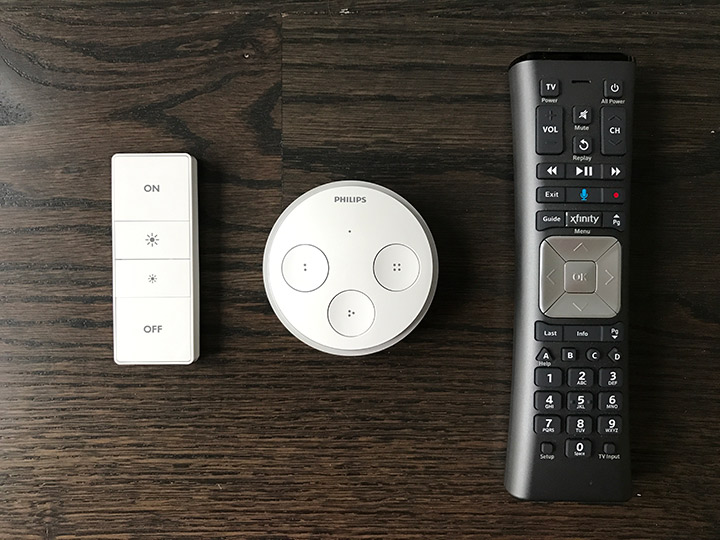 Performance and User Experience
Set up is simple and identical for both of these; unbox the units, navigate to the Accessory Setup screen in the Hue app, and walk through the installation prompts (which are very similar to adding an additional Hue bulb to your system).
If you're just expecting some simple on/off and dim buttons like I was, you'll be surprised by how awesomely customizable these little switches are. The Tap will accommodate up to 4 on/off controls and various scenes. I use our Dimmer for on/off controls, plus have several scenes set up for double-and-triple-taps of the on button. It removes almost all of the (minor) downsides of relying on smart bulbs, and it's super awesome. We love being able to turn on lamps and light strips with the touch of a button, as we much prefer that light to our can lights.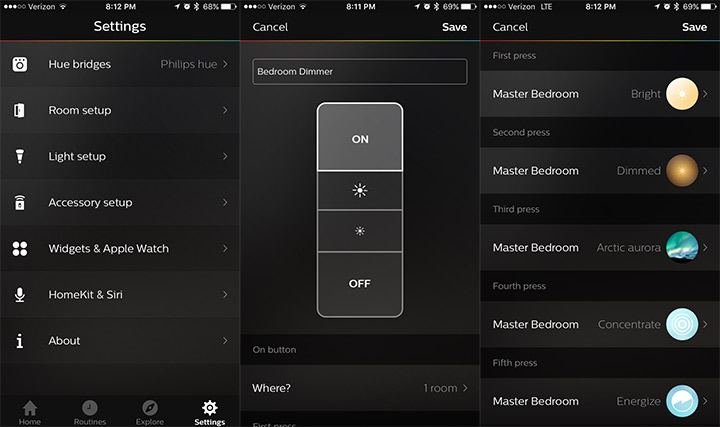 One quick note about battery life… The Dimmer Switch features a user-replaceable battery, but the Tap uses some sort of magical friction technology to power its ZigBee radio and related button presses… how cool is that? Battery life shouldn't be a concern with these.
Compatibility
If you're a Hue user, these will work with your bulbs. If not, then they won't. With so many Hue products on the market these days, though, there are a ton of bulbs and use cases for these little switches. I do wish they interfaced directly with SmartThings/Wink, through, as it would be nice to come up with some more elaborate uses for them.
Build Quality and Reliability
As mentioned earlier, these switches feel very nice in use, and are definitely a premium accessory. I have no reservations there.
As for reliably performing their job, they work great and nearly instantaneously… most of the time. I don't know if it's a ZigBee quirk, or just that my Dimmer Switch/Hue-power lamps are on the opposite side of the house from our Hue Hub, but occasionally my button presses aren't recognized (maybe 1/20 times). Sometimes a second button press does the trick, but sometimes it will ignore the switch completely until I connect to the bulbs through the app or just wait a few hours. It's weird.
If it weren't for that occasional hair-pulling quirk, I'd recommend either of these switches without reservation. As it stands, just beware that you might come across an unexpected gremlin in the system every now and then.
Affordability
At $49 for the Tap Switch and $25 for the Dimmer Switch, these are both fairly priced and great additions to your Hue-based smart lighting set up. Although you can't add as many to your system, I do think the Dimmer Switch is a better deal with more handsome looks at half the price.
Conclusion
If you don't mind the occasional quirk (from seemingly lost connections), these switches are excellent additions to your Hue ecosystem. We use ours every day, and I think they'll go a long way to bridging the gap between smart home features and every day use cases. Go check them out.