Stepping up to a healthier lifestyle.
My body type in this stage of life is what I lovingly refer to as "skinny fat." Besides a general lack of muscle definition and a seasonally soft mid-section, I'm generally healthy for a guy that's bad at exercising and has less-than-stellar eating habits. Heart disease does run in my family, though, so I've been more intentional in recent years about getting a regular physical and establishing a baseline for all of the important health stats.
I enjoy my Apple Watch for that reason, but I was really drawn to Withings Body Cardio scale last fall when I discovered all of the personal statistics it was able to read with only a simple daily weigh-in. The folks at Withings were kind enough to send one over for this review, so I've taken the last month to see how it could fit into our family's lifestyle.
Is it a worthy tool to add to your health arsenal? Read on to find out!
What Does it Claim to Do?
The Withings Body Cardio is a WiFi smart scale that claims to track full body composition metrics like weight, body mass, and even cardiovascular measurements like vein health.
Specs
Syncs with the free Withings Health Mate app.
Tracks weight, weight trend, fat mass, body water, heart rate, bone mass, muscle mass, and pulse wave velocity.
Powered via built-in USB rechargeable battery.
Bright backlit display
Look and Feel
You probably wouldn't purchase a scale for its looks to begin with, but it doesn't hurt that the Body Cardio looks nice. We have the white model, and its subtle tone and modern lines fit right into our grey and white bathroom.
Something I really love is the Body Cardio's gloriously white and tastefully retro-feeling number display. The color-inversed display features blocky white text and art on a stark dark background, and it looks super cool.
The Body Cardio is a smart scale, so you'll use it along with Withings Health Mate app, which I find myself liking better than when I tested it with the Withings Aura last Fall. It's straight-forward, feature rich, and gives you a good look at the historical stats that the Body Cardio collects when you weigh in.
Performance and User Experience
It was pretty easy to get going with the Body Cardio. Download their app, pair the scale with your WiFi network, and, well, that's just about it. The scale features a built-in rechargeable battery that charges via USB, but I've used mine for weeks now fresh out of the box without plugging it in. At the rate it's discharging, I would guess you'll need to charge it only once or twice a year.
Enough about the technical side… you want to know if this scale reliably provides all of the fancy stats it promises. The good news is that it definitely does!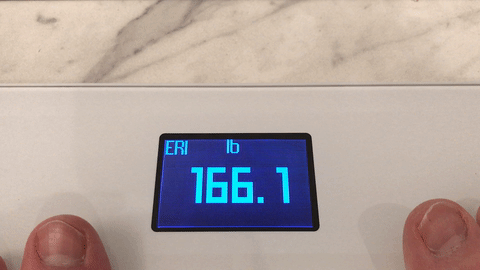 Weighing in is simple: just stand on it for about 20 seconds until it quits showing you stuff. The Body Cardio's display immediately comes to life when it detects pressure, and you'll see a bunch of stats scroll by as you watch the screen for a few seconds. Mine displays my current weight, a line graph of my weight over the last week (cool!), my body fat percentage, my water percentage (that's a thing?), the weather forecast for the day (awesome!), and finally, a good guess at my pulse. When I tested against other devices, all of those measurements seem to be really accurate, though my pulse was occasionally off from what my Apple Watch displayed at the same time; my guess is that my wrist is a more accurate measure of that than my calloused feet.
The most interesting measurement promised by the Body Cardio is "Pulse Wave Velocity," a confusing term that refers to a unique way to measure vein health. Given my family's genetic history of heart disease, having a regular metric like this is pretty great to add to my health stats to establish a baseline. Having a specific indicator that something could be wrong with my heart could be helpful to me since the results of my bad eating don't always show up on my waist line.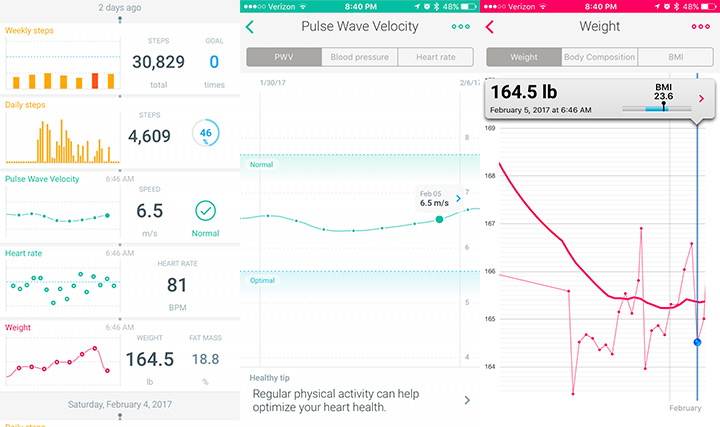 The Withings Health Mate app does a great job of keeping those stats organized, and although I originally depended on Apple's Health app for my health stats before, I've found the Health Mate app to be fairly usable on its own. I also love that it can (automatically) track more than one user, and it has no trouble distinguishing between Lauren and I. It's also fun to heckle each other about our stats 🙂
Overall, though, the best thing about having such a smart scale is seeing that quick feedback every morning and making adjustments to my day because of it. I've noticed myself seeing the weekly weight trend line and deciding to cool the jets on all of the pizza, or seeing that my water percentage is lower than normal, encouraging me to stay more hydrated during the day. Living with the Body Cardio makes me much more aware of my general wellness on a daily basis, and that's been a good thing for me.
Compatibility with Other Platforms/Users
I love that our whole family can use the Body Cardio; its nice for each of us to be able to track our stats without having to purchase separate gadgets for every member of the family.
While the Body Cardio is obviously designed to be used with Withings own health app, its data seems to transfer fine to Apple Health and other wellness services, which is a welcome adjustment from my previous smart scale (on which I hacked together a crazy daily routine just to pull data out of it).
Build Quality and Reliability
The Body Cardio reminds me of an iPad, an observation that sounds odd, but is meant as a compliment. Everything about it feels premium, and it's a dense piece of consumer electronics in the best possible way. It just feels like there's a bunch of interesting tech buried in that unassuming glass and aluminum enclosure.
The reliability of its measurements are generally rock solid. I've been using it for a month now, and it only failed to measure the advanced stats (body fat, pulse wave velocity, etc) one time out of all of those daily weigh-ins, something that had to be related to the way I stood on it. Unless you have unusually large or small feet, or our maybe you're over its measurable weight limit, it should serve you reliably day-in and day-out.
Affordability
The Body Cardio retails for $180, though I frequently see it for closer to the $150 mark if you catch the right deal. Yes, that's expensive for a scale, but when you compare it to some of the other fitness gadgets out there, I think it actually gives you the most useful stats for less money than you'd spend on an advanced smart watch or another wearable health monitor. For that reason, I think it's a great deal.
Conclusion
You know, I didn't expect to be so excited by a scale, but the Body Cardio has proven to be a welcome addition to my daily routine. If you're interested in staying on top of what's happening in your body, I think the Body Cardio will go a long way toward helping you to live a healthier lifestyle.