Check in and check out.
Now that I'm in my mid-30s (official grown-up territory), I decided recently that it was time to upgrade my luggage beyond the battle-worn black rectangle I've owned since college. I fly quite a bit these days, and I've been researching options for anything that can make that dumpster fire of an experience feel more pleasant.
I discovered Raden a few months ago, and these guys seem to lead the market in luggage innovation. They were kind enough to send over one of their A28 check-size suitcases to review, and I was able to put it to the test earlier this month. Is it worth an investment in your travel routine? Read on to find out.
What Does It Claim to Do?
The Raden A28 is a checked-luggage sized suitcase featuring a flexible hard shell, built in battery, Bluetooth-based tracking, and a smart scale built into the bag's handle.
Specs
Available in 10 colors
Recessed Hinomoto wheels
Companion app for iOS/Android
13 lbs
28″x21″x13″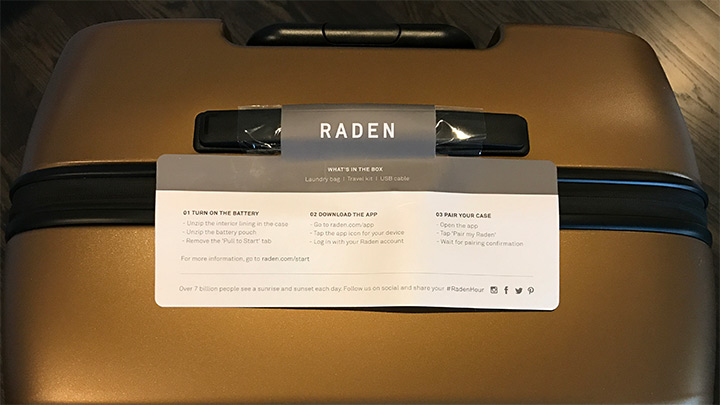 Look and Feel
What a beautiful piece of luggage. I opted for the Bronze color scheme in a matte finish, and I love how handsome it looks; I'm not a fan of glossy finishes for products like this, so I appreciate the dull sheen that they used here.
The zippers have a tight waterproof seam that refuses to snag, and I've been impressed by the internal layout with its well-placed zippers and pockets. I also love how light this giant piece of luggage is; I'm not sure what's in the Makrolon material they used with these, but the suitcase is much lighter than the cloth based bag I'm used to, even with all of the added gadgets and gizmos inside.
Probably the best feeling part of the suitcase is those silky smooth Hinomoto wheels. I packed about 35 pounds of stuff on my maiden voyage with the A28, and the bag glided across the floor like a champ (so much so that I rarely felt the need to tilt it). Those wheels make this luggage feel super premium.
The companion app is great too, with stark, simple graphics that give you just the info you need without a lot of unnecessary fanfare.
It's everything you love about a great piece of luggage, just with extra polish at every turn.
Performance and User Experience
Alright, lets talk about using the A28. When you first unbox it, you're instructed to activate its battery by pulling out a tab and syncing the A28 with the companion app. This took about 30 seconds, and is probably the most complex interaction you'll ever have with the suitcase.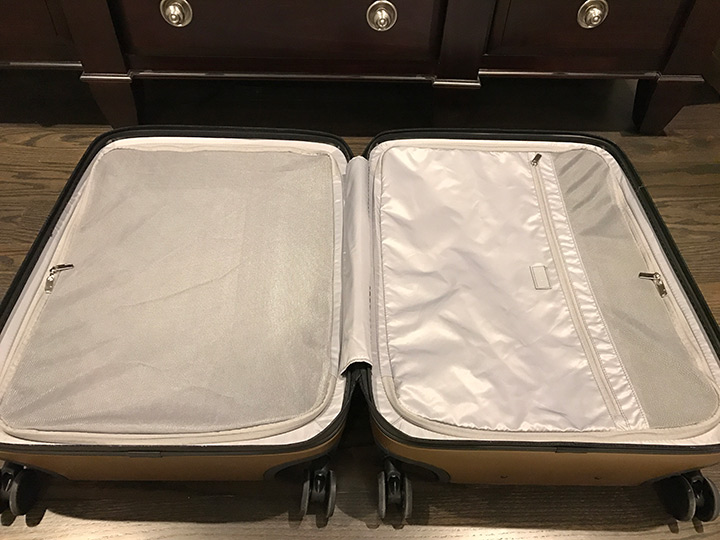 The A28 has a lot of room inside, and I dig its clamshell design with zippered lids that help you keep your carefully organized packing neatly in place. The handle rails and battery pack take up a little bit of room behind the fabric liner, but no more so that any other suitcase really.
One of the headlining features for the A28 is the ability to weigh itself, and it's just as cool as you'd hope it would be. I packed a drone for my flight to Montana, and was a little worried that it might add a considerable amount of weight for my trip. To weigh the bag, I simply sat the bag upright, opened the app, and lifted the bag by the handle as instructed; after only 2-3 seconds, it told me my bag was only 34.8 pounds, and I could breathe easy (for the record, this matched the scale at the airport almost exactly!).
I was also impressed by how quickly it juiced up my phone while I waited for some friends to arrive at the airport. I used the built-in battery to charge several gadgets over the course of my trip, and it seemed to barely put a dent in its battery life. As useful as this was with my checked bag, I can only imagine how amazing it would be in their carry-on (I'll have a review of their A22 soon).
The one feature that sounds cool but wasn't all that useful in practice was the ability to locate the bag via Bluetooth. It's a proximity-based feature, meaning it isn't all that helpful once the bag is out of sight. It was pretty handy for giving me an idea of when the bag arrived at baggage claim, but it wouldn't be too helpful for locating lost luggage unless you're around a ton of people that also use the Raden app (so it could ping their phones). That may be the world we live in a year from now, but there's some unfulfilled potential there right now.
Although it will be out of sight often, you won't worry much because of the awesome little combo lock built into this thing. This is my first luggage with a lock this reliable, and I love the piece of mind that brings (despite it supporting a TSA skeleton key).
All-in-all, this is a rock solid piece of luggage with some awesome features for power travelers. I'm having a blast traveling with it.
Build Quality
Every material used in this bag feels super premium, so much so that using a different piece of luggage feels like garbage; my carry-on's zippers feel like they're broken to me now.
I adore the shell on this thing. It's solid and durable, but has just the right about of flex, allowing it to absorb some pretty good impacts. I bought some vinyl in Montana and had no fears about placing it in my checked luggage because of how secure this thing feels.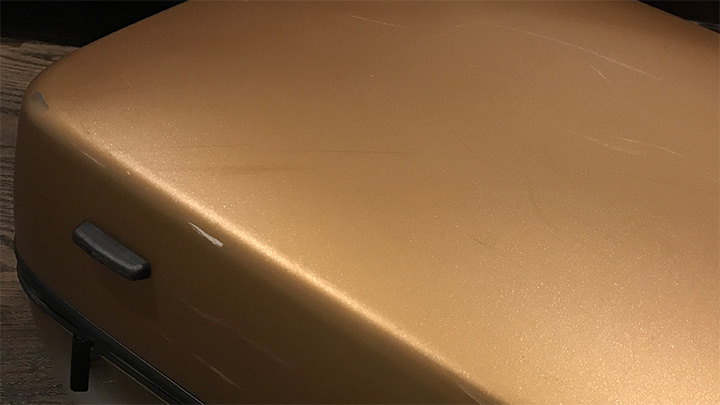 The only negative thing to report here is that my A28's beautifully pristine finish wasn't long for this world; I don't know if it was the victim of exceptionally rough baggage handlers or just the reality of modern air travel, but my A28 already looks like its been to a war zone and has trouble sleeping at night. No one would expect any less of their luggage, but if you're OCD about keeping your travel gear in great shape, be prepared for your Raden luggage to develop a patina over time.
Affordability
Great luggage is expensive, and the Raden is no different. At $395, the A28 is on par with hardshell offerings from the big luggage brands, but it packs a whole lot of value into the equation that should sway you in its direction. However, if you were previously in the market for a discount-store value bag, you may run into some sticker shock.
Conclusion
If you're a frequent traveller that values a premium experience, the Raden lineup could potentially rock your world. The Raden A28 is a phenomenal piece of luggage, and if you're willing to look beyond some of the cheaper options, I think Raden should be at the top of your purchase list. It's an investment in a better travel experience.