Here comes the sun (power).
Have you ever thought how many crucial systems in your life rely on electricity? Something as simple as a prolonged power outage or a long camping trip can make you realize how quickly you've grown to depend on pocket-sized electronics.
I've spent some time researching some creative power sources lately, and as technology gets cheaper and more reliable, I thought it was a good time to revisit portable solar panels. GoalZero seems to be leading the charge in this arena, and they were kind enough to send over one of their popular (and newly redesigned) Nomad models for us to check out. Can it help you keep a charge off the grid? Read on to find out!
What Does it Claim to Do?
The Nomad 7 Plus claims to be a small, lightweight solar panel that can charge via USB using just energy that it collects from sunlight.
Specs
7W max output (via USB)
12.8oz
13 x 8.75 x 0.5 in unfolded
6.5 x 8.75 x 0.75 in folded
Look and Feel
The first impression of the Nomad is that it's so compact and light that it can't possibly work well. My biggest gripe with solar panels in the past is that they were so large and fragile that it was a pain to take them anywhere. At slightly larger than a Blu-Ray case when it's folded and weighing only 3/4 of a pound, the Nomad feels like some next-level charging technology.
I want to mention here just how tough this panel feels. It folds into a shell that is extremely rugged, and the whole unit feels so confident that I'd throw it down a flight of stairs without worrying about breaking it (though, of course, you shouldn't do that). The point is, I have no worries about wear-and-tear when you're using it out in the wild.
It has a tough little zipper pouch on the back of the kickstand for stowing what you're charging, and multiple clip points all over the panel for hanging the panel on your pack when you hike, or whatever other creative uses you can come up with. All in all, it's just a fantastically thoughtful design.
Performance and User Experience
Using the Nomad is straightforward. Open the panel and extend the kickstand on the back and find a place where you can put the panel in direct sunlight. Plug in whatever you want to charge to the USB port on the back, and you're good to go. When direct sunlight hits the panel, the indicator lights on the USB cable illuminate according to the strength of the sunlight available, which is a surprisingly helpful feature if you've ever used a cheaper solar panel. Keeping an eye on those lights are a huge help when you're trying to find a prime charging spot around camp.
When the sun's out, charging works really well. On a sunny day with little cloud cover, I was able to charge up my iPhone at a similar rate to the small 2W wall charger I use at home. It charges at a slower rate when the sunlight isn't as intense, but even that trickle charge was more effective than using something like a BioLite Camp Stove (which I didn't expect).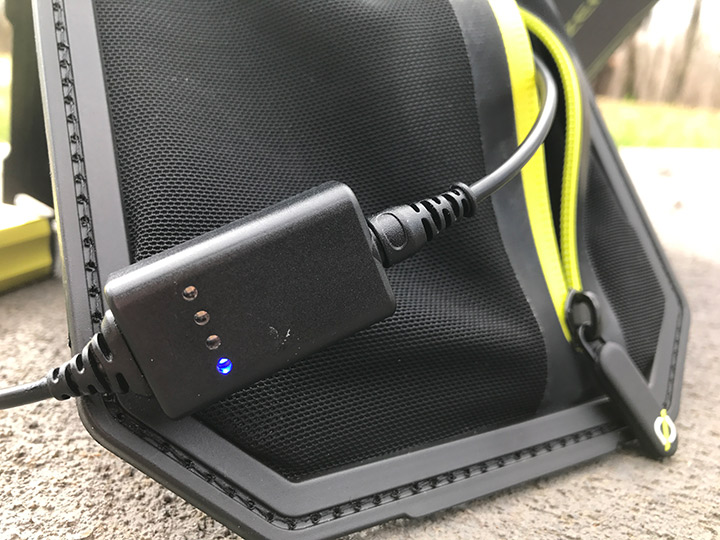 As with any solar panel, it does rely on sunlight for a charge, and you're not going to see much (if any) power coming your way on a cloudy day. Using it even with light cloud cover might be kind of disappointing, as power is generated only in spit and sputters as a few stray sunbeams find their way through. A good rule of thumb is that it's not much use as a charger unless you can see your shadow from the sunlight.
The panel is rated for 7W in the brightest sunlight, which is awesome for smart phones, GPS units, and other smaller electronics, but probably not enough juice to meaningfully charge up a tablet or anything larger. However, its surprisingly effective for phones and those other small items. GoalZero also sent me one of their Flip20 USB battery packs, which I found to be the perfect compliment to the Nomad 7 Plus. Even if you don't need to top off your phone at the moment, plugging up a battery pack to the unit when you're eating lunch in a sunny spot is a great way to make sure you have power when you need it at night or on a cloudy day.
In practice, the Nomad 7 Plus is the obvious choice for charging your essentials when you're off the grid. I don't plan to head into the wild without mine any time soon.
Compatibility
This seems to be standard practice in the industry now, but the Nomad charges via a simple USB port, meaning it can charge just about anything these days. I love not having to fumble with a bunch of adapters for different scenarios. Just bring along a USB cable for what you want to charge, and you're golden.
Build Quality and Reliability
I actually picked up a well-regarded solar panel a few years back, but it barely drew a charge in practice, and actually partially melted in use (and later shattered). The rugged construction of the Nomad 7 Plus makes it feel a lot more protected. Also, as long as I can see a shadow, I know I'll be able to draw some power. With that other panel, it took sunburn-level sunlight to get anything useful out of it.
Again, I found getting power from this to be a lot less finicky than the BioLite Camp Stove I tested a few months back. As far as alternative energy sources go, sunlight has proven to be far more reliable, especially when you use this in combination with a USB power pack.
Affordability
The Nomad 7 Plus retails for right around $100, and maybe slightly more if you buy a bundle with the Flip20 charger or a rechargeable AA kit. I think the value here is high, especially with how much you'll actually want to bring it with you.
Conclusion
After using the Nomad for a while, I can confidently say that this is one of the best peace-of-mind gadgets I've stumbled across. It's a no-brainer purchase if your family enjoys the outdoors, and I think it's just as valuable to have in your family's emergency kit. It's a fantastic solar panel and alternate power source.