Putting the smooth in smoothie.
When you think of smart home technology, you probably think exclusively of WiFi connected gadgets and other electronics that are geeky new additions to every day life. The truth is, some of the best innovations this century have come from simple innovation to existing items. It's the upgrades to the items you use most often (like your thermostat, a weed eater, or home stereo) that can make the biggest improvements to your life.
That brings us to the kitchen. We've lived in our new place for a month now, and are finally getting back into the habit of cooking healthy meals and snacks since all of our kitchen tools are out of storage. One of the tools I've missed the most is our blender; well… kind of.
Maybe it's just us, but we've never had good luck with blenders. We're on our third one in five years (a "good" $100 model from an entrenched brand), and blending something as simple as a smoothie is kind of a chore. At first it was just the process of blending/stirring/blending/stirring to get an acceptable consistency, but now that blender can barely chop through frozen fruit, and it even smokes from time to time.
Long story short, I've been lusting after a high-end blender for a while now. I've heard great things from the cult of Vitamix and Blendtec, but it's hard to rationalize spending half of a mortgage payment on a milkshake-making device. After a little more research, I noticed a growing community of folks using Ninja blenders, which seem to have a really innovative take on a common household product. They were kind enough to send over a Nutri Ninja BlendMAX Duo for this review, and you can find my impressions (and elation!) below.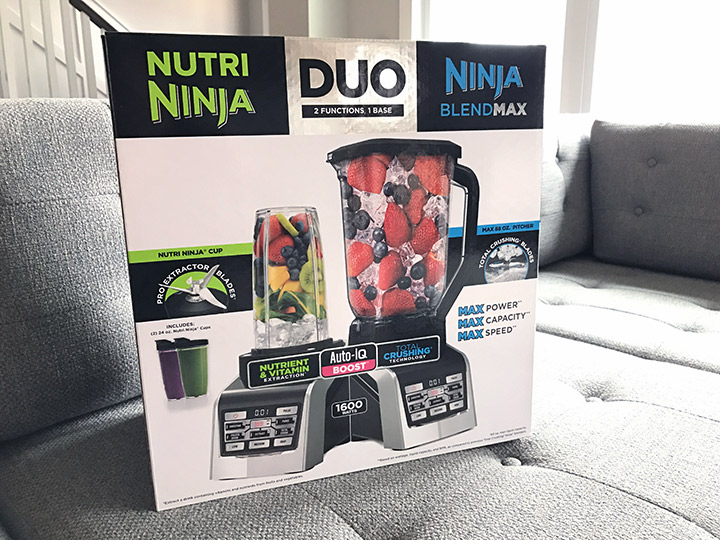 What Does It Claim to Do?
The Nutri Ninja BlendMAX Duo is Ninja's most powerful blender. It claims to "pulverize tough ingredients like ice, frozen fruit, and vegetables in seconds," and extract more nutrients from fruits and vegetables since no parts are wasted.
Specs
1600 watt motor
(1) 88oz pitcher with pour spout
(2) 24oz Tritan blending cups with lids
Recipe guide included
Look and Feel
I remember seeing Ninja blenders advertised on TV a few years ago, and I guess I subconsciously assumed that they would be poorly made and cheaply built like some of the other infomercial products I've encountered; I couldn't have been more wrong! This is a big, sturdy blender that feels like something you'd find in a coffee shop.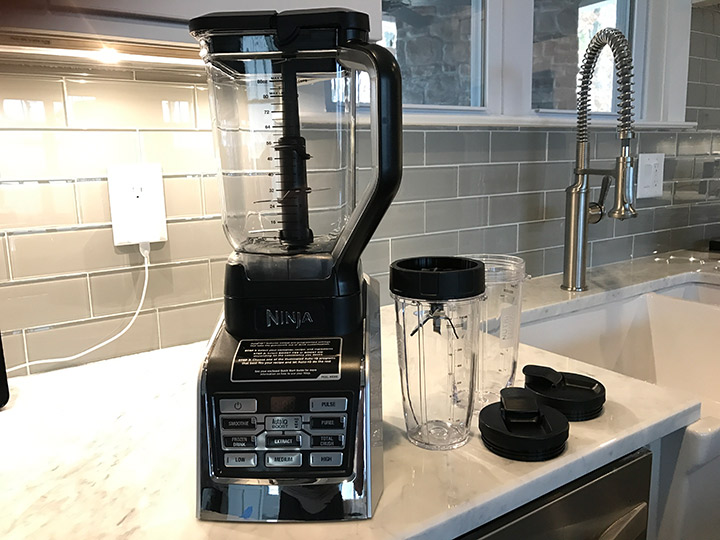 Although its cups and pitchers are made of plastic, they're made of a sturdy, precision-engineered polycarbonate that feels like it can take a ton of abuse over years of faithful service. The motor base is hefty and rock solid as it's held in place on your countertop with some surprisingly nice suction cups (a touch I wasn't aware of until I had a bear of a time lifting it up the first day I used it).
The cups use a cool base/lid that includes blending blades like you would see on most modern blenders. The real magic, though, comes from their trademark three element ninja blades that work with the "total crushing pitcher." I'll touch on their performance in a second, but those things are super sharp and built into a seemingly indestructible column that's easily removable for cleaning.
All of the controls are located on the front of the motor unit, and they're clearly labeled and very easy to use. One quick thing to point out: I love the LCD display on this thing. It has bright white numbers on a black background, and feels like something that's way more premium than you'd expect to find on a blender.
All of that together adds up to a high-end kitchen tool.
Performance and User Experience
I'll cut to the chase here… we love the BlendMAX so much that we've used it almost every day since it arrived in the mail. It basically answers every gripe I've ever had about using a blender.
First, it simply destroys everything you put into it (at least in the pitcher). Smoothies are one of our favorite blender treats, and I guess I've just grown accustomed to sipping random chunks of fruit/seeds/kale leaves through a straw. In comparison, the smoothies we've made in this thing are so completely ground up that I can't help but stand in awe as the BlendMAX obliterates fruits and veggies with those three blades. It's so efficient that it's almost terrifying.
The Tritan cups with the separate blade lid do a great job too, but I've had to open them up midway through the blend a few times to stir up some stubborn chunks of fruit. We've found them to be more handy for lightweight blends, or times when you make a smoothie in a rush on your way out the door.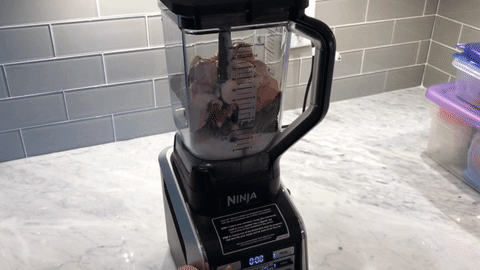 It's become kind of a game for us to gather the family around whenever we blend something new with the pitcher. It made short work of nuts and other ingredients for Christmas treats. Frozen fruits and hard veggies don't stand a chance. One of my favorite things is how it essentially turns ice into snow (and not a chunky mix of frozen bits like our other blenders). It does such a good job with that that I'm shopping around for shaved ice mixes on Amazon.
The BlendMax's blending skills are top-notch, but I'm almost equally blown away by how easy it is to clean this thing up. With our old blender, the jar would end up sitting in our sink for days since it was such a chore to scrape up old fruit chunks down by the blade. With the Ninja system, the blade column on the pitcher just pops out, making it easily rinsable and a breeze to toss into the dishwasher.
One more thing I want to cover in this part of the review are the different modes and the "Auto-IQ" system on the motor unit. Basically, you can choose low/medium/high like a normal blender, or some task-oriented presets that are surprisingly helpful. For instance, the smoothie Auto-IQ setting is a minute long program that runs your ingredients through a preprogramed cycle of starts and stops that gives them time to settle (making for a perfect blending process). I didn't expect to use these, but we actually use them all of the time.
Simply put, if you use a blender on a regular basis, I think the BlendMAX is going to rock your world.
Build Quality and Reliability
Again, there's so much functionality built into this thing that I was expecting them to cut corners somewhere; I just can't seem to find anything to take issue with. From the way the lid clips on to the pitcher, to the way the Tritan cups securly attach to the motor base, it's thoughtfully designed and built like a tank.
Also, we've used it dozens of times already, and it still tears through absolutely everything we throw at it. Combine all of that with a great 5-year warranty, and it should put in some faithful service for years and years.
Affordability
Similar products from BlendTec and Vitamix retail for $400-$700(!), but the BlendMAX Duo can regularly be found for about $200. When you pit it against a standard blender, it may seem a bit pricey, but when you factor how well it works and how much cheaper it is than similarly equipped competitors, I think it's a home run.
Conclusion
It's hard to be objective here… we absolutely love this blender. It blends like a champ, crushes like The Hulk, and cleans up like a dream. If your family spends any time in the kitchen at all, you should go buy a Nutri Ninja BlendMAX Duo today.