Resting easy.
The folks at Nectar generously provided a mattress and pillows for this review, and you'll find affiliate links in the text below. As always, the opinions in this review are authentic and are our own.
With a new year arriving and another bed in need of an upgrade, I thought now would be a great time to check out a great new mattress brand. Mattress shopping online has become super confusing (I can't tell you how many ads I see for new brands on a weekly basis), so I wanted to check out one of the products I've heard the most about over the last 12 months, the Nectar mattress. The folks at Nectar were kind enough to provide one for this review, so after resting with a Nectar in place for a while now, it's time to pass on our full review.
What Does it Claim to Do?
Nectar has become one of the most well-regarded online mattress brands, claiming to offer a "just right" sleep experience through the use of several layers of specialized memory foam and a tencel cooling over to keep you comfortable at night. They also offer a generous year-long sleep trial, and a "forever" warranty to keep your mind at ease.
Specs
Breathable base layer
Adaptive hi-core memory foam
Gel memory foam
Quilted gel memory foam
Tencel cooling cover
Fits all beds and frames
365 day trial
Forever warranty
Free shipping and returns
Foam certified by CertiPUR-US
Does the Nectar live up to the hype? Read on to find out!
Shipping and Unpacking Experience
Now a standard in the online mattress experience, our Nectar mattress arrived tightly rolled into a reasonably sized blue box. Although the box was heavy (we ordered a California King after all), it wasn't too difficult to get it in the house and out of the box with just two people.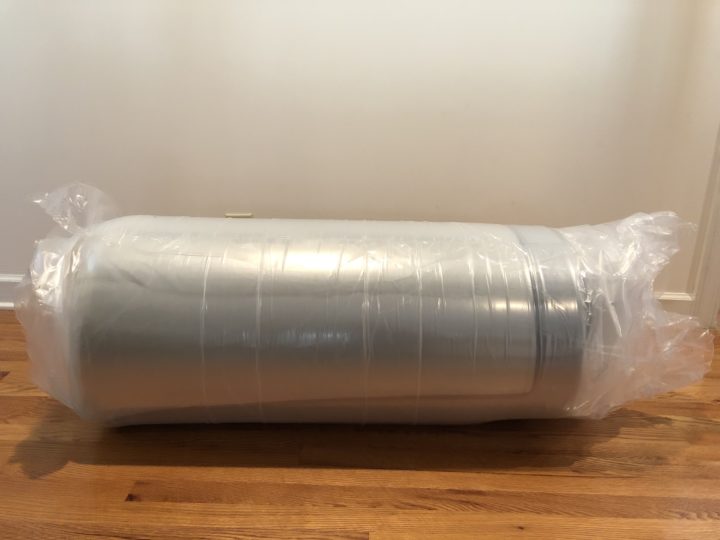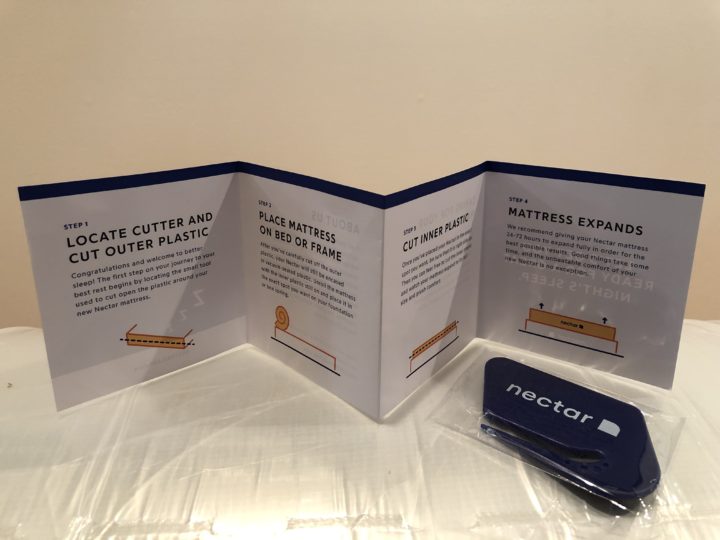 There are two things that were puzzling about my unboxing experience. First, our mattress didn't arrive in the neat little Nectar bag you see in their commercials. That's not a big deal, but just something I was expecting after seeing that experience plastered all over the internet. I'm guessing it's because we ordered a larger size.
Second, I was completely puzzled about the location of our companion pillows! My shipping notification said that both our mattress and pillows had arrived safely to our doorstep, but our pillows were nowhere to be found. Nevertheless, we unboxed and unrolled our mattress, only to discover a hilarious (to me at least) surprise: the pillows were vacuumed packed with the mattress! I don't know why this was such a novelty to me, but I've never seen this approach before (and this is coming from someone who has seen quite a few friends unbox online mattresses from different brands).
We put the mattress in place, cut the plastic, and basked in the glory of watching a huge foam pad slowly raise to life. The mattress filled to size quickly, but takes several hours to feel like it's fully expanded and firm. The pillows actually took quite a bit longer to transform from pancake to puffy, but they were ready to sleep on by the end of the day.
Design
It always feels a bit silly to review the design of a mattress cover since you're going to immediately wrap it with sheets and probably forget what it looks like. That said, the Nectar is minimalist and attractive, with a slightly quilted top that is cool to the touch.
What makes the Nectar a bit different from the other mattresses in our home (specifically our go-to Tuft & Needle Mint) are all of the layers of foam inside of it. The Nectar features 4 different layers of foam, with a firm base layer, 3 layers of different memory foams, and tencel top cover. This is pretty impressive for a mattress in this price range, and makes for a sleeping experience that's a little bit different than what we're used to. (Did you know you can even buy foam-based mattresses for arthritis?)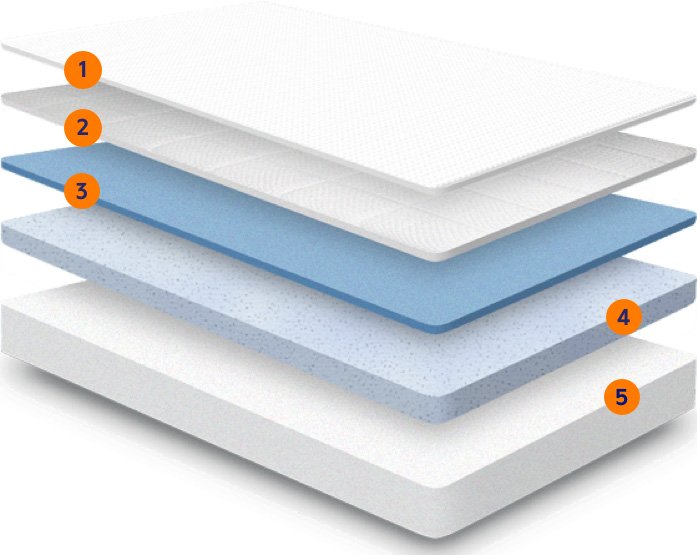 Sleep Experience and Feel
Sleep experience on a mattress can be subjective, but I'll try my best to quantify the Nectar here. In short, it's extremely comfortable, and sleeps great, with a feel that I think is miles ahead than the typical spring mattress you're probably upgrading from.
If you're new to foam-based mattresses, you'll find that they can offer varying degrees of firmness. There's the classic Temperpedic feel of your grandparents' bed that traps you like quicksand and makes you sweat while you sleep, and there's the 6-8 (out of 10) firmness that most of the big online brands try to shoot for. I find Casper mattresses to be far too soft and sinky (almost a 5.5 or a 6), while our master bedroom Tuft & Needle has a firmer softness that hovers around a 7. The Nectar feels about like a 6.5, which is a firmness that I think just about every body type would be comfortable with. It certainly cradles you a bit more than the Tuft & Needle, but I don't find myself feeling trapped or hot like I do with a Casper or a Temperpedic. I can see why so many people love this mattress.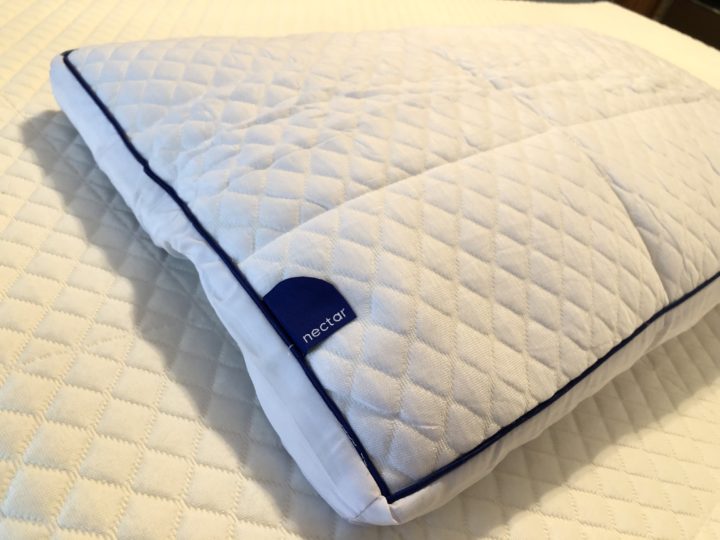 The Nectar pillows are surprisingly great as well. As I eventually found the Tuft & Needle pillows a bit too thick, I appreciate that you can remove stuffing from the Nectar pillows to adjust them to your perfect comfort level (making them a sleep solution that everyone can personalize).
All and all, we're really impressed with the Nectar mattress, and have only two small quibbles with it. First, I feel like it sleeps a tiny bit hotter than I'm used too; I think that's because of the memory foam vs the graphite-infused foam that I'm used to on our Tuft & Needle. Second, due to being a little on the softer side, the edges of the mattress will sink in a good amount if you sit down on them. That may not be an issue depending on your bed frame, but something to note nonetheless.
Build Quality and Reliability
The Nectar is a great quality mattress featuring top-of-the-line foams and a warranty that's one of the best I've seen out there. Not only can you try the mattress for a whole year; it actually has a "forever" warranty. If you've ever had a mattress turn against you after only a few years of sleeping on it, you'll know how reassuring it is to know that Nectar will stand behind their product for life.
Affordability
We're using the biggest mattress that Nectar offers, and as of this review, you can snatch up a King and two pillows (!) for only $899. If you've been to a mattress store recently, or even have done some comparison shopping online, you'll know that that's a pretty killer deal. Even at their regular pricing, the Nectar is a solid deal for a comfortable mattress that can apparently last you the rest of your life (or at least until we all sleep on hover beds).
If you dig this review, please order your mattress using our affiliate link; it'll help support more reviews like this in the future 🙂
Conclusion
If you're looking for a softer foam mattress (especially in comparison to other brands like Casper), I can't recommend the Nectar highly enough. It's built great, super cozy to sleep on, and will leave money in your bank account to upgrade the rest of your bedroom. You can click the order button and rest easy.