Complete freedom to be lazy.
Disclaimer: The folks at the Republic of Durable Goods kindly provided a Mock ONE for this review. As always, my opinions are my own.
I love laying in a hammock. LOVE IT. Out of all of the gadgets I've purchased over the years, my ENO Doublenest hammock is easily one of my favorites. I keep it in my truck everywhere I go, and literally use it every chance I get. There's only one problem… 90% of the places I go don't have trees I can clip onto.
Over the years I've gotten around this with a few clever solutions; I've installed mounting clips to my truck bed, try to mount it on pavilion structures, and have even researched ludicrously long mounting straps (not a good idea). All of this is why I was so excited when I stumbled across the Mock ONE from the Republic of Durable Goods.
Simply put, the Mock ONE claims to deliver the experience of a tree-mounted hammock, even when no trees are in sight. It accomplishes this through the magic of a revolutionary fold out frame that claims to be super sturdy and ridiculously comfy. It seems to be the perfect solution for wide open parks and the parts of my backyard where no tree is in sight. Can it live up to the hype?
Specs
30″H x 25″D x 66″W (when fully assembled)
Padded ends
Built-in pockets
Extended feet for extra stability
Basket and drink holders built-in
Includes a UPF 50 sun shade!
Lifetime warranty
Has the Mock ONE changed my treeless expanses into a hammock-lovers delight? Read on to find out!
Set Up and Assembly
There's a lot to unpack with the Mock ONE… Literally. I opted for the "Chill Master" package, so my Mock ONE kit came with the hammock itself, a sun shade, a top quilt, an under quilt, a mosquito net, a tarp, a carry bag, and a few other goodies. There are so many fun accessories that it's almost overwhelming at first!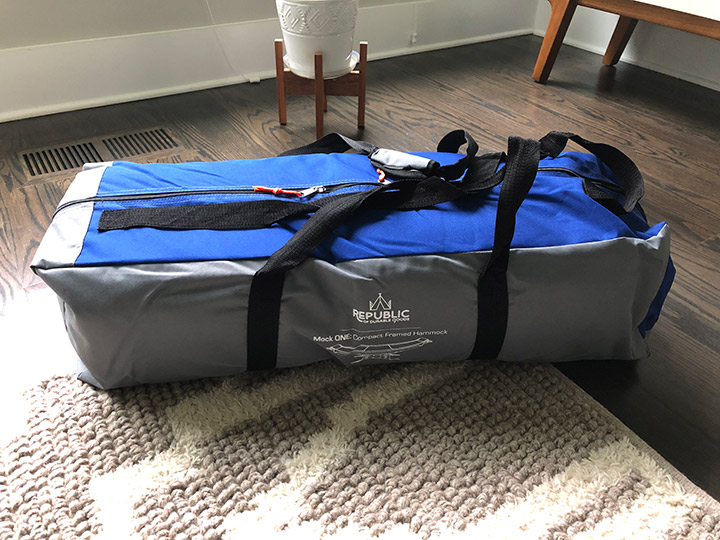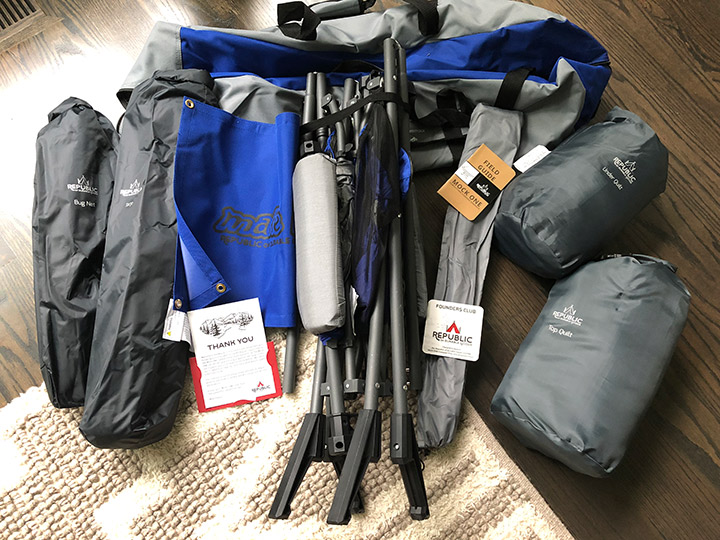 After you unzip the carry bag and locate the hammock itself, set up is pretty straightforward; unclip the strap around the frame, expand the frame legs, attach the polls, and then clip on the hammock itself using the two bars that attach at each end. The process took me 3 or 4 minutes to work through the first time (I'm bad about avoiding directions), but after setting it up several times now, it's definitely a minute or less affair. The parts also seem to fit together a little better after being broken in after a few uses.
Packing it up works in much the same way, but in reverse. The accessories like the top and under quilts are super simple to add on, but the (awesome) mosquito net admittedly took me about 10 minutes to get the hang of.
Enough about set up… lets talk about how this bad boy feels!
Performance and User Experience
When I put my Mock ONE together for the first time, honestly, I was kind of skeptical looking at it. The assembled hammock looks pretty tight, and I was worried that the long polls would make for a treacherous balancing act any time I tried to lay on it. Thankfully, this thing is totally awesome.
To get in, you simply sit down on the colored fabric in the middle hammock (much as the same way you'd enter any ENO-style hammock). From that position, you can pull the fabric up and lean back like a chair, or whip your legs around to either end and stretch yourself out in all of your majestic glory. The built-in pillows are immediately awesome, and I was shocked by how comfortable this thing felt; except for the lack of swinging motion, it truly feels like a relaxing tree-mounted hammock.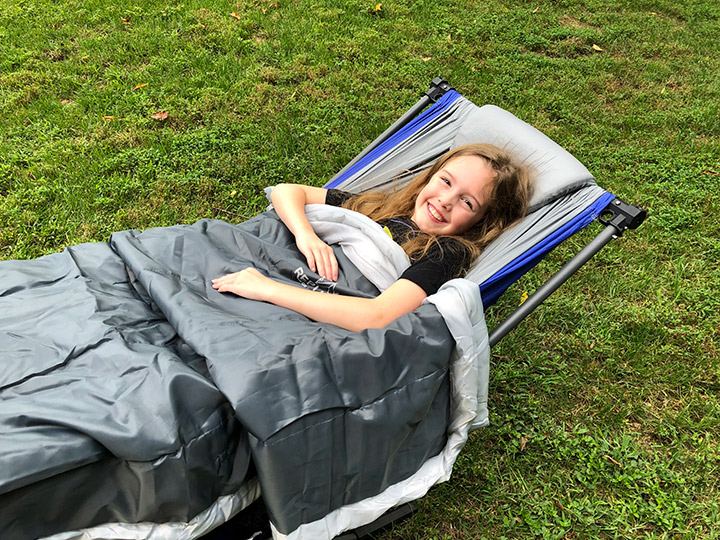 Although I was initially concerned about the Mock ONE requiring a very specific focus on my center of gravity, it's surprisingly sturdy in practice thanks to its widespread feet. In fact, the only time I ever felt unstable in it is when my six year old jumped in from the end out of nowhere.
I also dig the built-in pockets on each side (perfect for paperbacks and smartphones), the basket below it, and the cup holders on each side (amazing).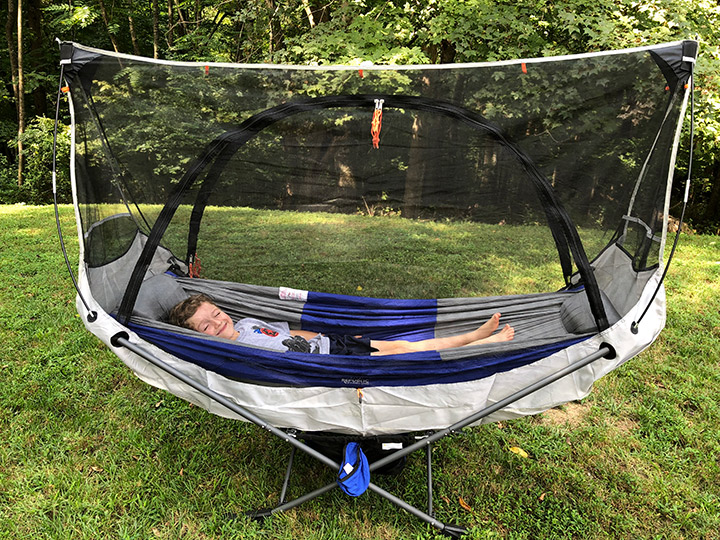 The only thing I don't like is the weight and how it's stored. It's listed as 15 lbs, but it feels a little heavier than that if you're walking far with it to the campsite or your favorite hangout spot. Also, in its current form, the single strap that holds it closed isn't very robust, meaning the poles can flop around a bit awkwardly as you carry it. The only bag it's available with right now is the large carry bag, but the Mock ONE team assures me that they're introducing a smaller carry sling in the coming months.
Flexibility
One of the reasons to go with a hammock like this is for flexibility when they're aren't trees around, so I want to compare the Mock ONE with the ENO Nomad hammock stand (another gadget I picked up this fall). While the Mock ONE doesn't feel quite as sturdy as the ENO stand (more on that in a second), it handles level(ish) ground with no issues, and takes much less time to set up. I like how the ENO stand allows hammocks to swing, but when I'm looking for a quick read in the back yard, I've found myself reaching for the Mock One more and more. It feels just as capable as the Nomad with less of a production (and space needed!) to set it up.
Here are a few comparison pictures for those that are in the market and want to compare the two…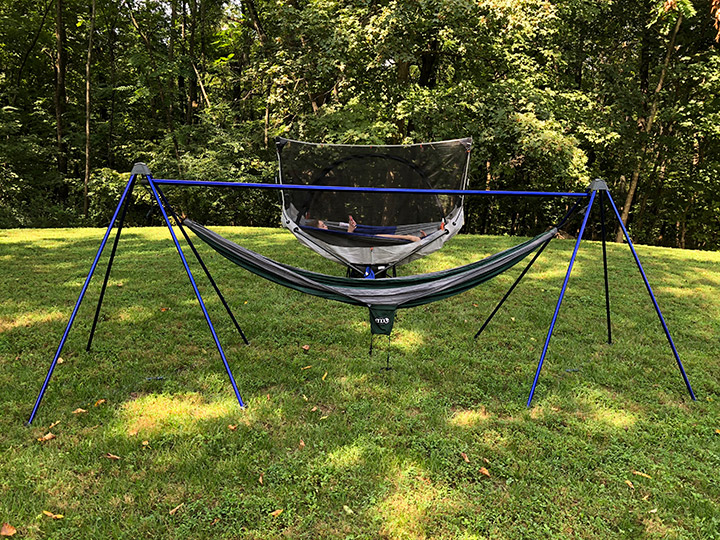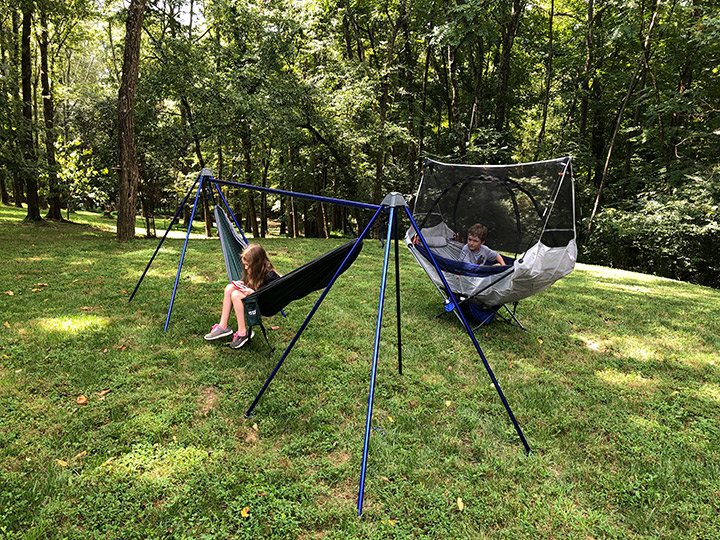 Build Quality
If there's one area where I might have some reservations with the Mock ONE, it's with the build quality. While everything seems to be high quality, the thick metal used and its coating seems like it may wear down at some of the connection points over time (compared to the smoother aluminum material found on other high-end camping products like the Nomad stand). It is rock solid for now, though, and fits together great (especially after being broken in after a few uses). With a lifetime warranty backing this thing up, it's hard to find much to worry about.
Affordability
Affordability is one area where the Mock ONE really shines as a portable hammock/stand solution. If you grab the ENO Nomad and a Doublenest hammock (the only really comparable solution I'm aware of), you're looking at a purchase of about $325. By contrast, the Mock One is only $175; you can get TWO Mock ONEs for almost the same price (the exact same price if you pick up one of their two-pack bundles).
Conclusion
Now that the Mock ONE is in my life, it's hard to imagine any car camping trip or outdoor excursion without it. It's super quick to set up, and it's a delight to have a hammock solution that I can take everywhere (even when there isn't a tree in sight). If they ever make an ultralight version, it will instantly rule the market. For now, the Mock ONE is a folding hammock that every family should consider adding to their outdoor mix.