Take a load off.
Disclaimer: The folks at CLIQ Products kindly provided two chairs for this review. As always, my opinions are my own.
As your family grows, so does the chore of trying to carry out a successful family outing. You pack the car full, lug everything out to your favorite spot, and are typically too worn out to enjoy things once everything is all set up.
One common hassle of those family outings is hauling around arms (and backs) full of cumbersome collapsible chairs. They weigh a ton, take up all of your trunk space, and are always a pain to stow away in your garage. That's where the CLIQ Chair comes in.
If you haven't seen the ads, the CLIQ Chair is a new product that claims to shrink down all of the pains of a portable chair into a tiny package that's light to carry, easy to set up, and a pleasure to sit in. Does it live up to the hype? Read on to find out!
Specs
Stable up to 300 lbs
Weatherproof
Sets up in "seconds"
Sits 10″ off of the ground
Mesh pockets
3.65lbs
3.4″x3.4″x13″ folded
24″x24″x26″ expanded
Set Up and Assembly
Probably the main selling point of the CLIQ Chair is how easy it is to transport, set up, and take down. Thankfully the CLIQ Chair is a wild success on all of those fronts!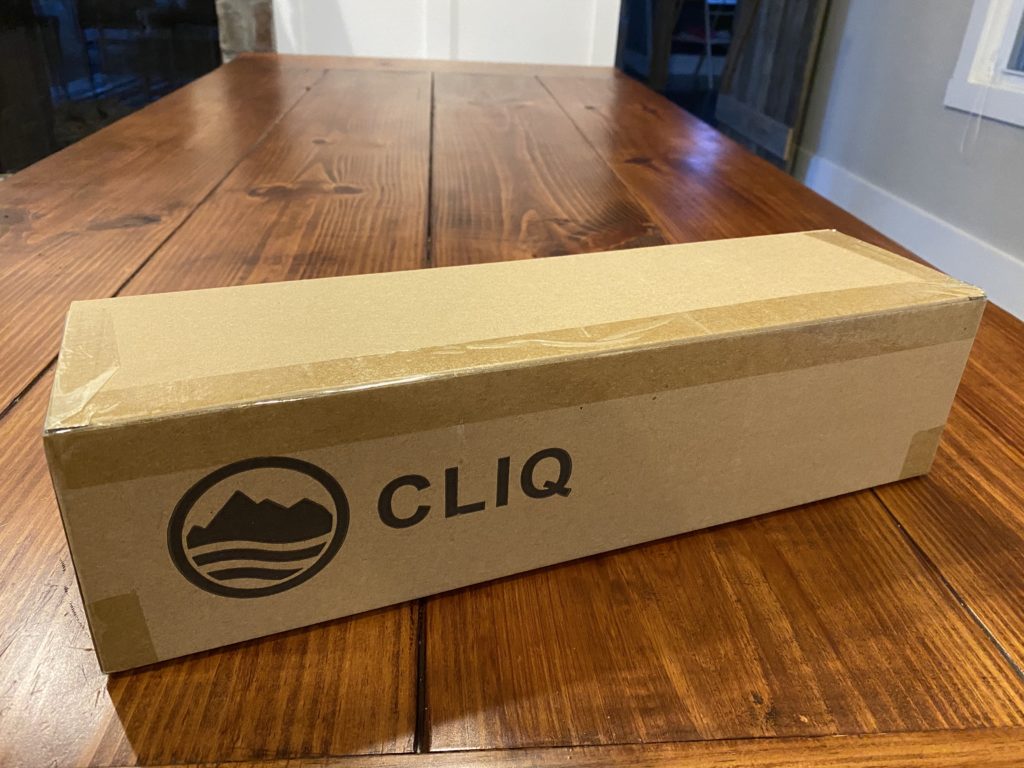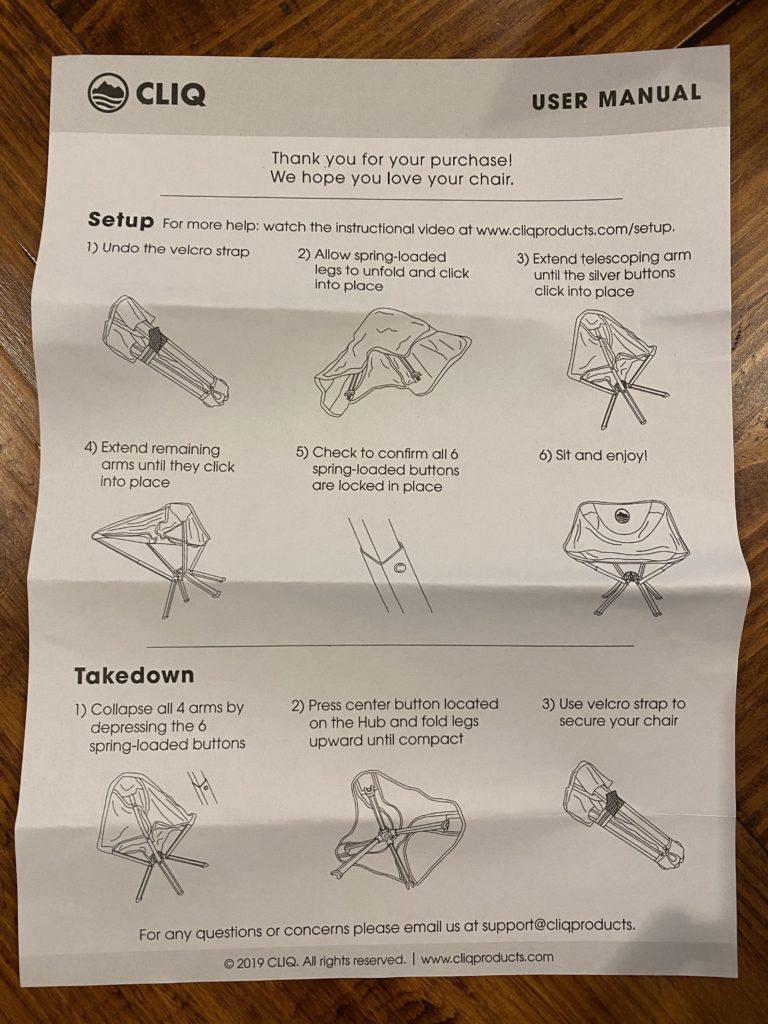 The CLIQ Chair arrives exactly as you'll use it every day, wrapped up in its simple strap inside a nondescript brown box. I did something I don't normally do for reviews like this, which is to immediately toss the directions aside and see if I could get the CLIQ up and running and less than 30 seconds just by looking at it; I did it in less than 20!
To set it up, just undo the velcro strap, push the button on the bottom to release the legs (spring loaded!), and pull out each of the pillars for the 4 sides of the chair until they pop into place. That's it! To take it down, you do the same process in reverse (with the one extra step of pushing down a few metal pegs so that the four pillars telescope back into a collapsed shape). Easy breezy.
Performance and User Experience
So, setup is a cinch, but you're probably wondering if these hyper-portable chairs are actually comfortable to sit on. The answer? Absolutely.
What was immediately surprising to me after using the CLIQ Chair in the wild a few times was how completely substantial the chair feels in practice. When it's fully set up, the area where your butt rests is actually only a few inches shorter than the full-sized folding chair that you're probably used to using. The legs click firmly into place and are super sturdy (more-so than another option I'll cover in a minute), and my 5'10" 165 lb frame found the CLIQ Chair to be super comfortable, even if you're sitting in it for a few hours.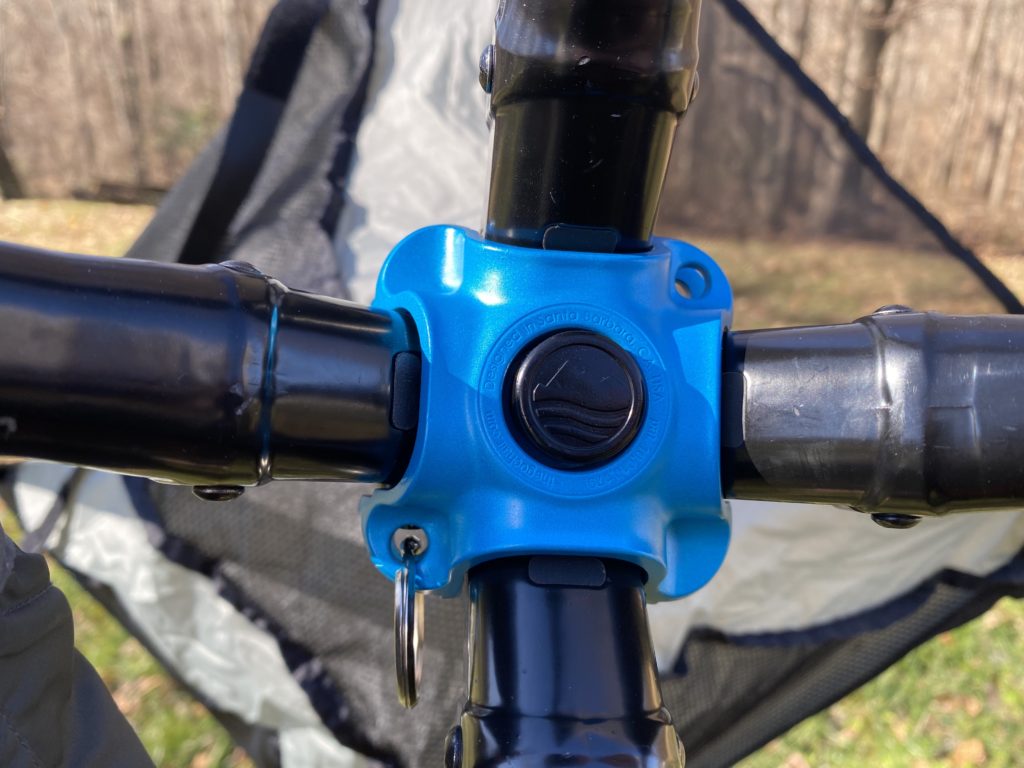 One little detail I really love (and somehow missed in their initial marketing) are the little mesh pockets that are built into the seating surface on each side. They're the perfect solution for stowing your phone when you want to keep it handy, or jamming in your paperback novel while you take a quick dip in the water.
If there's anything to complain about (and I'm reaching here), it's the heavier-feeling-than-you'd-expect weight and the oh-so-slight finicky operation of the telescoping pillars for the seat. The upside of the weight is that these chairs are built like a tank, featuring sturdy metal parts and confident connections throughout. The downside is that they're probably heavy enough that you wouldn't want to carry them by hand for a long distance (I'm talking miles here), and they're probably not what you're looking for during a backpacking trip.
As for the pillars, they have a slight tendency to pinch your fingers when you open and close them, and sometimes it takes a little extra effort to get them to click into place since the tolerances are so tight. All of that said, my chairs are already loosening up with use, and I definitely wouldn't let an issue like this prevent you from getting one of these awesome chairs.
Flexibility
The one thing to consider when shopping for a portability-centric product like this is if the chair is a good fit for your lifestyle. For that reason, I want to compare the CLIQ Chair to both a typical fold out chair, and a common ultralight backpacking chair. (You'll need to look elsewhere for a portable recliner chair).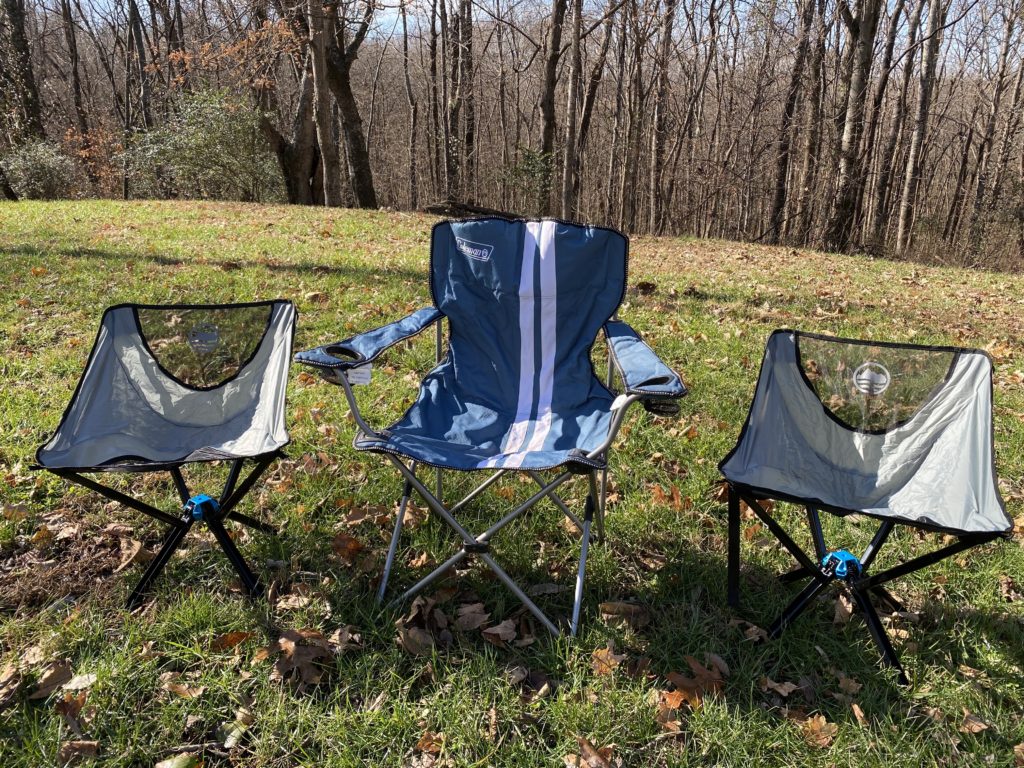 When comparing the CLIQ to an old fashioned camping chair, I feel like there's no contest. Unless you're going to be sitting on highly uneven ground, or you need a much deeper seat to sit in for hours, the CLIQ is a no brainer as it weighs about 60% less than a fold up chair and takes up about 30% of the room in your car.
If you're a regular backpacker or someone who would carry the chair for long distances on a regular basis, you might find an ultralight chair like those from Helinox to be a better option. The setup and teardown is definitely more involved (especially packing it up), but my Helinox is more than a pound lighter to carry and the same size when it's packed up. I do think the CLIQ is more stable and handy to have because of its pockets, but if you're the type of person who counts every ounce, the CLIQ might not be for you. There's a good guide on picking the right kind of chair for you at Globo Surf.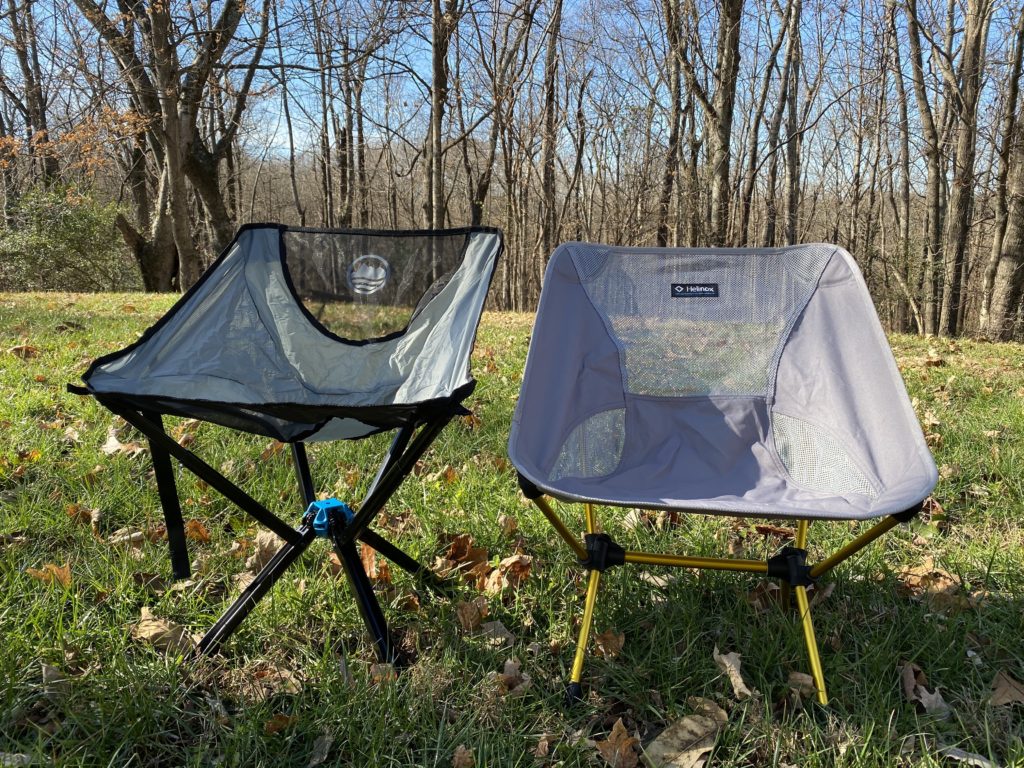 That said, the CLIQ Chair is just about the perfect solution for carrying to ball games, concerts, and car camping trips when every bit of space in your trunk matters. In those scenarios, it's SO much better than the typical folding chairs you probably have in the garage already.
Build Quality
The fit and finish on these chairs is also of a much higher caliber than I would expect for a first-generation product, especially after some of the paint and friction issues I ran into with the Mock ONE Hammock a few months ago. The solid metal parts, confident joints, and a really nice seating surface more than live up to the premium price.
Affordability
Speaking of premium pricing, the CLIQ Chair is definitely priced in line with the premium camping furniture that you'd purchase at a store like REI. One chair starts at $89, but you can get them for even cheaper if you purchase a 2, 3, or 4-pack. It's not a $20 chair like you'd buy at a department store, but it also is built 100x better than that, and it's considerably more portable and convenient in every day life. It's an investment in your family's leisure.
Conclusion
As someone who hates having their arms full, I really love our CLIQ Chairs. They're super handy to keep in the truck, a delight to have at the ballpark, and a must-have if you hit the beach or car-camp on a regular basis. Add one to your holiday wishlist and thank me later. You can checkout Chairsadvice.com for more chair reviews.