Do you like to save money? Of course you do. As I was booking an anniversary trip for me and the Mrs. over the weekend, I accidentally fell headfirst into what may be one of the craziest "travel hacks" I've ever seen. Long story short, Chase has a bonkers welcome bonus right now where if you open a new account with them for one specific card, they'll give you 80,000 Chase Ultimate Rewards points for free. That equals up to $2,600 free towards Hyatt hotels, $1000 toward general travel, or $800 cash back (if you're bad at redeeming offers, haha).
What's the catch? You just have to get approved for the card online (took me 15 seconds), and spend $4,000 on it over the first 3 months (I booked our summer vacation on it and met that requirement pretty much immediately). It's brain-dead easy to get the deal.
The best thing is you don't have to go through insane credit card point gymnastics to use the points! Here's a quick walkthrough on how to pull it off…
Get the Chase Sapphire Preferred Card in Seconds
(If you want to get the deal yourself, please use the links on this page to sign up – it'll give our family a few extra points to use too!)
Get Approved for the Chase Sapphire Preferred Card
Right now this bonkers sign up bonus is only available for the Chase Sapphire Preferred card (other of their cards have bonus offers, but none as crazy as this). If you're not familiar with credit cards, this is apparently an insanely popular credit card that's built for travelers, but it also gives you points for normal life stuff, too (3x back on dining, for example). In other words, you can sign up for this card, hit the spending threshold for the offer, then just throw it in the safe if you want. There's no need to keep using it unless you want to earn more points (and in that case I'd prob recommend using the other card I mention at the bottom of this post).
It took me less than 30 seconds to get approved. Go fill out the quick application, hit submit, and if you're approved Chase will give you next steps right away and drop your card in the mail. Because you can add the card immediately to digital wallets like Apple Pay/Google Wallet, I was able to use the card to book all of our summer travel immediately.
Important caveats here: You have to have good credit to get approved, and if you've received more than 5 new credits cards from any supplier over the past 2 years, Chase will deny your application.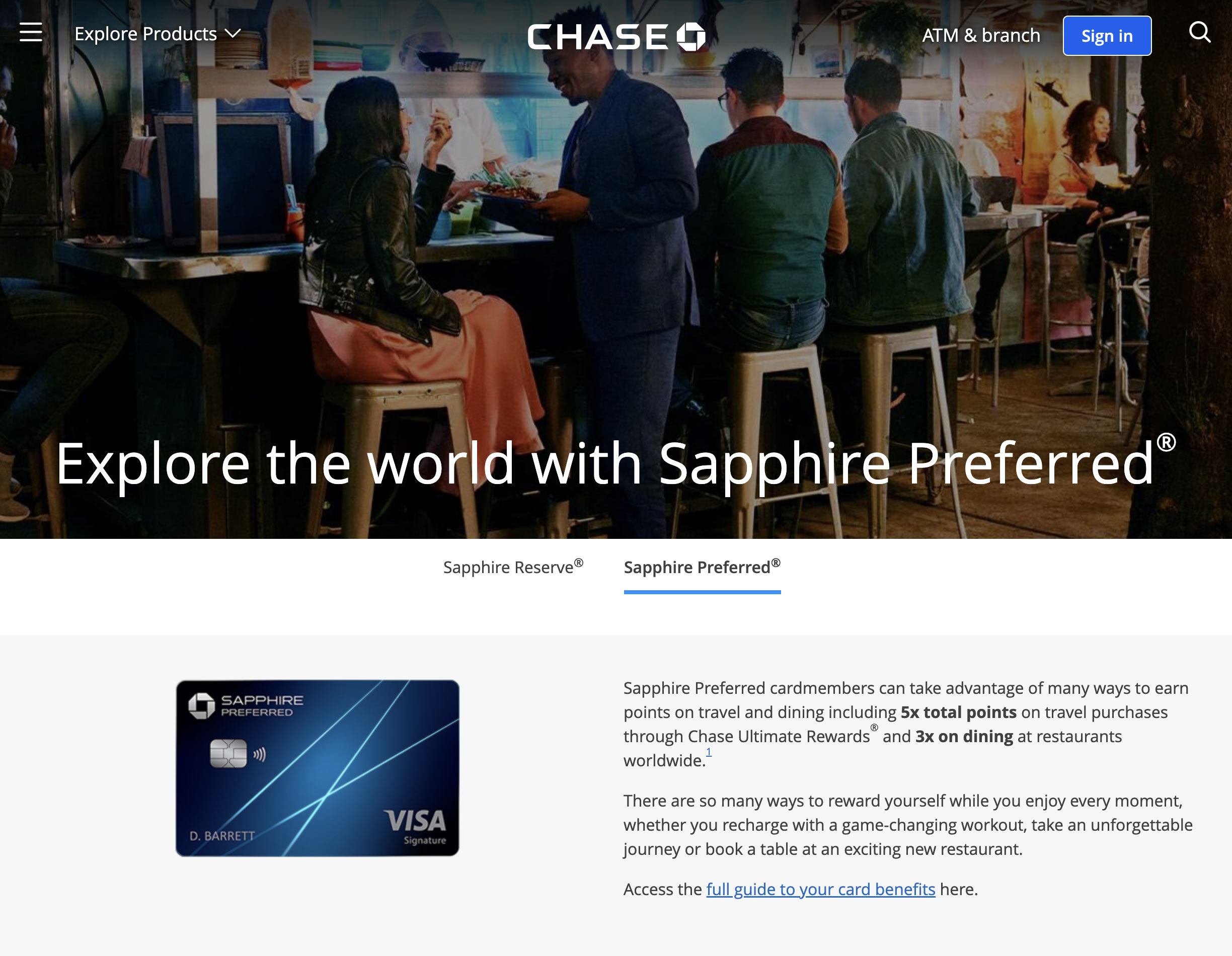 Hit the Spending Requirement in 3 Months (or Less)
To get the 80,000 points added to your account, you have to spend $4,000 on the card in your first three months. If you pay for all your bills/food/gas on it, that should be no problem. For me, I was planning a summer vacation anyway, so I just signed up for the card, added it to Apple Pay, then met my spending requirement in about an hour through Southwest flights and Expedia bookings. By the way, because travel spending gets you 2x in points, spending $4,000 on booking travel actually got me an additional 8,000 points!
To be clear here: never spend money you don't have on a credit card! When you see me talking about spending here, I'm using the card to pay, then immediately paying off the full balance on the first bill with cash that I already budgeted.
Obviously, if you don't plan to meet that spending goal, the offer isn't really worth it.
Use Your Points for Up to $2,600 at Hyatt
That's it! It's time to use your points. If you want the absolute best bang for your buck, you'll definitely want to use your points along with the free World of Hyatt program.
Simply put, you just sign up for a World of Hyatt account (free), transfer your points to that account through the Chase portal, then use your points to book any Hyatt hotel for any time through their site.
Why should you do this? While you can use your 80,000 points for $1,000 in travel using Chase's site (instructions below), World of Hyatt offers an insane multiplier for the value of your points if you book through them.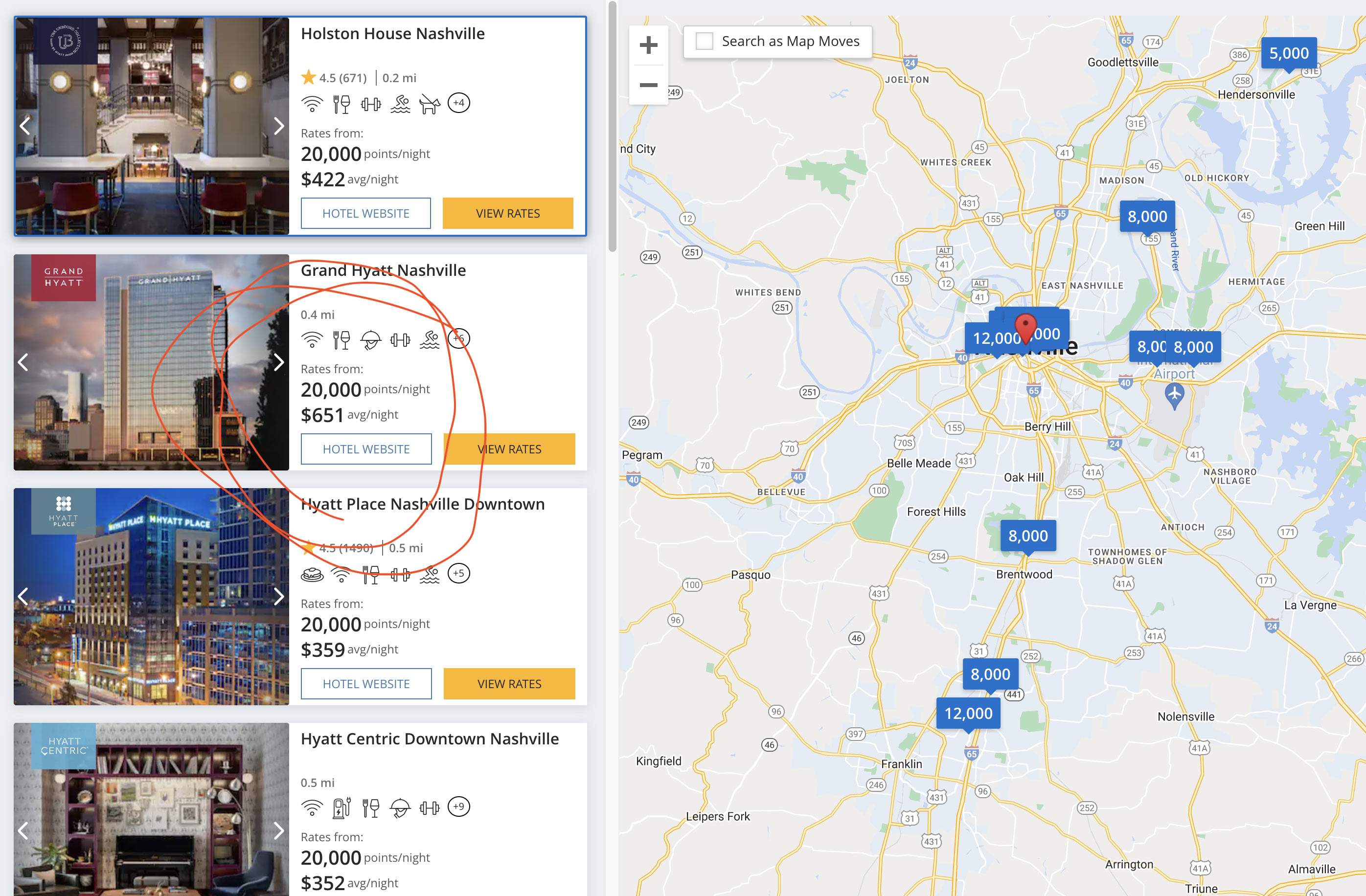 Looking at a fancy hotel in Nashville, for example, I could book about 1.3 nights at the $650/night Grand Hyatt with my 80,000 points before I had to start paying out of pocket, and that still doesn't include daily resort fees. However, If I easily transfer those same points over to the free World of Hyatt program, I can book 4 FULL NIGHTS at the Grand Hyatt (no resort fees!) with my same 80,000 points. It's pretty wild.
Of course, you can also book a week at a "normal" Hyatt hotel too, or whatever you want. For instance, I could book a week at a nice mid-range Hyatt near Disney World for only 56,000 of my points when I checked just now.
Use Your Points for $1,000 Toward Travel with Chase
If you hate Hyatt hotels for some reason, or just have another travel scenario where you'd rather use your points, you can redeem your points for 1.25x their value if you book your travel using Chase's travel portal. It's powered by Expedia, so it's easy and familiar to use, and you get the same pricing as you would through them. It works for hotels, flights, rental cars, etc.
Also, don't forget that you can easily transfer these points to other travel partners like Southwest. The 80,000 points would more than cover round-trip flights to Disney World for Lauren and I, for example.
Use Your Points to Get $800 in Cash Instead
If you're not interested in Hyatt hotels, don't plan to travel, but just want $800 in free money, well… you can do that too. It will get you the least bang for your buck as far as the value of your points, but Chase will easily allow you to issue $800 as an account credit to your Credit Card or a deposit to your bank at a value of $0.01/per point.
All of the Other Free Stuff You Get
It's funny, I actually stumbled across all of the stuff above by accident; I was originally applying for this card because simply because of all of the travel protections and perks that come with it. It saves a ton of money over typical trip insurance.
When you sign up for the Chase Sapphire Preferred, you get trip cancellation insurance, lost luggage insurance, rental car insurance, trip delay insurance, extended warranties, etc. In other words, I was just going to pick up this card so I didn't have to pay for vacation insurance a dozen different ways; everything else is just gravy.
Oh, you also get at least a year of free DashPass service for $0 deliveries with DoorDash (if you're into that).
What About the Annual Fee?
I haven't even mentioned the tiny fee until this point because, well, I don't think it's even worth mentioning.
There's a $95 annual fee for the card. BUT, they give you $50 in annual credit toward a hotel, so if you use that, it's really a $45 fee. Factor in all of the bonuses, points back, and insane travel protections above, and the fee basically vanishes as a footnote. Would you pay $45 to get $2600 worth of stays at a hotel? Of course, haha!
Want 20,000 More Points?!
Want to get nuts?
You can actually get ANOTHER 20,000 points ($650 at Hyatt, $250 in travel, or $200 cash) if you open one of Chase's Freedom cards too and spend $500 in 3 months. Again, I used this on theme park tickets and met the goal pretty much immediately.
Same deal here – I applied and was approved in seconds, and could immediately use the card with Apple Pay to book travel/whatever.
Note: the insane Hyatt value here only works if you have one of the Sapphire cards too like I described above.
A Note About Credit Cards
Spending money you don't have on a credit card is one of the WORST financial decisions you can make, so PLEASE DON'T DO THAT. The only thing I'm recommending here is to use this method to book travel/pay for whatever if you already have the money set aside. Then, just pay your bill in full and on time right away, and you're good to go. In fact, I plan to throw the Sapphire card in the safe until the next time I'm booking travel.
This is just an insanely good deal if you have money budgeted and the discipline to use a credit card where you're never actually using it to borrow money.
TL;DR
If you're booking a trip anyway (which is typically an expensive endeavor), go open a Chase Sapphire Preferred card to protect your trip and get up to $2600 in free credits for your next trip. It's a no brainer.