Good light; right price.
As I research lights for our house, I thought it would be helpful to continue to reviewing the most common players lining the store shelves. I covered the excellent Cree LED bulb last week, so lets look at one of its closest competitors, the Philips SlimStyle LED 60w replacement bulb.
What Does it Claim to Do?
One of the most affordable solutions on the market, the Philips SlimStyle is a 60w replacement bulb designed to fit in to normal fixtures. It has a unique flat bulb design (more on that in a minute), and claims to offer bright warm light at only 10.5w.
Specs
60w replacement (using 10.5w)
Estimated energy cost of $1.26/yr
Flat LED ring design
Mercury and lead free
25,000 hour lifetime
Frosted plastic enclosure
Dimmable
Soft White/2700k
800 lumens
60Hz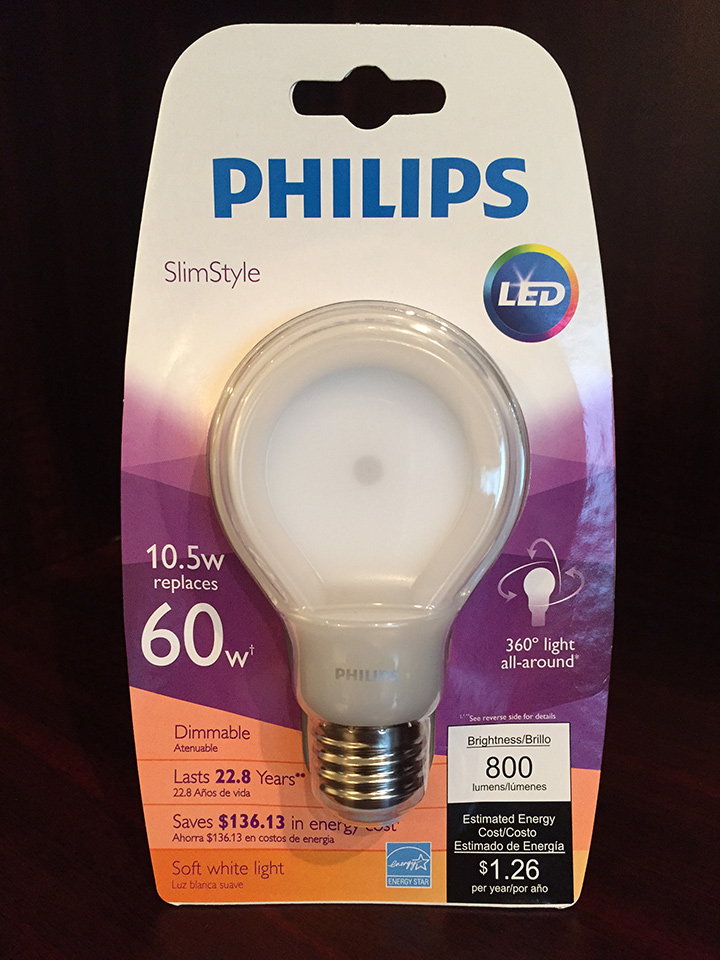 Look and Feel
The Philips SlimStyle is definitely a different take on the typical bulb design, which isn't necessarily a bad thing. Its LEDs are arranged in a ring inside a plastic enclosure that mimics the look of a bulb from the front, but is much slimmer when viewed from other angles.
It's fine when it's covered up in a fixture (I have mine in a lamp), but it's a little peculiar for scenarios where the bulb would be exposed. This is all subjective, but I can't decide if it looks cool and futuristic, or odd and cheap.
Performance and User Experience
I had no issue getting it in any normal E26 sockets, and the same design I critiqued for how it looks is pretty spectacular for installation; it has never been easier to screw in a lightbulb.
The light is warm and bright as described, although it seems slightly dimmer and just barely too yellow in tone (to my eyes at least).
At 10.5w, it's one of the most efficient 60w replacements out there (only barely outclassed by Cree's great bulb).
Integration with Other Platforms
It works in every standard light socket, and with all modern dimmers. It doesn't include smart functionality, but its affordable price more than makes up for that.
Build Quality and Reliability
Another advantage of that odd plastic housing is its light weight and seemingly excellent resistance to drops or bumps. This bulb is unusually sturdy.
It's rated to last nearly 23 years, and is backed by a 3 year limited warranty, which is always reassuring.
Affordability
I've seen these for about $9/ea in the big box stores, and found them for only $7.57 on Amazon; that's a pretty fantastic price, and potentially the best value among the name brand bulbs.