Updated Review Available!
We recently had the opportunity to take another look at Canary, including a look at a multi-unit set up! Check out that
review update here
.
Home security systems have almost become a joke. They come with most new home these days, but I can't think of a single person I know who uses theirs on a regular basis. From false alarms to forgotten pass codes, most folks seem to decide that the ugly panel on their wall just isn't worth the trouble.
There have been numerous companies who have tried to solve this problem over the last year or so, but none of them have been as compelling to me as the Canary, which began its life as a crowdfunded project in 2013. More than two years later, I've finally had the opportunity to put a unit through the paces in our crazy little household.
What Does It Claim to Do?
Canary claims to simplify the complex and archaic traditional home security system into one simple device. When placed in a central location in the home, the Canary uses its HD video camera and and array of sensors to intelligently monitor your house while you're away (or asleep). With cutting edge technology and integration with your smart phone, it aims to be an affordable home security system that you'll actually use.
Specifications:
1080p HD Camera with 147 degree wide angle view
Night Vision
90+ db siren
Motion sensor
Air quality sensor
Humidity sensor
Temperature sensor
Microphone
Supports 2.4 GHz WiFi and Ethernet
Companion apps for iOS/Android
Does it live up to the hype?
Look and Feel
I won't waste any time here… Canary may be the most attractive consumer device crafted outside of Cupertino. From the packaging to the unit itself, the Canary is one of few devices that is far more elegant and attractive than it has any right to be (especially at this price point). Rather than hiding it away or putting it somewhere nondescript, the Canary is an artifact that demands to be seen.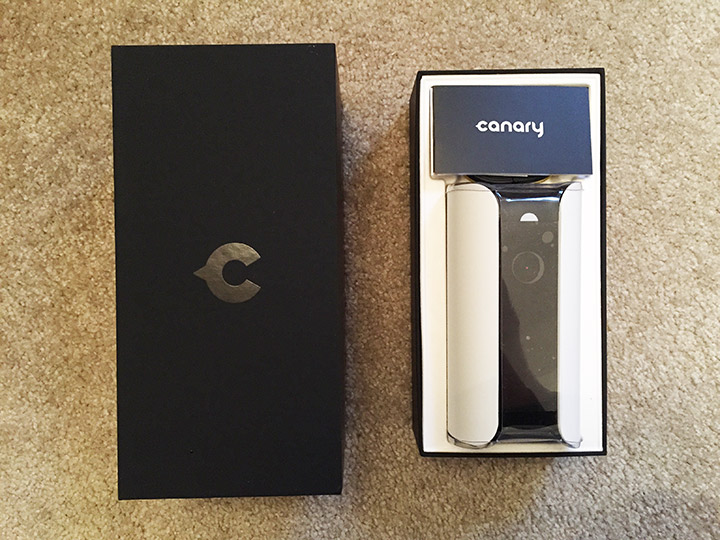 Your infatuation will begin with the unboxing experience, which is the first indication that no expense was spared in this product's development. The box slides open delightfully to display the (smaller than expected) unit, and even the bundled cables have a premium feel. After the speedy set up (covered below), I was immediately taken with thoughtful accents like the ethereal glowing ring on the bottom, and even the arrangement of the infrared night vision LEDS; seriously, this is the best looking smart home product I've run across.
Performance and User Experience
Installation
Setup for the Canary goes pretty quick after you plug it in… Simply pair it to the app (oddly involving the use of headphone cable between your iPhone and the device) and walk through a painless setup process to connect it to your home network. It took about three minutes from connecting it to power to watching the live video stream.
After that, it's a matter of placing the unit in a central, high-traffic area of the home; you'll likely want to aim it near a door or another area where you would catch an intruder. For the sake of this review, I placed our Canary on a table in our media room (it'll live in a more central location at our new place, which was still under construction at the time of this review).
Every Day Use
The Canary has three modes: Armed, Disarmed, and Off. By default, the Canary app will use geolocation to automatically arm itself when you leave the house, and disarm itself when you arrive home. This works great, unless you're like us and have a family that's home most of the day. Since there's rarely no one home at our house, I disabled the geofence to keep me from calling a SWAT team on my kids.
Whether its armed or disarmed, Canary is constantly collecting helpful data on your home's environment. It contains sensors for temperature, humidity, and air quality (whatever that means), which the app displays on a daily chart to give you a snapshot of your home's general health. It's not the most useful data in practice (for us, at least), but it's fun to have and fairly accurate.
The Canary's core feature is its 1080p night vision camera and microphone, which it uses to keep a constant eye on your home to detect intruders and other danger. Image quality is surprisingly fantastic, including its night vision mode, and is easily on par with the best offerings from Dropcam. The one thing its missing is Dropcam's phenomenal digital "zoom and enhance" mode, which is a bummer if you're used to a feature like that; there are a few times I missed the detail that a mode like that can offer.
So we've covered the core features… can the Canary actually keep you safe? In short, it does a pretty great job of alerting you when something's amiss (as long as their servers are up).
In armed mode, the Canary will alert you to unusual motion, noise, or even a change in temperature, humidity, or air quality. I tested the Canary by walking buy it at night in armed mode, after which I received a prompt notification on my phone in about 5 seconds; unless an intruder is an olympian who is sprinting through your house to steal your stuff, the Canary will alert you in plenty of time for you to take action.
Speaking of action, the Canary's 90+ db siren is an excellent general deterrent, though it must be triggered manually every time. In a fun feature that was unveiled just last week, the Canary iOS app now includes a "panic mode" widget that allows to sound the siren in a hurry if you need to need to draw attention to yourself. It's plenty loud, and should scare most folks off, but probably isn't loud enough to draw the attention of your neighbors (unless you're an apartment dweller).
The icing on the cake is Canary's cloud recording service, which is capable of storing clips from both armed and disarmed mode. The clips are all excellent quality, and should be more than suitable for evidence if the need arises.
All in all, the Canary does a great job living up to the hype, with the exception of some semi-frequent service outages. More of this below.
Other Thoughts
Canary and its software are generally fantastic, but its still very much a 1.0 offering. Here are a few important observations..
Canary's cloud recording is fantastic, but I can't for the life of me figure out how to download the clips for permanent storage offline. They're not even available through a web interface; you have to get them through the app for now.
Another key feature that's missing (in comparison with offerings like Dropcam) is the ability to arm and disarm the unit on a schedule. Right now, if I want to keep an eye on our house while I sleep, I have to manually arm the unit every night before bed (which is something I rarely remember to do). Scheduling is an odd omission, and something that seems in direct conflict with Canary's mission to overcome traditional home security system pitfalls.
Finally, Canary's live stream is significantly more delayed that what you'll find with a Dropcam. Whereas the stream from my Dropcam Pro is regularly about 2 seconds off, the Canary stream is consistently behind by 10 seconds or more. It's also pretty fickle, and is unavailable with enough frequency to make me nervous.
Like I said, this is 1.0 software with a 1.0 product, so I'm sure the features and latency can be remedied with software over time.
Integration with Other Platforms
The Canary app is great on its own, but it's a walled garden for now; unlike similar products, there's currently no API or integration with other smart home hubs like Wink or Smart Things. This may or may not matter to you, but it's always a bummer to me having to check yet another app to keep an eye on our home.
Build Quality and Reliability
The unit itself is a marvel of engineering in which I can find little fault. It's thoughtfully designed and expertly engineered.
Reliability, though, is another matter. I've been testing the Canary for about a month, during which I've experienced 5-6 outages (some of which requiring hard reboots). There's also the issue of the fickle live stream which is periodically unavailable and requires a lot of time to buffer before it loads.
That said, I'm hoping these are temporary hiccups from a bleeding edge product/service that's been on the market for less than a month. I'm assuming these issues are just growing pains for the company, and I'll update this review as the product matures over time.
Affordability
When everything works, the Canary is a fantastic product that is more than worth its $250 price tag. To sweeten the deal even more, the Canary also includes free cloud recording for a 12 hour window, something that greatly increases the value proposition when you compare it with other competitors.
Conclusion
If the company can overcome periodic service outages and other growing pains, Canary may be the most compelling home security product on the market. It's definitely worth trying out at this stage, and hopefully future updates and infrastructure will help it reach its full potential.